The PNP files 22 cases in NCR over vigilante-style deaths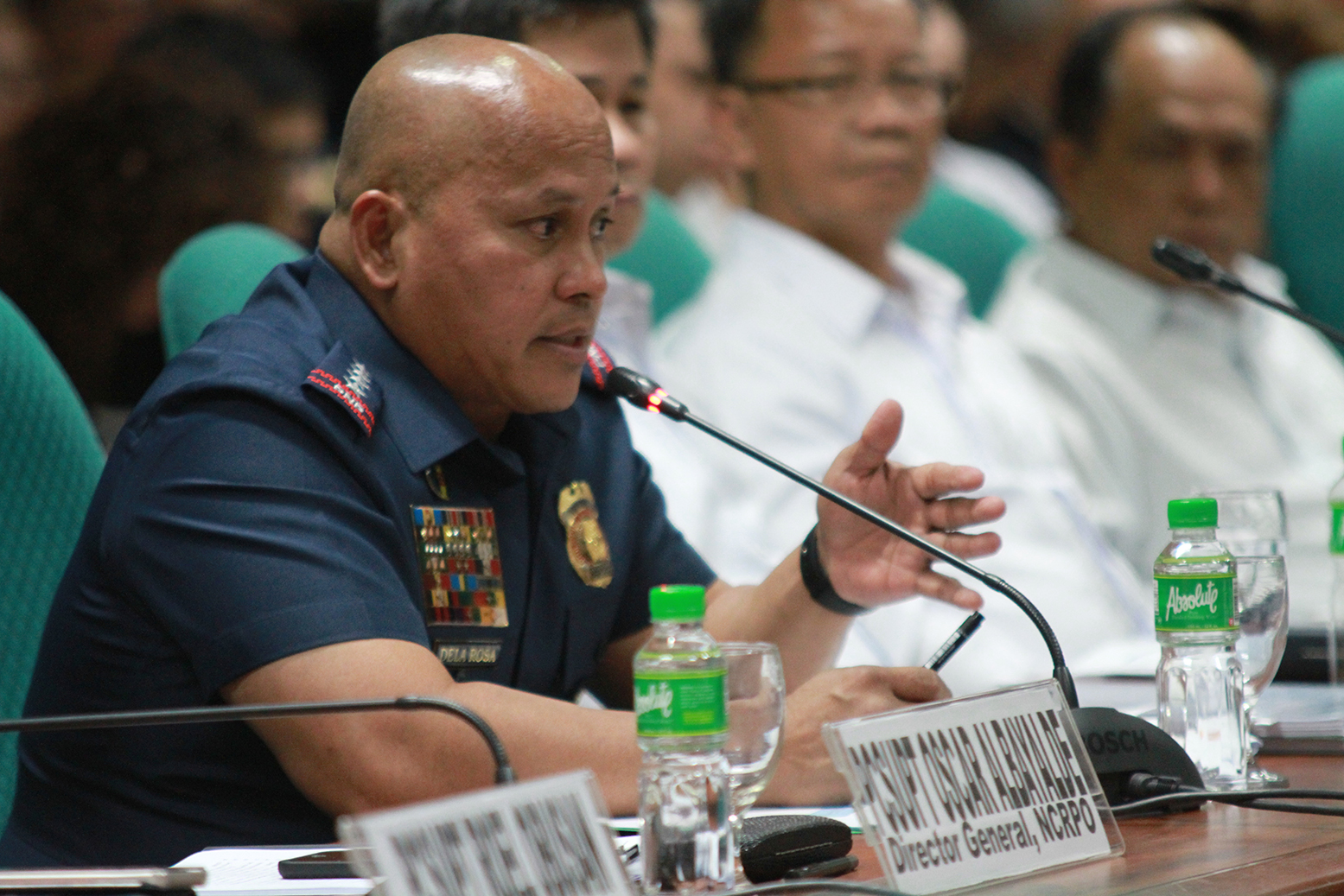 MANILA, Philippines (UPDATED) – Amid allegations policemen are promoting violence and a "culture of vigilantism," the Philippine National Police (PNP) said it is investigating 899 deaths with links to illegal drugs.
These deaths are outside those attributed to legitimate police operations, Director General Ronald dela Rosa said on Thursday, August 18, during a Senate hearing.  
Dela Rosa, speaking during a hearing on possible revisions to laws that would help anti-illegal drug efforts, said they have yet to attribute these deaths to vigilante groups.
"Those are the dead who were just found floating along canals, the dead who were dumped along roads with their hands tied and their faces, eyes, and mouths taped. Also those killed by riding-in-tandem, or those who were just shot. Those are the deaths under investigation," Dela Rosa said during a press briefing after the hearing. 
Of the 899, at least 22 cases have been filed – all through the National Capital Region Police Office – for killings related to illegal drugs.
"Most of the suspects are drug pushers who became hitmen of the drug lords," said Dela Rosa of the 22 cases. 
Dela Rosa had earlier said he has "scientific proof" that drug syndicates themselves are behind the apparent extrajudicial killings around the country. The PNP chief explained that drug lords are ordering their own henchmen killed because they failed to remit money from illegal drugs. 
The PNP and the current administration have been waging a 7-week-long "war on drugs." Police operations all over the country have resulted in the surrender of more than half a million drug users and pushers, the arrest of almost 8,000, and the death of 665 drug suspects. 
But it's a campaign that's also been criticized for encouraging extrajudicial killings.
No to vigilante groups
Dela Rosa insisted he's "very angry" at vigilante groups. "Nakakabagabag (We're bothered)," he told senators.
To date, 655 drug suspects have been killed in police operations around the country.
"Yung konsensiya namin (It bothers our conscience) because we are in charge of the peace and order of the whole Philippine archipelago. Ngayon, may isang vigilante diyan na pumapatay (Now those vigilantes that kill)… that is an insult to our [ranks]. Pumapatay na lang siya, hindi namin maipapasagot sa kanyang ginawang kasalanan (They just kill these people and we can't even make them face the music for their sins)?" Dela Rosa told reporters. 
He added: "So that [means] ineffective kami. Kaya galit na galit ako diyan sa mga vigilante (That's why I'm very angry at those vigilantes)." 
Dela Rosa's statements on Thursday marked the first time that he gave an exact number of killings being investigated in relation to the anti-illegal drugs campaign.
The PNP chief is set to face the Senate again on Monday, August 22, in a hearing on alleged cases of extrajudicial killings during police operations. – Rappler.com