'Every single suicide is still a tragedy... The message we want to pass on is first of all, having suicidal thoughts is nothing to be ashamed of,' says WHO Representative in the Philippines Gundo Weiler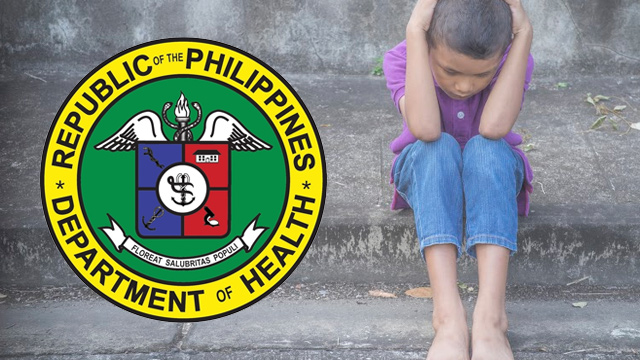 MANILA, Philippines – The Department of Health officially launched on Tuesday, September 13, a national hotline that will provide help to people with mental health concerns.
The department partnered with the Natasha Goulbourn Foundation (NGF) for the HOPELINE Project, a 24/7 crisis support hotline for depression and suicide prevention.
The agreement, according to the DOH, covers the provision of communication equipment and a professional team of counselors trained to handle private and confidential information.
"The responders…have been trained by psychiatrists and psychologists, it's a very intensive training, and we also screen them in terms of their mental capacity, in terms of their emotional capacity, and in terms of their educational background. These are professionals that will be answering the hotline," Health Secretary Paulyn Ubial told reporters on Tuesday.
The health department has tapped various DOH hospitals, local government hospitals, as well as private hospitals where patients can be referred to.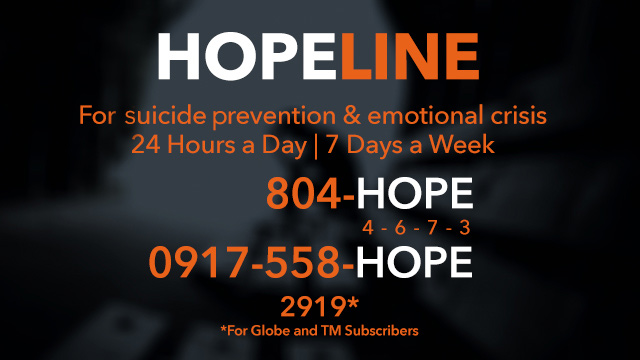 Tuesday's launch comes just days after the world observed World Suicide Prevention Day. (READ: Why do Filipinos need a mental health law?)
According to the World Health Organization, over 800,000 people die by suicide each year, a number that translates to one death for every 40 seconds.
The WHO in 2012 also put the Philippines in the 150th place in a list of 170 countries in terms of suicide rates.
The suicide rate in the country is 2.9 in a population of 100,000 – lower than the annual global-age standardized suicide rate of 11.4 per 100,000 population. 
'Nothing to be ashamed of'
WHO Representative in the Philippines Gundo Weiler said suicide remains a critical issue today.
"Every single suicide is still a tragedy… The message we want to pass on is first of all, having suicidal thoughts is nothing to be ashamed of. This happens to a lot of people. People who have these thoughts are not alone," he added.
According to NGF president Jean Goulbourn, their information and crisis intervention centers receive a lot of calls from people in need of mental health assistance especially during Christmas and Valentine's.
She said the most common issue among callers is romance. Other concerns include abuse, incest, gender issues, separation of families, and loneliness in aging. They also receive calls involving copycat suicide attempts.
"Our youngest caller is 7 years old, and [the] youngest suicide that we are aware of is 10 years old, that was in March, in Cebu, 3 cousins hanged themselves in the sampaloc tree, and we couldn't believe [it]. Yes, they were students of public school," Goulbourn explained.
Because of this, the foundation and the education department are pursuing modules on wellness and emotional resilience for students in Grades 4 to 12.
Mental health law
Ubial said through the HOPELINE Project, the health department will know the profile of the callers. Knowing their profile will help the department develop the appropriate interventions for them. (READ: How to spot suicidal tendencies in your loved ones)
"The HOPELINE is really something that has been proven worldwide to be very useful in terms of access for communication for patients; it is impersonal, confidential, [and] run by professionals," she explained.
On Thursday, Ubial also revealed that the Mental Health Act is one of her department's priority legislations. The Philippines has yet to pass a mental health law.
"We hope this gets passed this administration…to provide interventions [that are] not so much on direct treatment and rehabilitation, but more on prevention: how to keep a strong and healthy mind and psyche," she added.
For now, Ubial said the DOH's community-based mental health program will be developed into a full-blown program that will be expanded nationwide. – Rappler.com
The HOPELINE Project's hotlines can be reached at (02) 804-HOPE (4673), 0917 558 HOPE (4673) and 2919 (toll-free number for all Globe and TM subscribers).