'Just give me a little extension of maybe another 6 months,' says President Duterte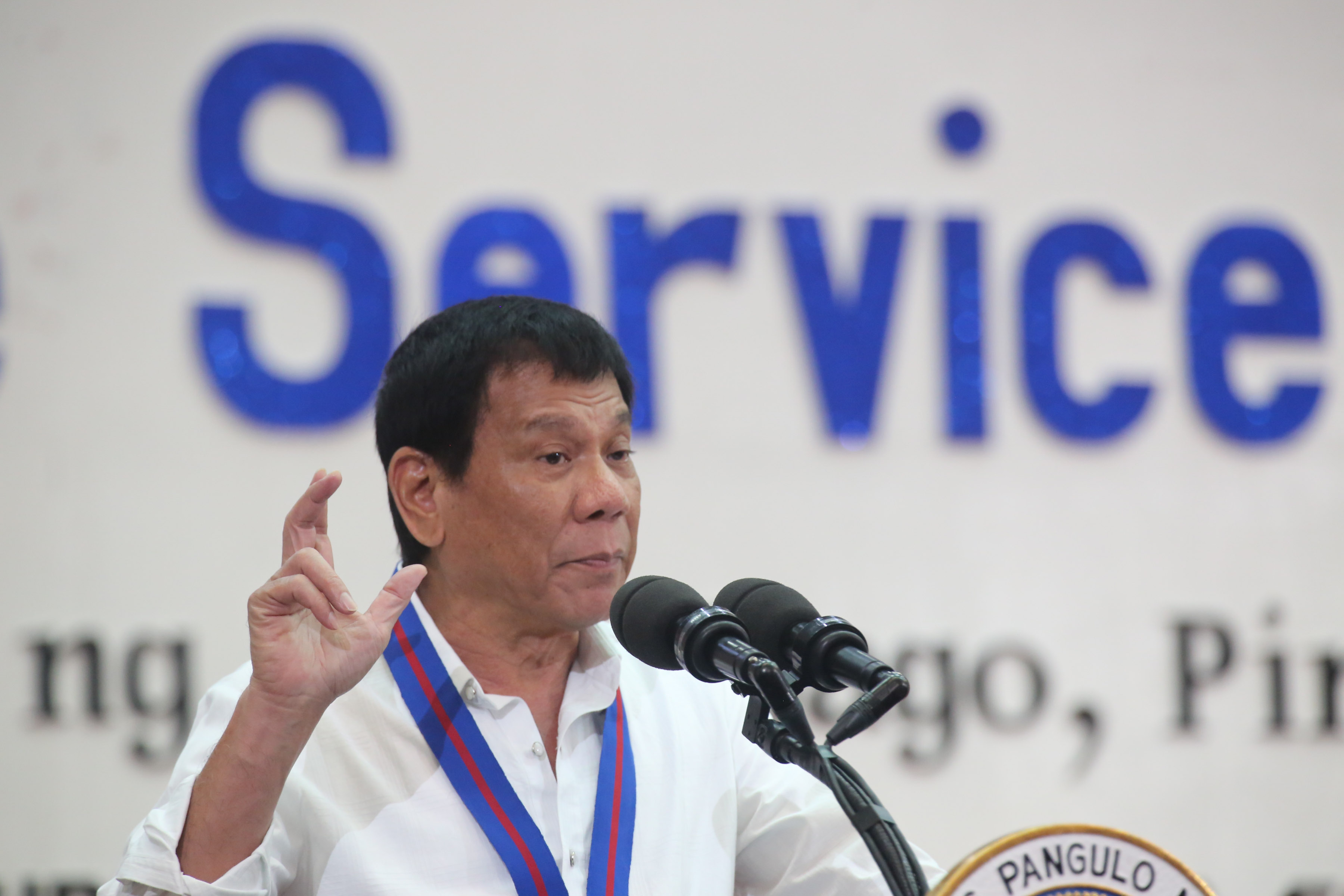 MANILA, Philippines – President Rodrigo Duterte on Sunday, September 18, asked for a 6-month "extension" on his self-imposed deadline to end illegal drugs in 3 to 6 months.
Duterte made the statement in his remarks at the presentation of freed Norwegian hostage Kjartan Sekkingstad in Davao City, where he detailed the extent of the drug problem in the country.
"Just give me a little extension of maybe another 6 months," said the Philippine leader, who won on a campaign promise of ending illegal drugs within his first 6 months in office.
"I didn't have any idea that there were hundreds of thousands of people already in the drug business. And what makes it worse is that they are operated now by people in government, especially those in elected positions. So it would be government versus government," he added.
The President was referring to the 700,000 drug users and pushers who have surrendered to authorities to date.
During the campaign, the President's rivals, among others, questioned his ambitious promise to end crime in his first 6 months in office. He lashed back at them, saying only those without political would think that way.  (READ: Duterte: Don't believe I can end crime in 6 months? Bayot ka!)
At the Davao briefing, Duterte further explained that he had a final list that is about 3 inches thick, bearing the names of alleged drug personalities that include public officials. He said he had no idea of the extent of the drug problem until he became Chief Executive.
The President said he ordered a revalidation of the list two months ago "just to make sure" that cases can be built up and pursued against these people.
'Defang' barangay captains
He also reiterated his opposition to hold barangay elections in October, as scheduled, saying drug syndicates would fund candidates to ensure the latter's victory. The President said he would leave this matter to Congress.
"That's how bad things are right now," he said, referring to the reach of the illegal drug trade in the country.
The President said that if these candidates at the barangay level – the smallest unit of government in the Philippines – win, "that would be the start, maybe, of our perdition and agony."
The President also said that he would no longer allow policemen to become bodyguards of barangay officials, even in areas where the local officials are vulnerable to attacks by the New People's Army, the armed wing of the Communist Party of the Philippines.
"We just have to defang them. Get the police out as [their] bodyguards. I will order I will not allow any policeman to act as bodyguard of any barangay captain. If you're afraid of being killed, if you are there in the rural areas, by the NPAs, then do not run for public office. Find another occupation," he said.
The Duterte administration's war on drugs has drawn support as well as criticism because of the spate of killings related to the campaign since the government launched it on July 1.
As of September 15, there are 1,606 number of deaths under investigation. (IN NUMBERS: The Philippines' 'war on drugs')
Meanwhile, 1,140 drug personalities have been killed in legitimate police operations while 2,073 are victims of extrajudicial or vigilante killings. This makes the total number of persons killed under Duterte's intensified war on drugs at 3,213.
Concerned groups and international bodies have expressed concern about the killings and urged the Philippine government to investigate them. – Rappler.com