This is AI generated summarization, which may have errors. For context, always refer to the full article.
Herbert Colanggo claims in his affidavit he 'was giving Secretary De Lima 3 million and the director 1.2 million monthly'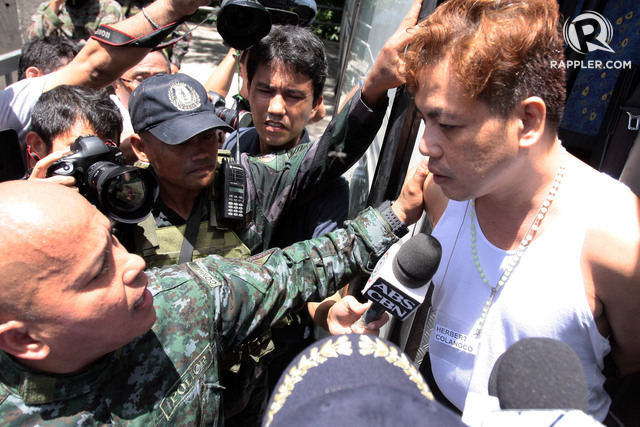 MANILA, Philippines – Herbert Colanggo, a detainee at the New Bilibid Prison, said Senator Leila de Lima, during her time as justice secretary, received collections from the illicit drug trade "for her plans."
In a sworn affidavit before the House committee on justice, Colanggo, who is serving time at the New Bilibid Prison for kidnapping, said that in January 2014, co-convict Jaybee Sebastian approached him to talk about how their respective prison gangs could work together to push drugs. 
Colanggo's affidavit, which Rappler sourced from a government source, was released on the same day he was set to testify before a House of Representatives investigation into the alleged proliferation of drugs inside the high-security prison when De Lima was justice secretary. The Bureau of Corrections, which runs the New Bilibid Prison, is under the justice department. 
In the affidavit, Colanggo said he executed the affidavit as part of his application into the government's witness protection program. 
Colanggo Affidavit by Rappler Philippines on Scribd
De Lima, a member of the Liberal Party and a staunch critic of President Rodrigo Duterte, has slammed the probe as a "sham", supposedly an act of retaliation for launching a Senate probe into the alleged rise of extrajudicial killings in the context of Duterte's drug war. De Lima has since been ousted as chair of the Senate justice committee that leads the probe. 
After two weeks, Colanggo said, a certain Joenel Sanchez approached him to talk about "pushing drugs for the plan of De Lima." He said he had a falling out with Sebastian at that point. Colanggo's gang members agreed with Sanchez's proposal. They were supposedly set to push at least 5 kilos of shabu every two weeks or 10 kilos monthly.  
"Ang mungkahi na magtulak ng droga ayon kay Joenel Sanchez ay para sa mga plano ni De Lima (The request to push drugs from Joenel Sanchez were for the plans of De Lima)," said Colangco in his affidavit. 
The Bilibid inmate has been referred to as "Herbert Colangco" in media reports and even court documents. But in his affidavit, he was named "Herbert Colanggo" in the document. He also signed the affidavit as "Herbert Colanggo." While testifying, Colanggo clarified that his surname had been mistaken for "Colangco."
Sanchez also supposedly tried to convince Colanggo to dupe drug lords in Bilibid by collecting 30 to 50 kilos of illegal drugs without paying them. Colangco was told to submit the names of these drug lords "upang ang mga ito ay ipatapon nila sa ibang lugar (so they could be transferred to another prison)." 
Colanggo said he did not agree to this plan, fearing that he would be on the short end of the deal should De Lima or the director of the prison be out of power.
"Hindi ko rin naisip na ako ay ipapatapon dahil nagbibigay naman ako ng payola kay Sec De Lima ng 3 Million at sa Director ng 1.2 million kada buwan (I did not think that I would be transferred to another prison because I was giving Secretary De Lima 3 million and the Director 1.2 million monthly)," he added. 
According to Colanggo, he personally met De Lima on December 15, 2014, or the same day law enforcers raided the Maximum Security Compound, where he was detained. De Lima herself led the operation. 
"Noong December 15, 2014, kami ay pinatapon sa NBI. Nang araw na yon nakiusap ako na makausap si Sec De Lima sa conference room. Pumayag na ako ay kausapin si Sec De Lima at ako ay pinaupo sa kanyang tabi sa kaliwa (On December 15, 2015, we were brought to NBI. That day, I requested to speak to Sec De Lima inside the conference room. When I was allowed to speak to Sec De Lima, I was told to sit beside her, to her left)," he said. 
Here's De Lima and Colanggo's exchange, based on the convicted kidnapper's affidavit: 
Colanggo, whispering to De Lima: "Mam, yung instruction ni Ronnie Dayan kay Joenel, payag na po ako wag niyo lang ako ipatapon." (Ma'am, Ronnie Dayan's instructions to Joenel is that I agree as long as you don't transfer me.)
De Lima to Colanggo: "Got it, got it."
Colanggo said he already stood up to leave when De Lima told him: "Herbert, temporary ka lang muna doon (Herbert, you'll temporarily be placed here)." 
But Colanggo said he was detained at the National Bureau of Investigation for 8 months. 
Sebastian, Colanggo claimed, was not transferred to NBI at "centralized" drug operations inside Bilibid while making sure rivals were transferred to different prisons. – Rappler.com