To investors worried about his public pronouncements, he says: 'Lumayas kayo' (Leave)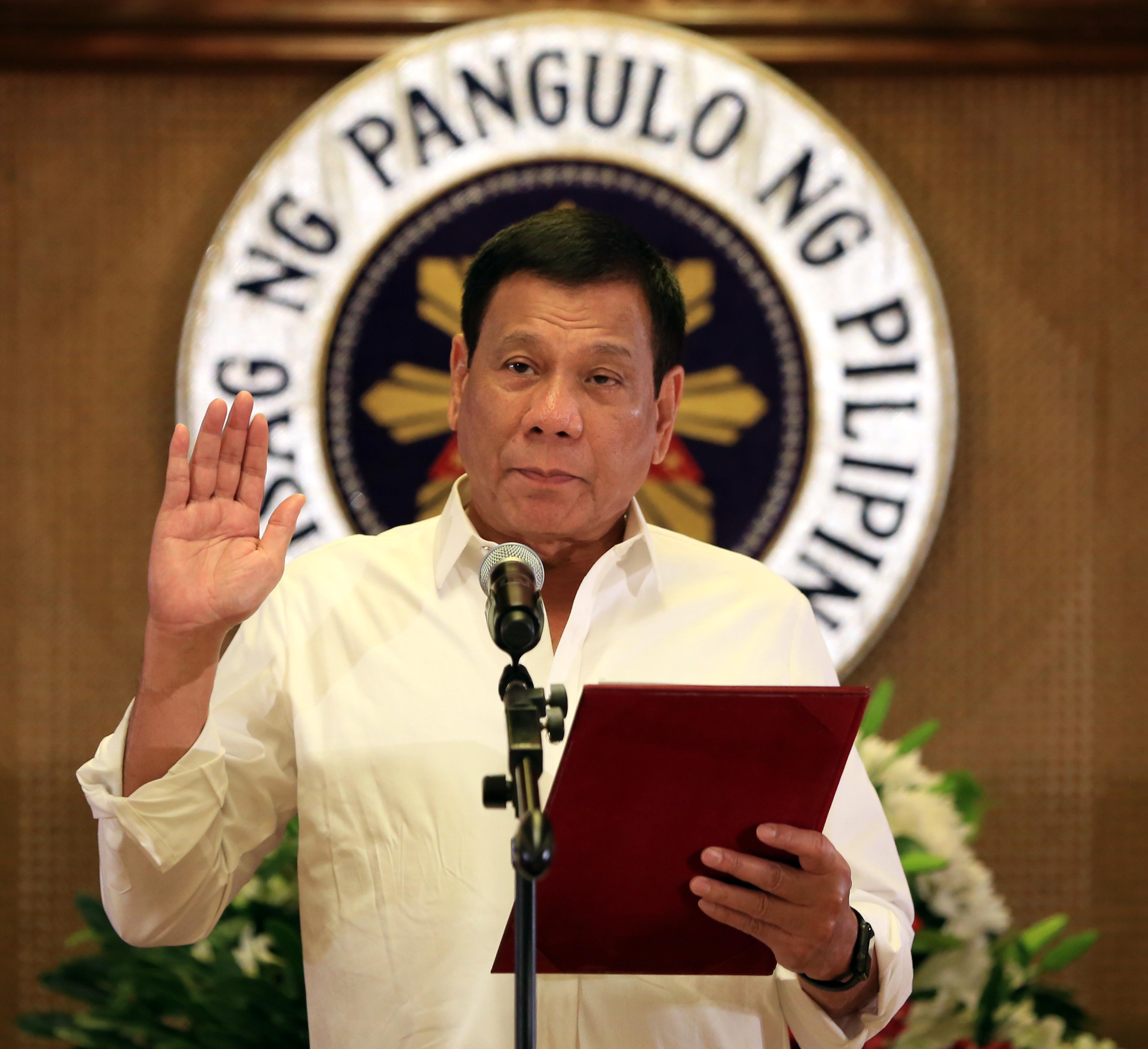 MANILA, Philippines – He may curse at world leaders and threaten criminals, but President Rodrigo Duterte insists his mouth can't bring down the country.
"Do not keep complaining about my mouth because my mouth is not the problem. It cannot bring down a country," said Duterte on Thursday, September 22, during a speech in a police headquarters in Cagayan de Oro.
Duterte was in the middle of a tirade against human rights advocates and foreign officials who say his colorful threats against criminals contribute to the rise in extrajudicial killings in the country.
But the President said, "There is no law in the Philippines that says I cannot threaten criminals… Ang isyu dito, hindi bunganga ko (The issue here is not my mouth)."
He couldn't care less either if international credit rating agencies think his public statements make foreign investors nervous.
"And I would say, the ratings sa (in the) business economy, eh 'di so be it, lumayas kayo (then so be it, leave our country). Then we can start on our own. I can go to China, I can go to Russia. I have a talk with them. They are waiting for me, so what the hell?" he said.
His rebuke comes after credit rating agency Standard & Poor's maintained its stable outlook for the Philippine economy but said Duterte's public pronouncements have caused stability and predictability in policymaking to be "diminished somewhat."
'Lost respect' for EU
Duterte explained that he uses curse words and crude language out of anger for the "hypocrisy" of his critics.
He used as an example the European Parliament which has urged his government to stop extrajudicial killings. But he points out that African migrants are dying at sea because of EU policies. (READ: Duterte gives middle finger to EU lawmakers again)
"EU, you pretended to be imbued with humanity. Ngayon, maraming migrants namamatay diyan sa dagat. (Now many migrants are dying at sea.) You have stopped helping your fellow human beings. They are there dying tapos magturo kayo sa akin na pumatay ng criminal (then you point to me because I kill criminals)?" he said.
Duterte said he has lost respect for the EU.
"That's why I use slur, slang, or epithets. Why? Nakakawala kayo ng respeto (You make me lose respect for you) because you do not even investigate," said the President.
On Thursday, Duterte invited UN and EU officials to go to the Philippines to investigate extrajudicial killings. – Rappler.com