'You know you get a retort from me that's really bull shit? Because you are also bull shitting us,' says the President to the European Union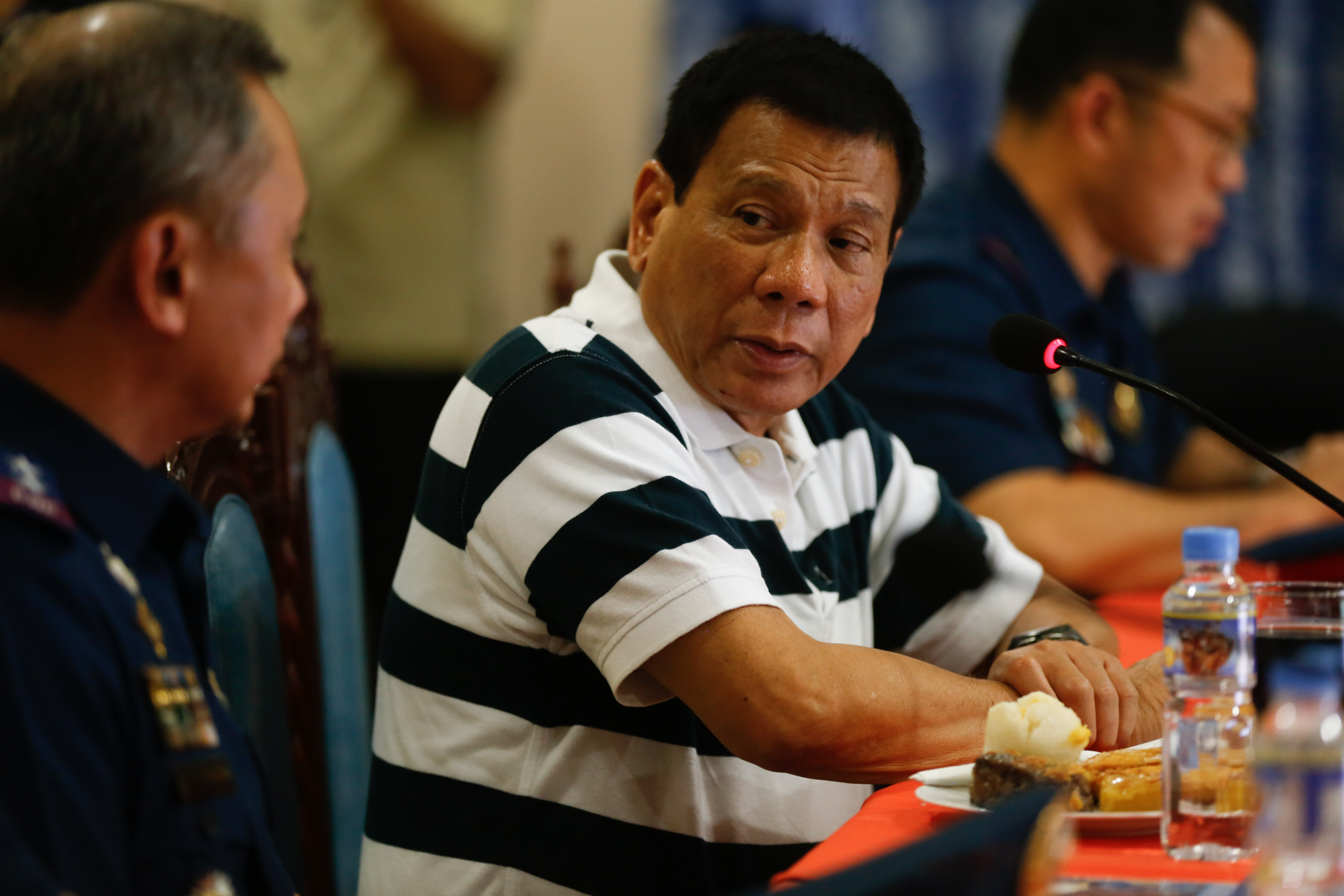 MANILA, Philippines – President Rodrigo Duterte could not care less if he isn't well-liked in Europe for his foul mouth.
"Si Duterte, sabi doon sa EU, Europe, pinaka 'unpopular' daw ako. Gago. Tapos na ang eleksyon, nanalo na ako dito," said Duterte in another tirade-filled speech on Friday, September 23.
(Duterte, they say in Europe, I'm the most 'unpopular.' They're insane. The elections is over, I won over here.)
Duterte, who was voted into the presidency by over 16 million Filipinos last May, said he sees no need to impress Europeans with his "statesmanship."
"Tapos hindi daw ako statesman. Excuse me? Hindi daw ako statesman. Ang pagkaalam ko, tumakbo ako ng Presidente, wala mang posisyong statesman doon sa 'min, bakit mo ko pipilitin maging statesman?" he said.
(Then they said I'm not a statesman. Excuse me? I'm not a statesman, they said. As far as I know, I ran for President. There is no position of 'statesman' here, why will you force me to be a statesman?)
In a speech the previous day, Duterte said his mouth was "rural" and he has no plans of refining his way of speaking.
"I never took a course of statesmanship and I do not intend to be one," he said.
In his Friday speech, Duterte also apologized for referring to United Nations Secretary-General Ban Ki-moon as "Ban Ki-sun."
"Sabi ko Ban Ki-sun, Ban Ki-moon pala…Sun and moon kasi, so I apologize for that faux pas," said the President.
(I said Ban Ki-sun, when it's actually Ban Ki-moon…Because of sun and moon, so I apologize for that faux pas.)
'Bull shit' retorts
In the same speech, Duterte took the opportunity to slam the European Parliament for supposedly blaming his government for the spate of extrajudicial killings happening in the country.
"You know you get a retort from me that's really bull shit? Because you are also bull shitting us. 'Di pa nga nila alam kung sinong nagpapatayan (You don't even know who's doing the killing), why do you attribute all the killings in Manila to the police and me?" Duterte asked.
The President has denied his government is behind the summary executions that make up more than half of the deaths linked to his "war" on drugs.
The police say over 3,300 people have died in incidents linked to drugs. Of these, some 1,200 were killed in police operations supposedly because they violently resisted arrest. Over 2,100 were victims of vigilante-style killings. (IN NUMBERS: The Philippines' 'war on drugs')
Duterte has invited the United Nations and European Union officials to come to the Philippines to probe his drug war themselves instead of relying on media reports.
In his Friday speech, Duterte extended his invitation to US President Barack Obama, another critic of his campaign against illegal drugs. – Rappler.com