But Senator Leila de Lima says she is still waiting for the apology of Senator Richard Gordon, who accused her of 'material concealment' for allegedly hiding the kidnapping case of Edgar Matobato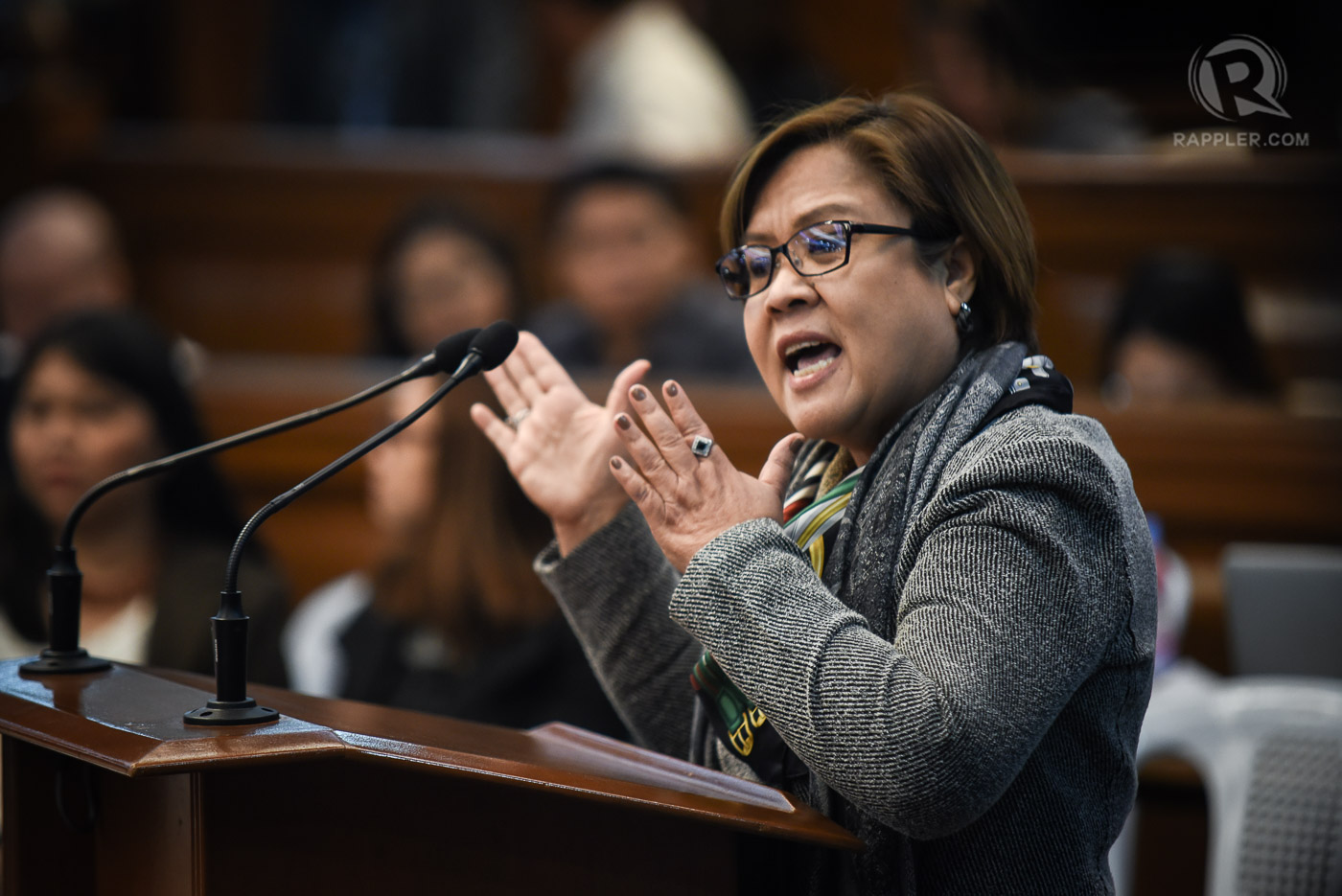 MANILA, Philippines – Senator Leila de Lima apologized to the public for her "outburst" during the Senate hearing on extrajudicial killings on Monday night, October 3, that led to her walking out of the proceedings.
On Tuesday, October 4, a day after the fury died down, De Lima asked for forgiveness for her actions.
"Pasensiya na po kayo do'n sa outburst ko, sa pag-walk out ko. Hangga't maaari 'di dapat 'yan ginagawa pero humihingi ako ng paumanhin," De Lima said in an interview with reporters.
(Sorry for my outburst, my walkout. As much as possible those should not have happened, that's why I'm asking for forgiveness.)
"That's my best expression of protest for the things happening. 'Di ko na po nagustuhan, I was being ganged up. 'Di na ko pinapakinggan (I didn't like how the other senators were ganging up on me. They weren't listening to me)," she added.
The senator also appealed for understanding.
"Humihingi ako ng pag-unawa na wala na po akong ibang choice kagabi. It's too much already. Ano po punto ko pa doon? Para lalo na nga ako i-crucify?" De Lima said.
(I'm appealing for understanding because I had no other choice last night. It's too much already. What was my reason for being there? So they could just crucify me further?)
"I still have my self-esteem, notwithstanding the cruel things being done to me by the members of the House, some members of the Senate, cohorts nila sa labas (their cohorts outside)," she added.
De Lima drew the ire of senators for "material concealment" or allegedly failing to disclose early on the kidnapping case against witness Edgar Matobato, a self-confessed hitman of the Davao Death Squad, who accused President Rodrigo Duterte of ordering killings.
However, De Lima and ally Senator Antonio Trillanes IV presented transcripts of previous hearings to show Matobato himself divulged the kidnapping case before the chamber.
Not backing down
De Lima maintained she would not back down, as she does not want to give her enemies the satisfaction of seeing her fall down.
"'Di po sila humihinto, nakikita nila na katayo pa ako. Kaya I have to continue standing because I don't want to give them the pleasure of seeing me beaten dahil alam ko tama 'pinaglalaban ko," she said.
(They haven't stopped yet because they're seeing that I'm still standing. That's why I have to continue standing because I don't want to give them the pleasure of seeing me beaten. I know what I'm fighting for is right.)
On Monday, De Lima demanded an apology from Senator Richard Gordon, who had replaced her as chairperson of the justice committee.
Gordon quipped: "Don't melt down, you're melting down."
Gordon also chastised De Lima, noting that she acted "meek" before Trillanes arrived.
Still fuming, De Lima threatened: "Since no apology is forthcoming, I'm walking out." She then began gathering her belongings.
Speaking after De Lima had walked out, Gordon said it was an act of "cowardice" to walk out.
De Lima said on Tuesday she is still waiting for Gordon's apology for accusing her of a serious violation of "material concealment." – Rappler.com