The Senate adopts Senate Resolution No. 184, condemning the planned showing of the alleged sex video of Senator Leila De Lima at a congressional inquiry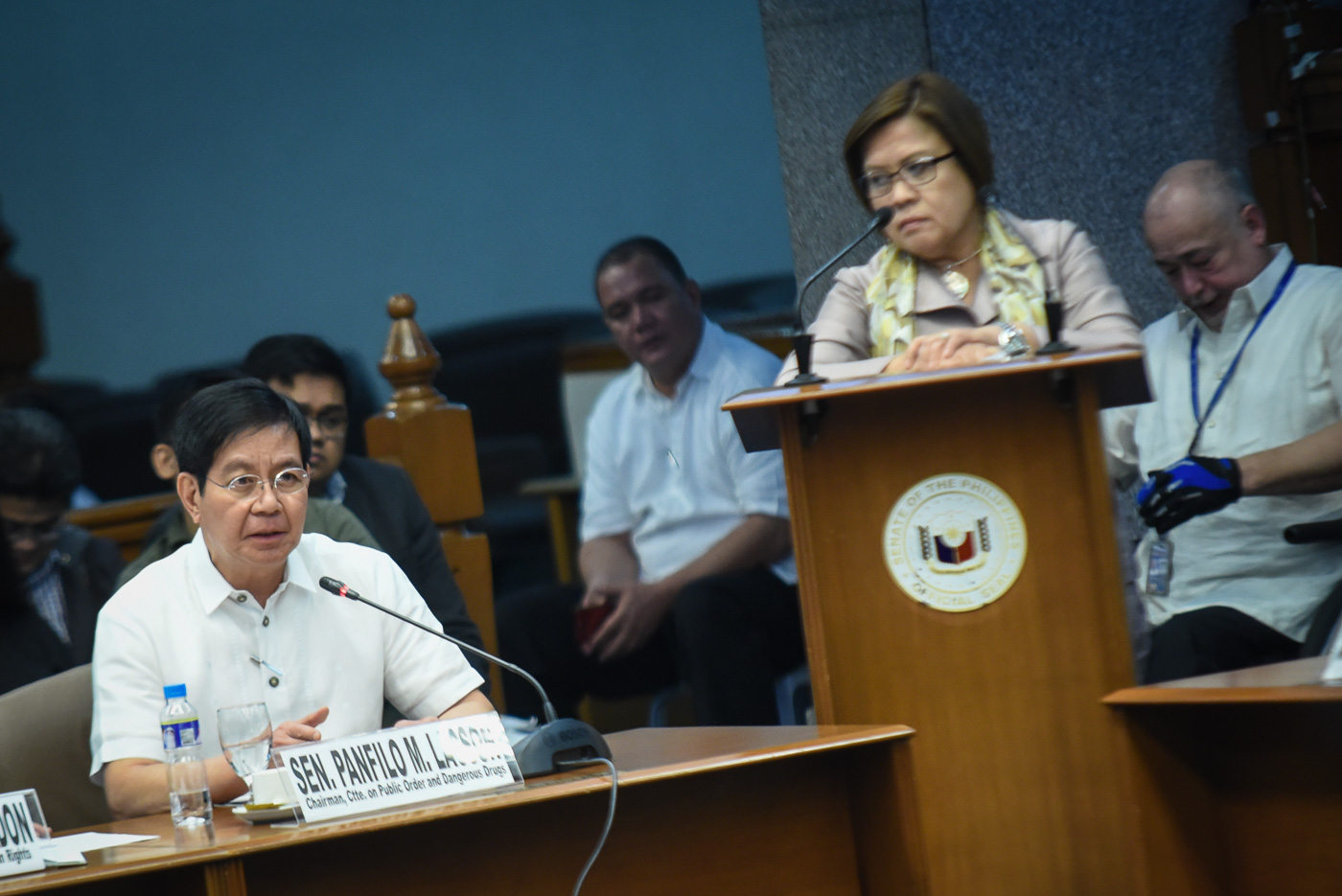 MANILA, Philippines (UPDATED) – In a refreshing move after weeks of bickering among some of its members, the Senate acted unanimously on Tuesday, October 4, when it supported neophyte Senator Leila De Lima against the planned showing of her alleged video at a congressional inquiry.
The Senate adopted Senate Resolution No 184, condemning "in the strongest possible terms" the "illegal" plan of the House of Representatives. It was the women senators who filed Resolution 184, led by Senator Risa Hontiveros, De Lima's friend and ally.
In her privilege speech on Tuesday, Hontiveros urged senators to unite against the issue of the alleged sex video, saying political differences should be set aside. In the end, no senator – even those critical of De Lima – opposed the resolution.
"Mr. President, Sen. Leila has her political battles and many of you might disagree with her positions. So be it. But on the singular issue of the sex video, the battle is bigger than Leila. It is about respect and decency between institutions. It is about chipping away at the structural misogyny that pervades our culture," Hontiveros said.
"This is not just about Senator Leila. This is about every woman," she added.
Senate President Aquilino Pimentel III, for his part, said that as president of the administration party, PDP-Laban, he has ordered his partymates in the House to vote against the showing of the video.
"I gave a directive to partymates in the House. Should it come to a vote, they should vote against showing of the video," Pimentel said.
De Lima is the fiercest critic of President Rodrigo Duterte, and a regular subject of the Chief Executive's tirades in his public addresses.
'Illegal, inter-parliamentary courtesy'
The resolution called the House plan as "illegal, violative of inter-parliamentary courtesy and an affront to women's dignity."
It reiterated that the showing of the alleged private video violates Republic Act 9995 or the Anti Photo or Video Voyeurism Act of 2009 and RA 4200 or the Anti-Wiretapping Law.
"It also violates the time-honored principle of inter-parliamentary courtesy, given that Senator De Lima is a sitting senator and should therefore not be subjected to the ridicule and ignominy of a purported sex video," the resolution said.
"More importantly, it is a blow to our collective struggle to uplift the dignity of women, respect her agency and her autonomy over her own body, and is a form of slut-shaming that will not set a good example for the country," it added.
Prior to this, several senators have also condemned such proposal. De Lima's partymates in the Liberal Party also called it illegal while Pimentel cautioned their House counterparts that such move would have a "political price."
Speaker Pantaleon Alvarez retracted his earlier statement that there is nothing wrong with showing the video while Justice Secretary Vitaliano Aguirre II claimed on Tuesday that they do not have a copy of the video after repeatedly threatening to release it. (READ: Aguirre: 'De Lima' video won't be shown at House probe)
It was Duterte who first brought to public consciousness the controversial video, alleging De Lima was the woman there. – Rappler.com