Presidents Duterte and Xi fail to discuss fishing rights for Filipinos in disputed Scarborough Shoal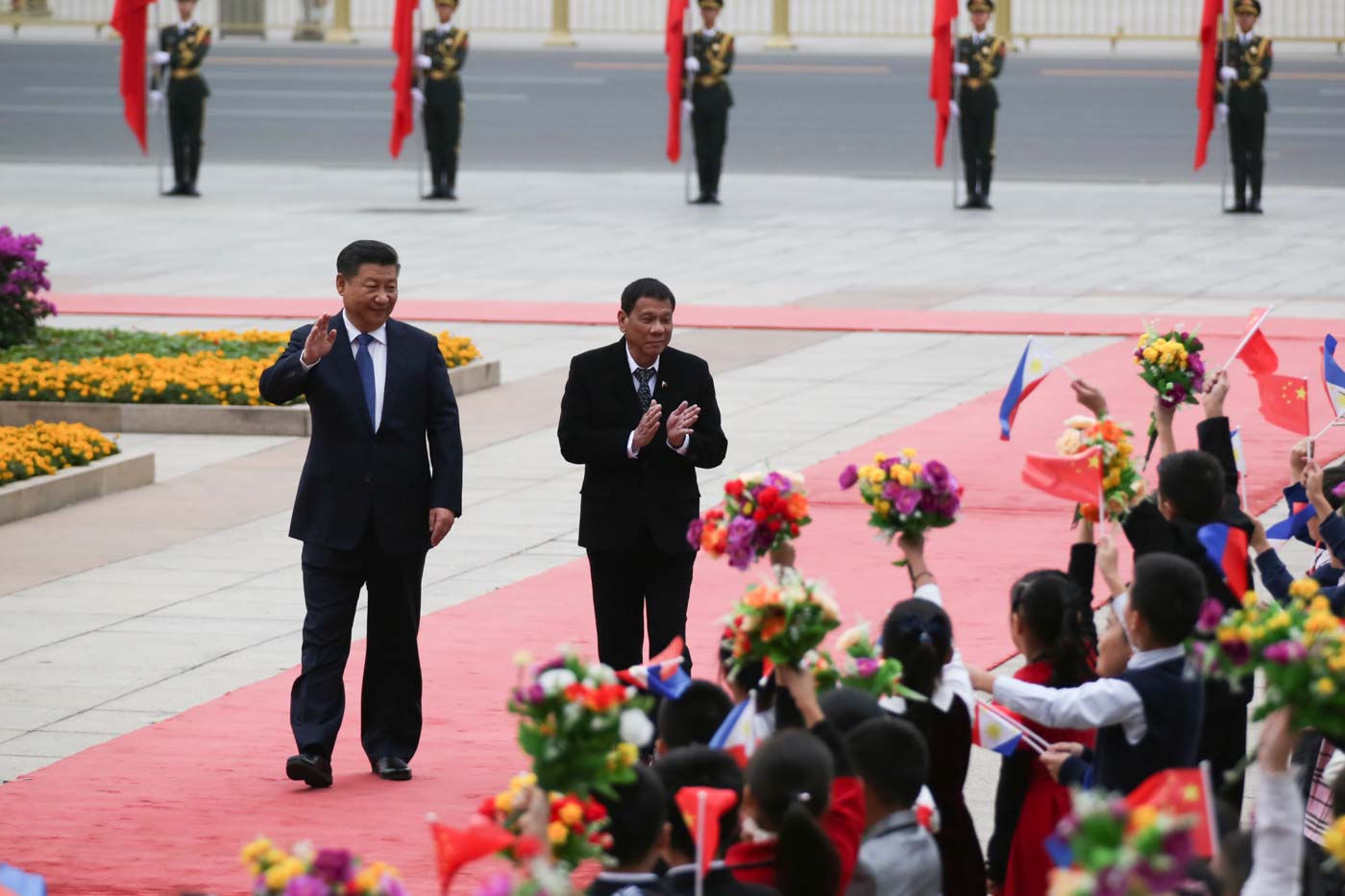 BEIJING, China – During President Rodrigo Duterte's visit to Beijing, he and Chinese President Xi Jinping formally agreed to pursue bilateral talks on the West Philippine Sea (South China Sea) dispute.
"The two Presidents agreed that China and the Philippines will return to the track of dialogue and consultation to properly handle the South China Sea issue," said Vice Foreign Minister Liu Zhenmin during a press conference on Thursday, October 20.
The press briefing was held right after the signing of 13 agreements on cooperation witnessed by Duterte and Xi.
Earlier that day, the two leaders participated in bilateral talks that dealt with a wide variety of topics, from the economy to maritime security.
The decision of the two leaders to enter bilateral talks on the maritime dispute "signifies a new stage in the maritime cooperation bet the two countries," said Liu.
"China is ready for discussions with friends in the Philippines on maritime cooperation and cooperation in many other areas," he added.
He mentioned the Memorandum of Understanding on the Establishment of a Joint Coastal Guard Committee on Maritime Cooperation as one of the milestone deals made during Duterte's visit.
"The coast guard departments have signed a cooperation agreement. This, in itself, means the two countries have started their maritime cooperation," he said.
No mention of fishing rights
Asked if fishing rights of Filipinos in Scarborough Shoal, a disputed feature in the West Philippine Sea, was discussed during the talks, Liu said it was not mentioned.
"The two Presidents did not mention the issue of the Huangyan Dao Island (Scarborough Shoal or Panatag Shoal) but they did talk about cooperation in fishery," said Liu.
The Chinese refer to the shoal as an island though it is actually a a rocky sandbar. Under the United Nations Convention on Laws of the Sea, habitable islands can generate a 200-nautical-mile exclusive economic zone.
China only agreed to "strengthen cooperation in the South China Sea" by helping the Philippines develop its fishery products and aquaculture industry "so as to deliver a better life for the fishermen of the Philippines," said Liu.
Before his trip to Beijing, Duterte said he would "demand" that China "give back" Filipinos' fishing rights in Scarborough Shoal once he is face-to-face with Chinese officials.
He later on said he would not make any "hard impositions" or ask for "concessions" from the Chinese during the state visit. 
No mention was made by Liu of the Permanent Court of Arbitration's July ruling nullifying China's claim in the West Philippine Sea. 
The case, which affirmed the Philippines' claim, arose from a case filed by the previous Philippine administration. The filing of the case led to heightened tensions between the two countries since China insists it has "indisputable sovereignty" in almost the entire sea. – Rappler.com