(3RD UPDATE) Rolando Espinosa Sr executes a detailed affidavit more than a month before he is slain inside a sub-provincial jail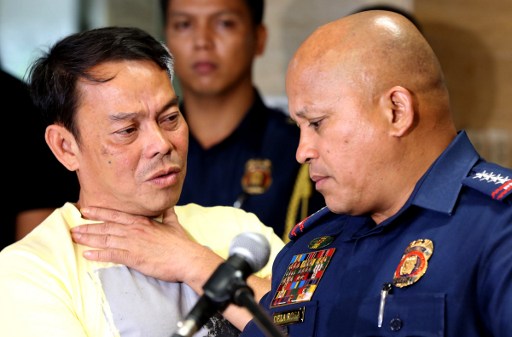 MANILA, Philippines (3rd UPDATE) – When Albuera Mayor Rolando Espinosa Sr first faced media after abruptly leaving his municipality over supposed threats to his life, he admitted being privy to his son Kerwin's illegal drugs operations but denied having benefitted from any of its proceeds.
He surrendered to Philippine National Police (PNP) chief Director General Ronald dela Rosa on August 2, less than 24 hours after President Rodrigo Duterte called on the mayor and his son, an alleged Eastern Visayas drug lord, to surrender.
A "shoot on sight" order should they resist their warrantless arrest had been issued to police, said Duterte.
"Patayin ako ni General Dela Rosa ;pag nag-backout ako (General Dela Rosa can kill me if I backout of my promise)," the mayor told the media then.
Dela Rosa quickly answered in response: "I'll take his word. Sinabi niya na patayin ko siya, patayin ko talaga kung siya'y niloko niya ako, niloko niya 'yung Presidente (If he says I can kill him, I'll really kill him if I find out he's fooling me and the President)."
The bizarre scene, caught on tape by nearly all of the country's major news outlets, would be the first of many in Espinosa's Kafkaesque last 3 months alive.
On November 5, at 4 in the morning, Espinosa would breathe his last, no thanks to the bullet of a different police officer.
The mayor was killed after he allegedly fired shots at Eastern Visayas police trying to serve a search warrant against him and another inmate detailed at the sub-provincial jail in Baybay City, Leyte. Police are still investigating the incident.
On October 5, a full month before he was killed, Espinosa executed a "supplemental affidavit" where he explained in detail personalities supposedly in his son Kerwin's payroll. Kerwin apparently kept a pink notebook which recorded all of his transactions with people he supposedly gave protection money to.
The notebook was kept safe by Kerwin's secretary, who was also the accountant for a hotel that he owned. Before Kerwin fled the country, Espinosa said he took custody of the notebook "for safekeeping purposes."
Espinosa's claims had been the basis of cases filed against several individuals named in the affidavit before the Office of the Ombudsman and the PNP's own Internal Affairs Service (IAS).
Rappler summarizes the names mentioned in the affidavit, the circumstances surrounding their supposed transactions with Kerwin and his father, and their reactions to the allegations hurled against them. 
(Editor's note: Names written as they appear in the affidavit)



– Rappler.com