(UPDATED) Amnesty International Philippines is among a range of groups to speak out against the comments, saying it is 'appalled' by Duterte's statement against human rights campaigners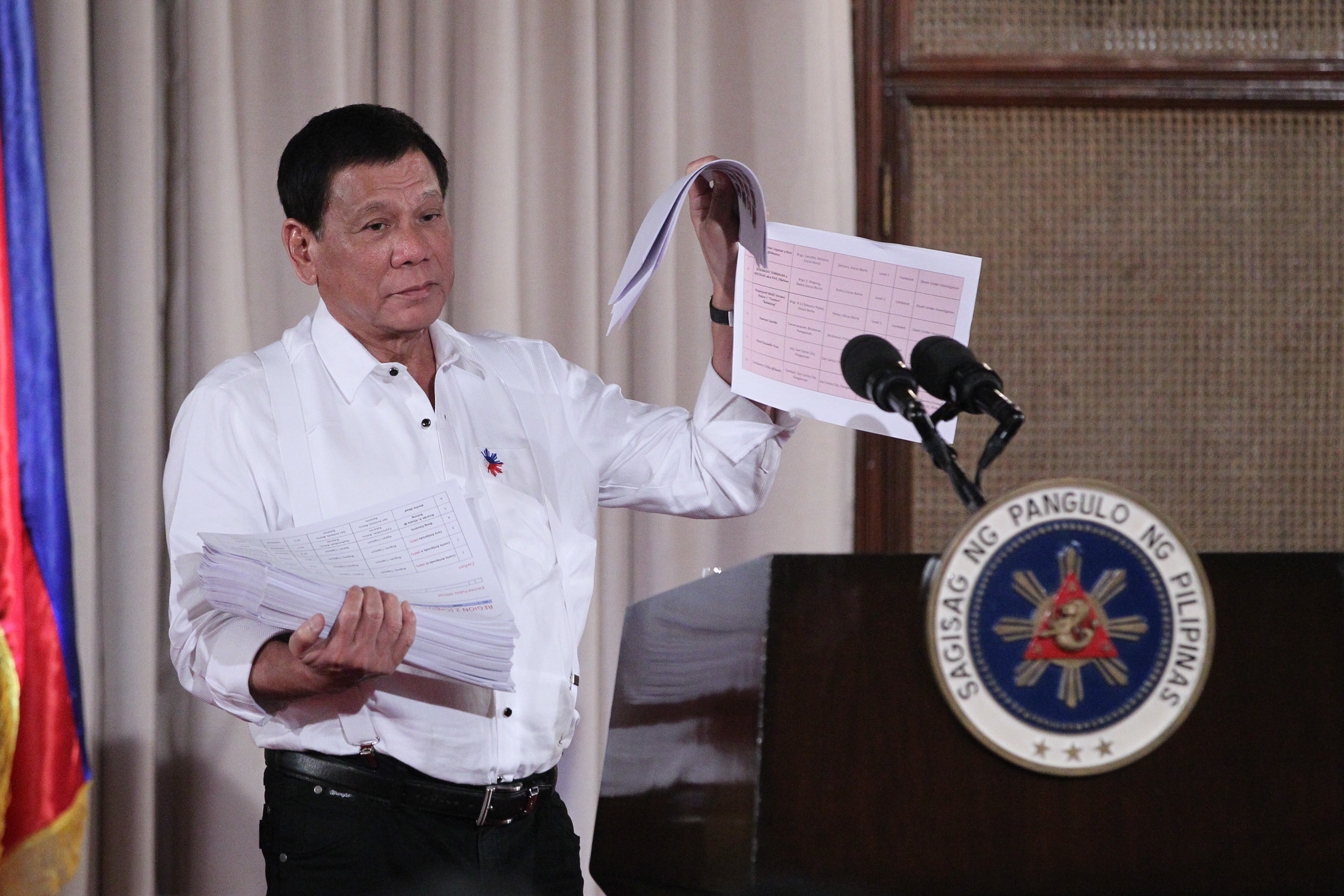 MANILA, Philippines (UPDATED) – Human rights campaigners expressed shock and defiance on Wednesday, November 30, after Philippine President Rodrigo Duterte threatened to kill them for hindering his bloody war on drugs.
Duterte issued his warning on Monday as the death toll from his controversial crackdown climbed above 4,800, or roughly an average of 30 deaths a day since it began five months ago.
"The human rights (defenders) say I kill. If I say: 'Okay, I'll stop'. They (drug users) will multiply," Duterte said.
"When harvest time comes, there will be more of them who will die. Then I will include you among them because you let them multiply," he added.
Amnesty International Philippines was among a range of groups to speak out against the comments, saying it was "appalled."
"This pronouncement is… inciting hate towards anyone who expresses dissent on his war against drugs," it said in a statement.
The National Alliance against Killings Philippines (NAKPhilippines), a newly formed coalition of rights groups, said it took the threat very seriously and called on Duterte to revoke it.
"His comment – that human rights is part of the drug problem and, as such, human rights advocates should be targeted too – can be interpreted as a declaration of an open season on human rights defenders," it said.
NAKPhilippines added, "Considering the alarming rate of summary and extrajudicial killings, we take this threat very seriously especially that it is issued by no less than the President himself. We appeal to President Duterte to revoke this statement so as not to give police officers and the death squads out there the wrong impression that, in the war on drugs, human rights are also targetted. Human rights activists are not the enemy."
Father Atilano Fajardo of the archdiocese of Manila, who works with urban poor groups, said those seeking to protect the vulnerable would not be intimidated.
"This (threat) is a continuation of his effort to create a culture of fear, a culture of violence. We will not let this come to pass," he told AFP.
Fajardo said the Catholic Church, which counts more than 70 percent of Filipinos as followers and has so far been subdued in its criticism of the drug war, was starting to find its voice on the issue.
"That is why he is more threatening. He cannot just frighten us. The priests and nuns will speak out," he said.
Senator Leila de Lima, meanwhile, urged people to take Duterte's threats seriously. "The latest statements of the President to the effect that he will be killing human rights activists soon and that he will pull out the country as a treaty party to the Rome Statute of the ICC are only some of the threats coming from him at present," she said.
De Lima added Duterte's threats should be taken "seriously."
"We cannot take these statements as mere jokes. Action must be taken to assure that the Government respects and abides by the human rights of everyone. We must defend those who defend human rights in this country and oppose all initiatives and actions that would make international accountability for human rights violations and and abuses difficult," explained De Lima.
Duterte won presidential elections in May after pledging to kill tens of thousands of drug suspects, warning that otherwise the Philippines would turn into a narco-state.
Since assuming office, he has called on police and even civilians to kill drug users. 
Duterte also said he would be "happy to slaughter" three million drug addicts, and likened his campaign to Nazi leader Adolf Hitler's efforts to exterminate Jews in Europe.
The 71-year-old lawyer later apologized for his Hitler reference, but said he was "emphatic" about wanting to kill drug users.  
Nevertheless, Duterte has also repeatedly insisted that nearly all of the people killed were either resisting arrest or murdered by fellow gangsters. – Rappler.com