(UPDATED) Secretary Evasco however says there 'were no instructions for VP Robredo's termination.' Speaker Alvarez disagrees, saying he thinks 'she is fired'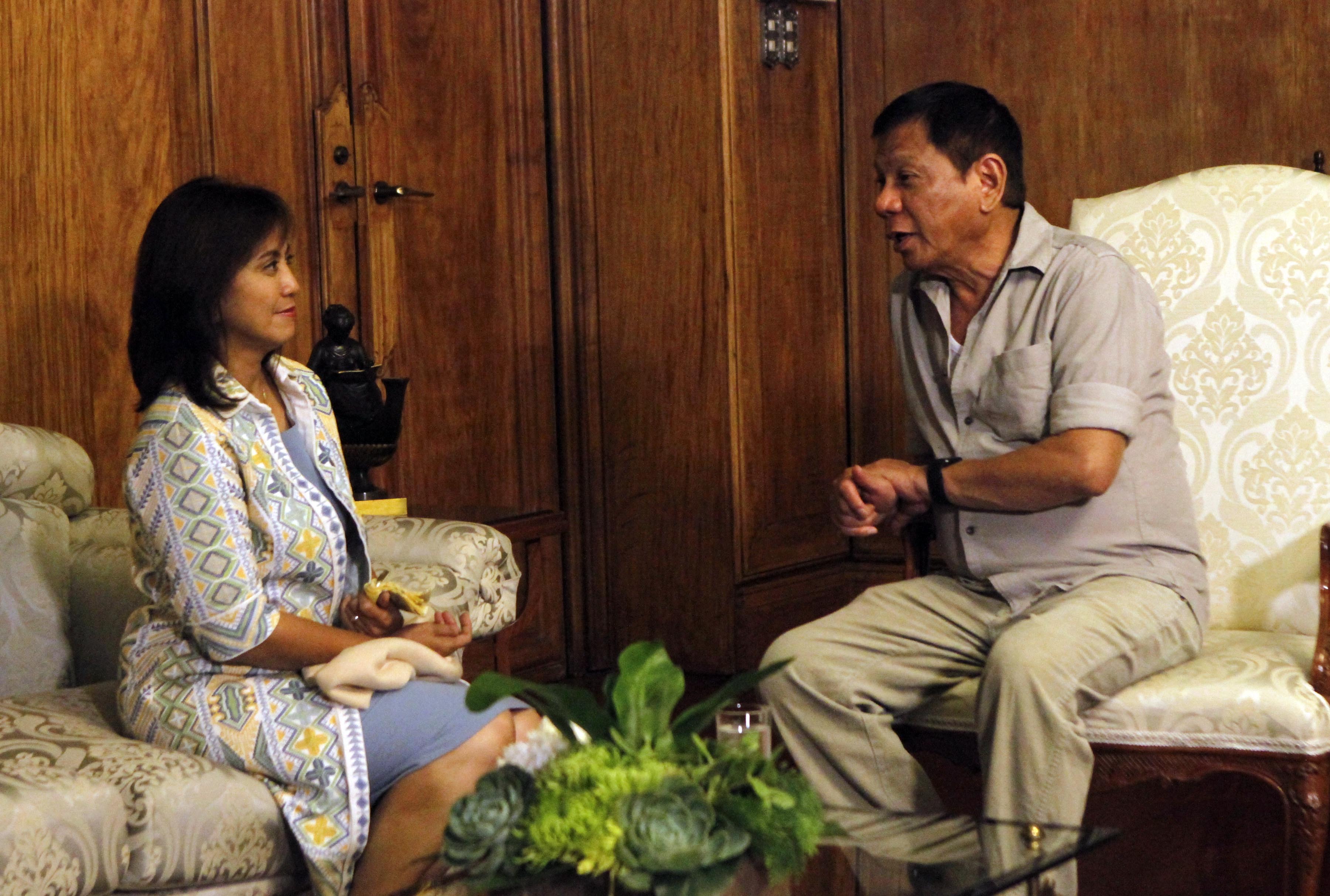 MANILA, Philippines (UPDATED) – Malacañang officials said "irreconcilable differences" led to President Rodrigo Duterte's order for Vice President Leni Robredo to stop attending Cabinet meetings. That order was the "last straw" for Robredo, who announced she is set to resign as chairperson of the Housing and Urban Development Coordinating Council (HUDCC), leaving the Duterte Cabinet.
Cabinet Secretary Leoncio "Jun" Evasco Jr, who had relayed Duterte's order to Robredo only through text message, told Rappler on Sunday, December 4, that having the Vice President attend Cabinet meetings would be pointless.
"There is no point for her to attend Cabinet meetings if her position is always contradictory to the President's," Evasco said.
Communications Secretary Martin Andanar, in a statement released Sunday, also said: "As a Cabinet member, the Vice President is expected to be a team player where differences in policies and issues are discussed during Cabinet meetings. The President in turn respects any decision agreed upon by his Cabinet. Recent events, however, showed the differences between the President and the Vice President as becoming irreconcilable and public."
In her statement, Robredo had also noted that she and Duterte have "major differences in principles and values."
"Since I assumed office, I have been consistent in my opposition to issues such as the burial of former President Ferdinand Marcos in the Libingan ng mga Bayani, extrajudicial killings, reinstating death penalty, lowering the age of criminal liability, and sexual attacks against women," the Vice President said.
The working relationship between Duterte and Robredo has been shaky from the start. Duterte said he was initially not keen on appointing Robredo to the Cabinet because it might hurt the feelings of Robredo's election rival, defeated vice presidential candidate Ferdinand Marcos Jr. He later appointed her as his housing czar. (READ: Hello, Leni? How Duterte made the Cabinet offer to VP Robredo)
Andanar said on Sunday that Duterte had given Robredo a Cabinet post because Filipinos want their top two leaders to work together.
"A member of the Cabinet enjoys the full trust and confidence of the President for he or she acts as the President's alter ego. Having said this, the President entrusted the Vice President, whom we all know came from a rival political party, a position in his official family in deference to the wishes of our people who want both leaders to work together and succeed," said Andanar.
"The Vice President has served our people for many years in various capacities and we wish her to continue this unhampered service to the nation to the best of her abilities," he added.
Fired?
Evasco, meanwhile, told radio dzMM that there were "no instructions for VP Robredo's termination."
This was in contrast to the interpretation of Duterte's staunch ally, House Speaker Pantaleon Alvarez, who said on Sunday, "Considering the situation, I think she is fired!"
Evasco also denied that Duterte's decision was connected to his close ties with Marcos. (READ: Duterte: If Marcos wins protest, 'maybe we'll have new VP')
"It has nothing to do with that," the Cabinet Secretary told Rappler.
Evasco also said he was unaware of the reason why Duterte did not sign the executive order on housing, which Robredo said had been "designed to make HUDCC effective."
"There are many other agencies that have to do with housing. We will work with those," Evasco added. – Rappler.com