About the hostages that could die because of his orders, Duterte says, 'Sorry, collateral damage'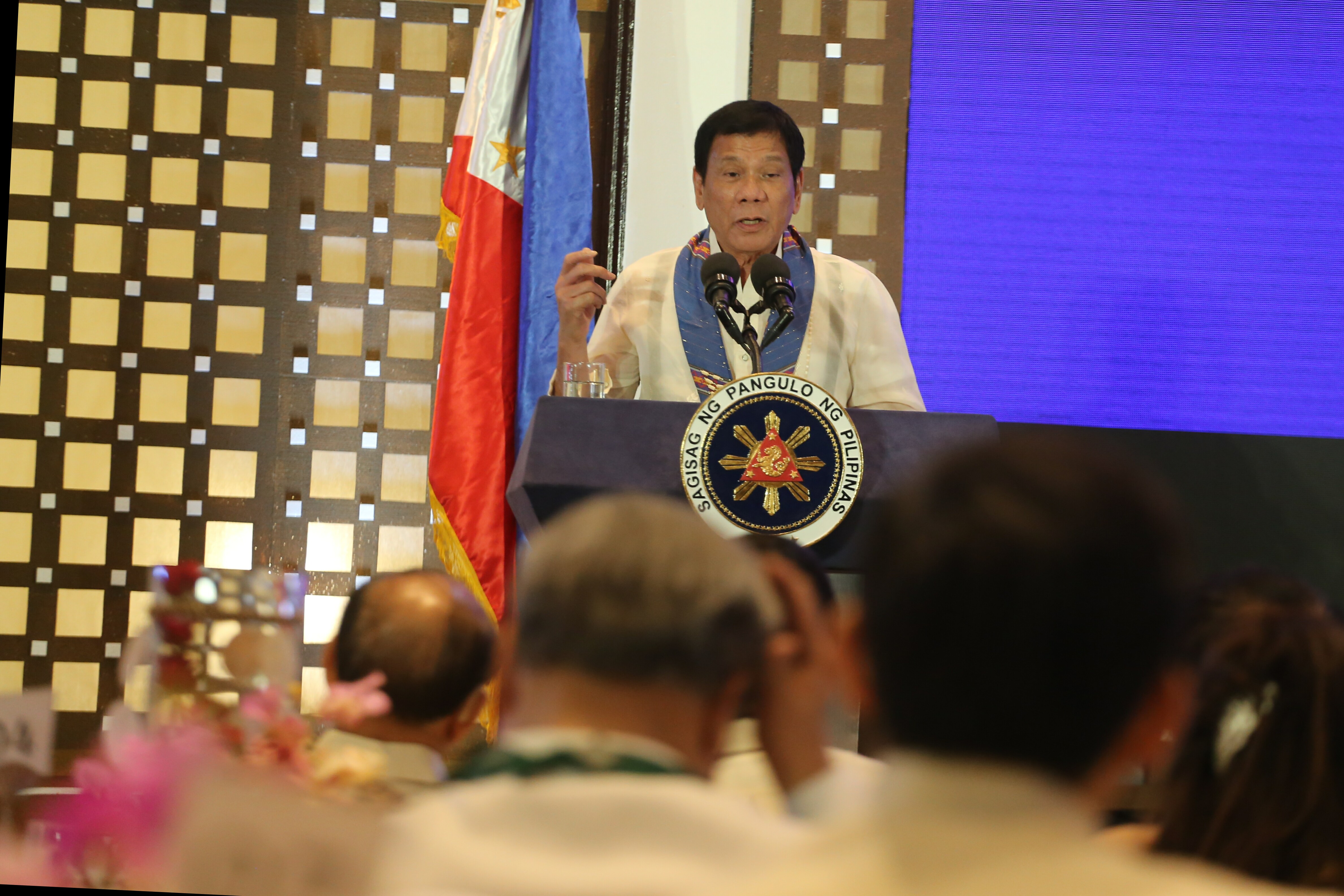 DAVAO CITY, Philippines – President Rodrigo Duterte said he has ordered the bombing of kidnapping groups at sea even if their hostages will die in the process.
"Order ko talaga sa Navy, sa Coast Guard, basta nag-kidnap tapos trying to escape, pasabugin mo na silang lahat. Sabi nila, [may] hostage. Sorry, collateral damage," said Duterte on Saturday, January 14, in Davao City.
(My order to the Navy, Coast Guard is, if they are kidnappers and they are trying to escape, blow them up. They said, there are hostages. Sorry, collateral damage.)
Duterte was speaking at the Davao City Chamber of Commerce and Industry Incorporated's installation of trustees and officers at the Marco Polo Hotel.
To his audience of businessmen and ambassadors, Duterte joked they should make sure not to get kidnapped.
"Kaya huwag kayo magpa-kidnap, sa totoo lang (Don't get kidnapped, honestly)," he said, eliciting chuckles from the crowd.
The President explained that this hardline policy would make kidnappers think twice about committing the crime.
"If they are blasted everyday, that would stop or at least places us in a very, into a parity. Hindi ka lamang sa kalokohan mo, talagang pasabugin [kita] (You don't have an advantage because of your foolishness, I will really blast you away)," he said.
Earlier that day, two hostages were released by armed groups in Sulu. The government insists no ransom was paid.
Kidnap-for-ransom has become a cottage industry in parts of Mindanao. Terror groups like the Abu Sayyaf engage in it to fund their operations. (READ: Duterte wants Abu Sayyaf kidnappers 'blown up' at sea)
In the Saturday speech, Duterte brought up the agreement he signed with the Indonesian and Malaysian governments allowing their maritime forces to pursue kidnappers in Philippine waters.
"I said, 'Okay, if we do not have any available sea assets there, around, you can go ahead and blast them off,'" he said.
Duterte has promised to destroy the Abu Sayyaf, the most notorious kidnap-for-ransom group in the country. – Rappler.com