(3rd UPDATE) Speaker Pantaleon Alvarez makes good on his threat to remove the key posts of lawmakers who did not vote in favor of the death penalty bill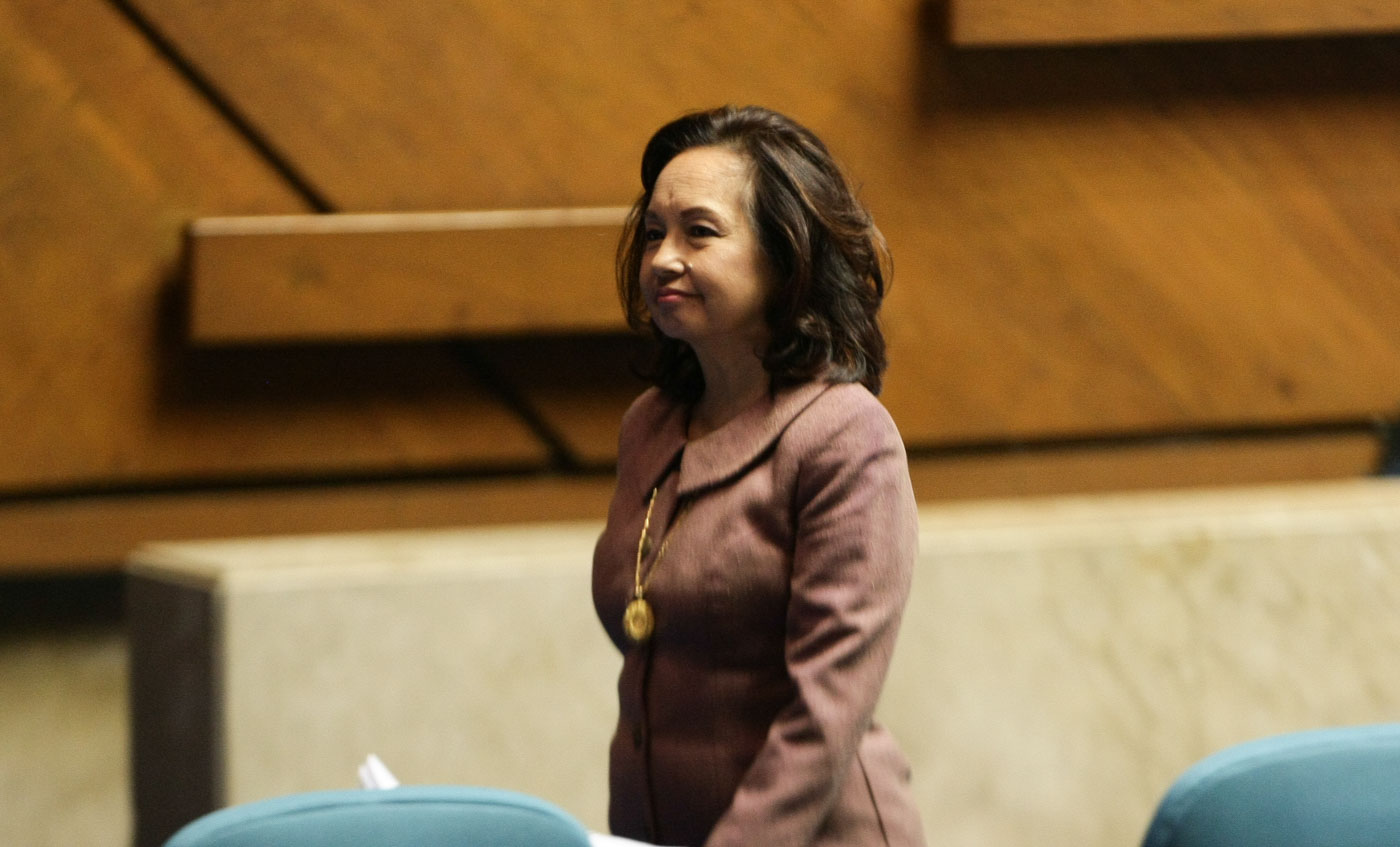 MANILA, Philippines (3rd UPDATE) – Just as promised, Speaker Pantaleon Alvarez stripped the leadership titles of lawmakers who did not vote in favor of the controversial death penalty bill.
House Majority Leader Rodolfo Fariñas made the announcement on Wednesday, March 15, the last session day before the 17th Congress takes a break for the Lenten season.
"Mr Speaker, I move to declare vacant the position of deputy speaker for Central Luzon," said Fariñas, referring to Deputy Speaker Gloria Macapagal-Arroyo.
No one among the 239 lawmakers present objected to Fariñas' motion.
Eleven legislators were also removed as committee chairpersons:
Henedina Abad, Batanes (government reorganization)

Kaka Bag-ao, Dinagat Islands (people's participation committee)

Jose Christopher Belmonte, Quezon City 6th District (land use special committee)

Evelina Escudero, Sorsogon 1st District (basic education and culture committee)

Emmi de Jesus, Gabriela Women's Party (poverty alleviation committee)

Vilma Santos-Recto, Batangas 6th District (civil service and professional regulation committee)

Sitti Turabin-Hataman, Anak Mindanao (Muslim affairs committee)

Antonio Tinio, ACT Teachers (public information committee)

Mariano Velarde, Buhay (overseas workers affairs committee)

Emmeline Aglipay-Villar (women and gender equality committee)

Carlos Zarate, Bayan Muna (natural resources committee)
Escudero was named vice chairperson of her committee. Replacing her as basic education and culture committee chairperson is Cebu 5th District Representative Ramon Durano VI.
On March 7, the House voted 217-54-1 in favor of House Bill (HB) Number 4727, which would allow judges to punish perpetrators of 7 drug-related crimes with either life imprisonment or death. (READ: LIST: How congressmen and women voted on the death penalty bill)
Alvarez previously warned that any House leader who will vote no, abstain from voting, or be absent during the 3rd reading of the measure will be replaced. (READ: What happened behind closed doors to the death penalty bill)
Abad and Villar were absent, while the rest thumbed down the death penalty measure. Alvarez said the rest of the replacements will be finalized by May.
Spared for now
Several House leaders who did not vote yes to HB 4727 were not included in Fariñas' list.
Occidental Mindoro Representative Josephine Ramirez-Sato, a member of the House contingent to the Commission on Appointments (CA), voted against the death penalty as well.
Davao del Norte 2nd District Representative Antonio Floirendo, another CA member, skipped the proceedings.
Absent as well were the following:
Robert Ace Barbers, Surigao del Norte 2nd District (dangerous drugs)
Amado Espino Jr, Pangasinan 5th District (national defense and security)
Delphine Lee, AGRI (ethics and privileges)
Lee, however, is part of the minority bloc.
Conscience over political alliance
In a statement sent to reporters mere seconds after her ousting, Arroyo said her conscience made her thumb down the death penalty bill despite her support for President Rodrigo Duterte and Alvarez.
"The issue of the death penalty is unlike any other, in that it touches the core of each person's fundamental view of human life. I believe that the issue required a vote based solely on conscience and the deepest of personal convictions," said the Pampanga 2nd District Representative.
"Thus, despite my support for President Duterte and Speaker Alvarez, I voted against House Bill Number 4727," she added.
A devout Catholic, Arroyo abolished the death penalty in 2006 when she was still president.
She said she will continue "to do all [she] can do" as a lawmaker to show her continued support for Duterte and Alvarez. 
Recto said she was also prepared for her removal as committee chairperson.
"Alam naman natin 'yun because initially in-announce naman 'yun. It's just that, at the end of the day, it's your conviction, kung ano 'yung pinaniniwalaan mo, I guess 'yun lang naman 'yung importante. Naka-psych na 'yung utak ko just for that," she said.
(We know about this because they announced this initially. It's just that, at the end of the day, it's your conviction that is important. My mind was psyched for that.)
Zarate, however, slammed the leadership for pushing through with the removal.
"This is to be expected and we stand by our principled decision to vote no against the anti-poor death penalty bill. But it does not speak well for the House leadership to have resorted to arm-twisting and railroading just to ensure the passage of an anti-poor death penalty bill," said Zarate.
"We in Bayan Muna and the Makabayan bloc will have to seriously assess the situation and discuss our next move," he added. – Rappler.com