The current minimum wage for domestic workers is P800 in Metro Manila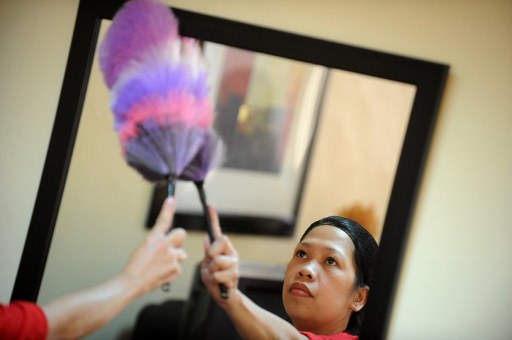 MANILA, Philippines – The congressional bicameral conference committee has fixed the monthly minimum wage for domestic workers in Metro Manila at P2,500, according to committee member Aurora Rep Juan Edgardo Angara.
 
Domestic workers in chartered cities and first-class municipalities will get P2,000 and those in other municipalities will get P1,000.
 
"We are hopeful that this landmark piece of legislation for 2 million kasambahay can be signed into law by President Aquino before the year ends. This would be a perfect Christmas present to our hardworking helpers," Angara told reporters on Tuesday, November 20.
The bicameral conference committee – composed of senators and representatives – hammered out the agreement past midnight on Tuesday, November 20.
Sen Jinggoy Estrada said the committee will release the final version of the bill this week and he expects it to be ratified on Monday, November 26. He is the concurrent Chairman of the Senate Committee on Labor, Employment.
Based on Article 143 of the Labor Code, the current minimum wage for domestic workers is P800 in Metro Manila and highly urbanized cities, P650 in other chartered cities and first-class municipalities, and P550 for other municipalities.
 
"The amounts stated in our Labor Code are very much outdated and unrealistic, considering the high cost of living especially in the metropolis. I think it is high time to increase the minimum wage which can be considered decent compensation," said Estrada.
 
The bicameral conference committee also approved provisions requiring employers to enroll and pay for the Social Security System (SSS), PhilHealth, and PAG-IBIG memberships of the domestic workers.
 
"It was also agreed upon that Congress shall determine a wage rate wherein both the employees and employers will share in the responsibility of paying contribution to such benefits," Estrada said. – Rappler.com