(UPDATED) Superintendent Maria Cristina Nobleza, accused of trying to help Abu Sayyaf members in Bohol escape, is moved to Camp Crame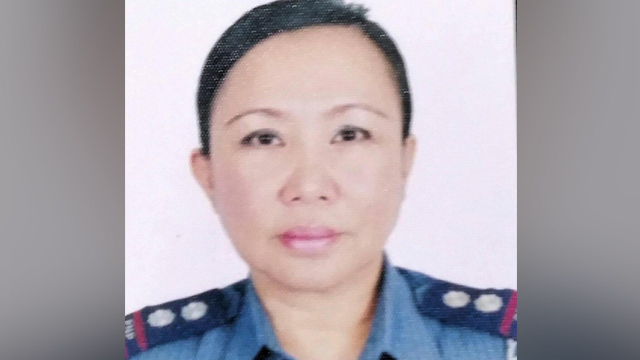 MANILA, Philippines (2nd UPDATE) – The police superintendent who has been detained for allegedly attempting to rescue trapped Abu Sayyaf Group (ASG) members in Bohol was transferred to the national police headquarters on Tuesday morning, April 25.
According to a police source privy to her transfer from Bohol, Superintendent Maria Cristina Nobleza flew to Manila on board a morning flight. Also transferred to Camp Crame was alleged ASG member Renierlo "Ren-ren" Dongon.
Nobleza faces charges for the illegal possession of firearms, obstruction of justice, and resisting a person in authority. Dongon and his mother, who was also aboard the vehicle at the checkpoint, also faces charges for for resisting a person in authority.
She is expected to be presented to Philippine National Police (PNP) chief Director General Ronald dela Rosa in Camp Crame.
Police took Nobleza and Dongon into custody on Saturday, April 22, after they tried to avoid a checkpoint in Clarin, Bohol, where there were ongoing military operations against remaining ASG members.
Dela Rosa said on Monday, April 24, that Nobleza and Dongon were romantically involved.
They met in 2013, when Nobleza was a member of the Presidential Anti-Organized Crime Commission and Dongon, under arrest for allegedly making bombs and other firearms.
The case against Dongon was eventually dismissed, but an arrest warrant against him was later issued over a bombing incident that killed two people. His relationship with Nobleza supposedly continued.
Dela Rosa said on Monday that President Rodrigo Duterte ordered the immediate "incarceration" of Nobleza, the deputy chief of the Davao Regional Crime Laboratory at the time of her arrest.
"The President is firm and decisive in the fight against terrorism. He has ordered government troops to carry out sustained, focused and intense operations to put an end to lawless and gruesome acts of violence," Presidential Spokesperson Ernesto Abella said in a statement on Tuesday.
Aside from illegal possession of firearms, Dela Rosa said Nobleza also faces charges for supposedly trying to help terrorists.
Citing initial information from Bohol police, Dela Rosa said Nobleza claimed they were only trying to bring medicine to one of the surviving Abu Sayyaf members. But according to police, they saw text messages from an alleged Abu Sayyaf member to Nobleza, asking for rescue.
At least 10 alleged Abu Sayyaf members have been killed in government operations in the province. On April 11, police and military launched their first operation in the island province after Inabanga town residents reported the arrival of strange pump boats.
ASG members had apparently traveled via pump boat from Sulu in Mindanao, to Inabanga town in Bohol. – Rappler.com