Following the police officer's arrest in Bohol, authorities conduct follow-up raids on properties linked to Superintendent Maria Cristina Nobleza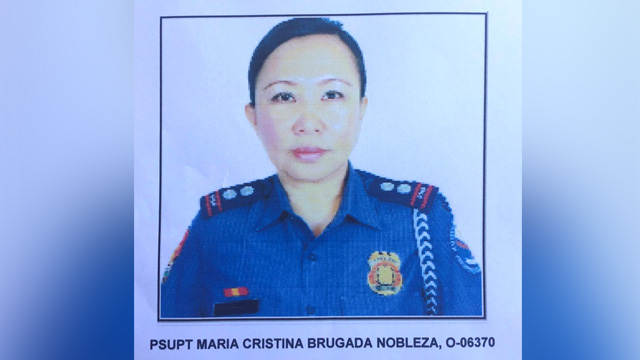 MANILA, Philippines – Raids on two properties linked to a police officer accused of coddling Abu Sayyaf members yielded various firearms, bomb-making components, and "subversive documents pertaining [to] terrorist activities," according to police reports.
The raids were made a day after Superintendent Maria Cristina Nobleza, deputy chief of the Davao Region Crime Laboratory, was arrested in Clarin, Bohol. She and her companions had attempted to avoid a police checkpoint in the area, where there were ongoing military operations against the Abu Sayyaf.
Renierlo Dongon, an alleged bomb maker and Abu Sayyaf member who is romantically linked to Nobleza, was also arrested.
On Monday, April 24, personnel from the Philippine National Police (PNP) and the National Intelligence Coordinating Agency (NICA) in Northern Mindanao enforced a search and seizure warrant against Nobleza in Malaybalay City, Bukidnon. Government agents seized the following from Nobleza's Malaybalay house.
1 M16 riffle 
7 M16 magazines 
1 caliber .45 pistol with 1 magazine loaded and 7 cartridges 
218 cartridges for M16 riffle
1 M16 bandolier
1 yellow timer suspected to be used for an improvised explosive devise
Bomb component for an improvised explosive device
Soldering iron 
66 non-electric blasting caps 
1 pc 9-volt battery 
1 piece tester
Assorted subversive documents pertaining terrorist activities
Nobleza faces charges following the discovery of firearms and explosives during the raid.
The police report said that a certain Al Mohammar Bayani, 22, from Lanao del Norte, and two minors were present during the raid. The minors were turned over to the Department of Social Welfare and Development (DSWD).
Also on Monday, Bohol police raided Nobleza's rented apartment in the province and seized the following:
An item believed to be a C4 explosive 
Detonating cord 
Blasting cap
Blasting cap kit
Personal belongings
Nobleza and Dongon were brought to Camp Crame Tuesday morning, April 25.
The police officer also faces charges of illegal possession of firearms, obstruction of justice, and resistance and disobedience to agent of person in authority. – Rappler.com