(UPDATED) From a Mindanao-inspired menu to the President reusing one of his old barongs, here's what to expect on SONA day on July 24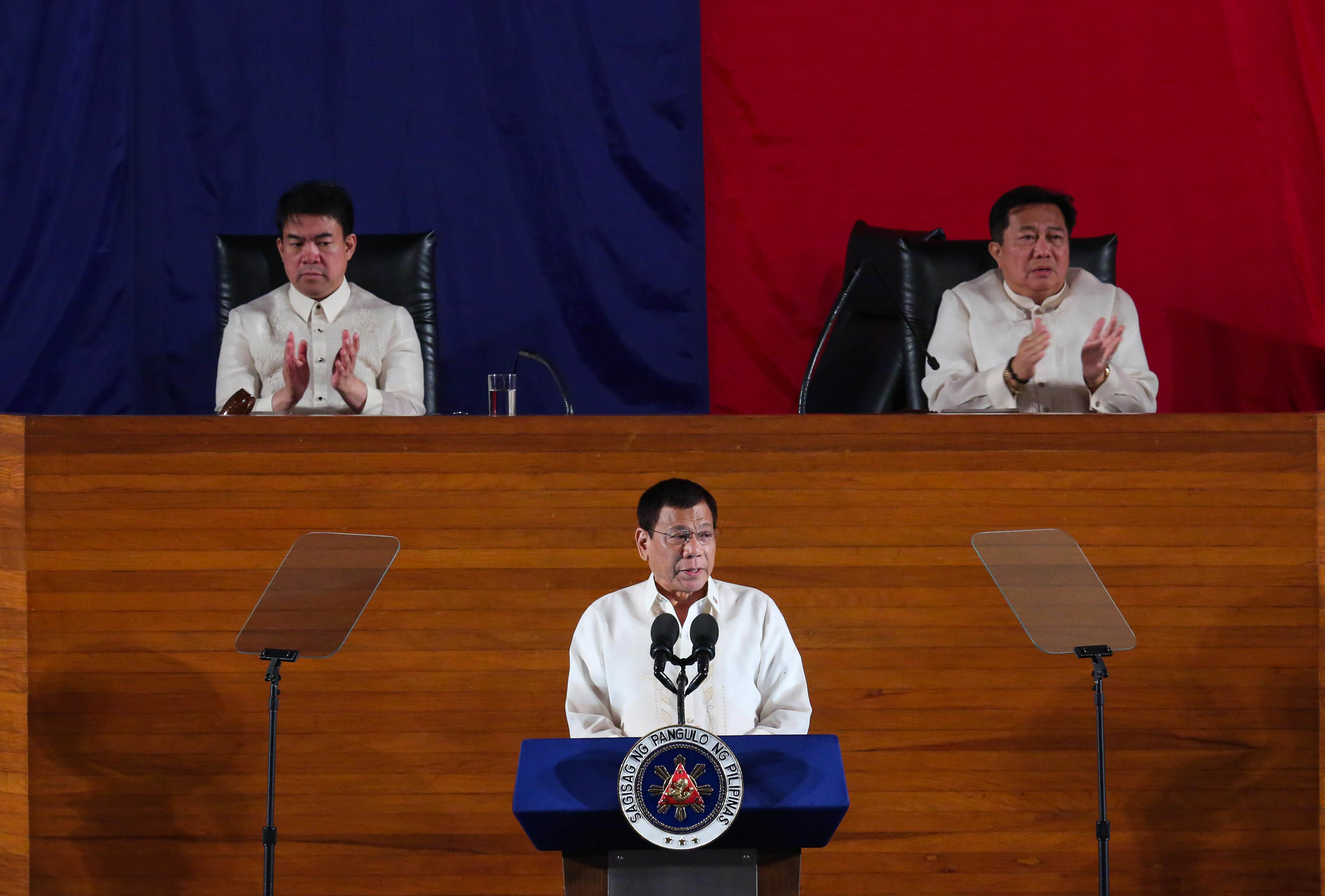 MANILA, Philippines (UPDATED) – The nation is anticipating the second State of the Nation Address (SONA) of President Rodrigo Duterte on Monday, July 24.
Duterte is expected to flaunt his administration's achievements for its first year and also lay down his legislative agenda for the next 12 months. The theme of his speech this year is "A Comfortable Life for All," said Malacañang.
Just like last year, the event will do away with previous years' pomp and pageantry, following the Duterte administration's inclination to keep formal events simple.
He will be arriving either by air or land at around 3:30 pm at the Batasang Pambansa. Duterte will receive arrival honors to be led by Armed Forces of the Philippines chief of staff Eduardo Año as well as the sergeant-at-arms of the House of Representatives and the Senate.  
The President's welcoming committee will include Senate President Aquilino Pimentel III, Speaker Pantaleon Alvarez, Senate Majority Leader Vicente Sotto III, House Majority Leader Rodolfo Fariñas, and the secretary-generals of both chambers.
The welcoming committee will then escort Duterte to the Legislators' Lounge, where he will be paid a courtesy call by Congress leaders. He will then proceed to the plenary hall to deliver his speech.
Here's what we know about Duterte's SONA and major SONA-related events from organizers and those close to the President:
1. Invitations. Around 3,000 people are expected to watch Duterte deliver his speech at the plenary hall of the Batasang Pambansa. Guests include top politicians, Cabinet members, Supreme Court justices, members of the diplomatic corps, former presidents, and other special guests. Just like last year, former president Benigno Aquino III will be skipping his successor's SONA.
2. Dress code. The dress code is simple business attire. Senators and lawmakers, however, are required by law to be in Filipiniana. 
3. Menu. Guests will be served a Filipino-inspired merienda buffet by Via Mare, mostly native delicacies from Mindanao and Davao, where Duterte was a longtime mayor. Only native drinks like sago't gulaman and lemonada will be served. They will not serve alcohol. 
4. Program. SONA guests have to be in the Batasang Pambansa's plenary hall by 3 pm to ensure they are seated by the time Duterte arrives and delivers his speech at 4 pm. But in the morning, lawmakers are expected to already be in the plenary hall to begin the 17th Congress' session at 10 am. 
5. Speech. Presidential Spokesperson Ernesto Abella said Duterte is "simply going to be speaking from his heart." The President is expected to mention the Marawi crisis, the Bangsamoro Basic Law, tax reform, and the government's war against drugs and corruption.
Duterte had been practicing delivering his speech without a teleprompter. Last year, he had trouble reading his speech from the device, leading Duterte to resort to ad libs because he had gotten tired from reading his prepared speech. 
Palace Communications Secretary Martin Andanar said they are considering hiring interpreters so that diplomats would be able to understand the President when he speaks in Filipino or Bisaya. 
6. National anthem singer. Monaliza Adam Mangelen, a staff member of the House of Representatives' Human Resource Management Service, will sing "Lupang Hinirang." She is from Isulan, Sultan Kudarat, and is part of the Maguindanaoan tribe.
7. 'Recycled' barong and gown for Duterte and Honeylet. The President and his partner, Honeylet Avanceña are expected to re-use the outfits they wore in previous events. Designers from Davao-based design house Chardin said Avanceña relayed this to them. This is because Duterte prefers to use one of his old barongs for the event. 
8. Duterte family attendance. Members of Duterte's family were invited to the SONA. Davao City Mayor Sara Duterte-Carpio will be attending.
9. Director. Acclaimed filmmaker Brillante Mendoza will direct Duterte's SONA for the second straight year. He plans to make some adjustments this year after his style was criticized during the 2016 SONA.  
10. Tight security. With all the country's powerful men and women under one roof, security during the SONA will be tight. Only invited guests and accredited media are allowed to enter the Batasang Pambansa.
National Capital Region Police Office chief Director Oscar Albayalde said there will no shields, batons, or firearms for cops tasked to manage protests during the SONA.
11. Class suspensions. Classes have been suspended in Quezon City in anticipation of protests along Commonwealth Avenue as Duterte delivers his speech. 
– with reports from Pia Ranada/Rappler.com