Historian Rey Ileto says the 'boss mayor' embodied by President Rodrigo Duterte is an unintended legacy of the resistance against American occupation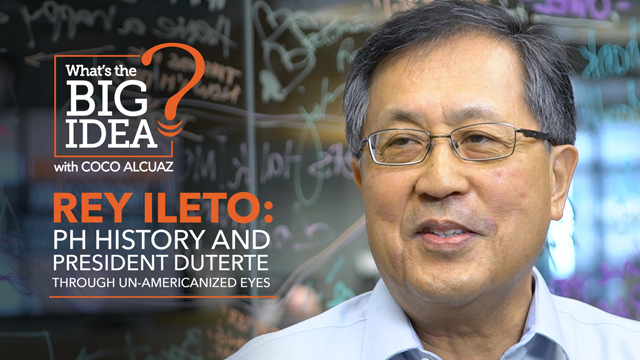 MANILA, Philippines – A new book by the author of the 1979 book "Pasyon and Revolution" will soon be in bookstores.
"What's the Big Idea" anchor Coco Alcuaz finds out the big idea behind the new book, "Knowledge and Pacification" that, like the first book, takes apart American influence on Philippine society.
Author and historian Rey Ileto tackles how American occupation casts a long shadow on the lives of Filipinos through the archetype "boss mayor." 
He allows readers a chance to view today's top boss mayor, President Rodrigo, through the lens of history and contextualizes the President's anti-Americanism as a ripple-effect of that tumultuous yet defining era in history. – Rappler.com
MORE ON 'WHAT'S THE BIG IDEA?
Elbert Cuenca on creating restaurants
Brother Armin Luistro musters collective impact
Look on the bright side: Malang 1928-2017
Bo's Coffee competes with global players
Scientist writes children's book for girls
Arsenio Lacson: The mayor who would be president
Rey Ileto: History and Duterte through un-Americanized eyes 
Weather Philippines: Private sector fills information gap
Metropolitan Theater: Reviving an Architectural Icon
Virtual reality history at the Ayala Museum
Carmen's Best Ice Cream: From throwaway product to passion project
AIM bids for big data leadership 
Katipunan: Struggles of a Philippine craft beer pioneer
Areté: Ateneo puts finishing touches on new art and innovation hub  
Mid-century modern art and the Philippine Art Gallery