Here's the list of the lawmakers who vote for and against the RH bill.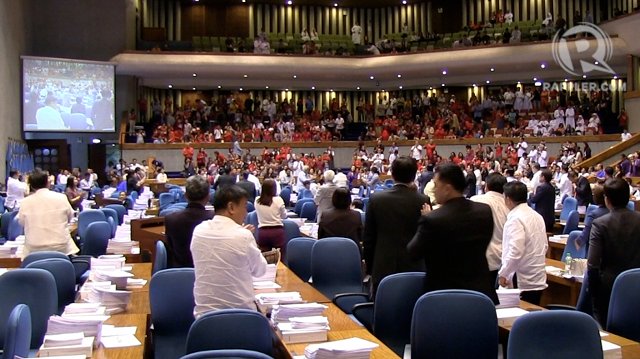 MANILA, Philippines – Voting 113-104-3, the House of Representatives approved House Bill 4244, commonly known as the Reproductive Health bill, on 2nd reading, placing it one step closer to becoming a law. 
A total of 220 votes were cast. There were 217 lawmakers who responded to the roll call at 8:45 pm. But as the night dragged, more lawmakers arrived while some, like anti-RH Rep Roilo Golez, chose not to vote despite being present when the roll was called. 
Here's how your lawmakers voted:
Yes to RH bill (113):
Henedina Abad
Emmelyn Aglipay 
Irvin Alcala
Mercedes Alvarez
Angelica Amante-Matba
Sonny Angara
Patricio Antonio
Godofredo Arquiza
Kaka Bag-ao
Teddy Baguilat Jr
Pangalian Balindong
Bolet Banal
Elpidio Barzaga
Rodel Batocabe
Franklin Bautista
Walden Bello
Sonny Belmonte
Vicente Belmonte Jr
Benjo Benaldo
Albee Benitez
Ma. Jocelyn Bernos
Rodolfo Biazon
Mar-Len Binay
Ferjenel Biron
Anna York Bondoc
Eleanor Bulut-Begtang
Mitzi Cajayon
Emi Calixto-Rubiano
Teddy Casiño
Winnie Castelo
Nancy Catamco
Boying Celeste
Arnel Cerafica
Justin Chipeco
Kimi Cojuangco
Neri Colmenares
Ronald Cosalan
Cinchona Cruz-Gonzales
Simeon Datumanong
Emmi De Jesus
Arthur Defensor Jr
Antonio G Del Rosario
Antonio A Del Rosario
Imelda Dimaporo
Joel Duavit
Jun Omar Ebdane
Franny Eriguel
Rogelio Espina
Robert Estrella
Florencio Flores Jr
Daisy Avance-Fuentes
Mylene Garcia-Albano
Janette Garin
Sharon Garin
Rex Garchalian
Weslie Gatchalian
Ana Cristina Go
Arnulfo Go
Neptali Gonzales II
Agapit Guanlao
Teodorico Haresco
Jim Hataman-Saliman
Bernadette Herrera-Dy
Luzviminda Ilagan
Cesar Jalosjos
Seth Jalosjos
Josefina Joson
David Kho
Josephine Noel-Lacson
Antonio Lagdameo Jr
Monique Lagdameo
Edcel Lagman
Jules Ledesa
Jocelyn Limkaichong
Tupay Loong
Carlo Lopez
Carol Jayne Lopez
Roy Loyola
Erineo Maliksi
Zeny Maranan
Rafael Mariano
Raymond Mendoza
Florencio Miraflores
Alejandro Mirasol
Joaquin Carlos Nava
Francisco Ortega
Carlos Padilla
Cresente Paez
Raymond Palatino
Angelo Palmones
Jack Ponce-Enrile
Marlyn Primicias-Agabas
Miro Quimbo
Jesus Sacdalan
Nur-ana Sahidulla
Raden Sakaluran
Mel Senen Sarmiento
Bai Sandra Sema
Eric Singson Jr
Ma Victoria Sy-Alvarado
Marcelino Teodoro
Sigfrido Tinga
Antonio Tinio
Acmad Tomawis
Jerry Treñas
Sherwin Tugna
Niel Tupas Jr
Isidro Ungab
Mark Villar
Linabelle Ruth Villarica
Susan Yap
Victor Yu
Jose Zubiri III 
No to RH bill (104):
Daryl Grace Abayon
Pedro Acharon Jr
Romeo Acop
June Alcover
Thelma Almario
Antonio Alvarez
Ma Zenaida Angping
Rodolfo Antonino
Tomas Apacible
Jose Aquino II
Ma Evita Arago
George Arnaiz
Benjamin Asilo
Catalina Basina
Amado Bagatsing
Leopoldo Bataoil
Al Francis Bichara
Tricia Bonoan-David
Salvador Cabaluna III
Jonathan Cabilao-Yambao
Ma Amelita Calimbas-Villarosa
Jose Carlos Cari
Jane Castro
Beng Climaco
Christopher Co
Sonny Collantes
Bingbong Crisologo
Dakila Cua
Maximo Dalog
Gina De Venecia
Rachel Del Mar
Fatima Allah Dimaporo
JV Ejercito
Erico Fabian
Antonio Ferrer
Salvio Fortuno
Orlando Fua
Arnulfo Fuentebella
Florencio Garay
Alfredo Garbin Jr
Albert Raymond Garcia
Pablo John Garcia
Pablo Garcia
Anthony Golez
Lucy Torres-Gomez
Dong Gonzales
Fernando Gonzales
Eduardo Gullas
Paolo Javier
Scott Davies Lanete
Isidro Lico
Mikey Arroyo
Eleandro Madrona
Mitos Magsaysay
Oscar Malapitan
Hermilando Mandanas
Alfredo Marañon III
Imelda Marcos
Lalo Matugas
Evelyn Mellana
Mark Llandro Mendoza
Roger Mercado
Lani Mercado-Revilla
Neil Montejo
Florencio Noel
Karlo Nograles
Reena Obillo
Emil Ong
Manny Pacquiao
Elmer Panotes
Jesus Emmanuel Paras
Ponciano Payuyo
Mariano Piamonte Jr
Ma Valentina Plaza
Roberto Puno
Deogracias Ramos Jr
Micahel Rivera
Arturo Robes
Isidro Rodriguez Jr
Maximo Rodriguez Jr
Rufus Rodriguez
Guillero Romarate Jr
Ferdinand Martin Romualdez
Pedro Romualdo
Roman Romulo
Benhur Salimbangon
Cesar Sarmineto
Dennis Socrates
Danilo Suarez
Augusto Boboy Syjuco
Pryde Henry Teves
Toby Tiangco
Irwin Tieng
Randolph Ting
Arnel Ty
Czarina Umali
Peter Unabia
Renato Unico Jr
Rodolfo Valencia
Mariano Michael Velarde Jr
Lord Allan Jay Velasco
Bernardo Vergara
Joseph Gilbert Violago
Arthur Yap
Abstention (3)
Jeffrey Ferrer
Magtanggol Gunigundo
Jesus Crispin Remulla
 – Rappler.com