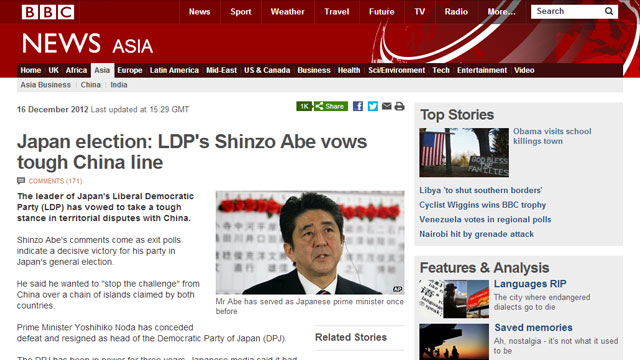 Japan's conservative opposition swept the polls on Sunday, December 16, resulting in the defeat of Prime Minister Yoshihiko Noda of the Democratic Party of Japan (DPJ). Noda, whose party broke the almost half a century rule of the conservative LDP, remained in power for only 3 years. Noda resigned as head of the DPJ. Abe, who had previously served as prime minister between 2006 and 2007, meanwhile pledged to take a tough position in territorial disputes against China. He said the 8 disputed islands known as Senkaku islands are Japan's "inherent territory" and that the LDP sought to "stop the challenge" from China. He also promised to "pull Japan out of deflation and correct a strong yen. The situation is severe but we need to do this."

Read the full story on Rappler.

Abe's declarations about China are on BBC News. 

A related story is on CNN.