President Rodrigo Duterte says he has sent this message to the House of Representatives through Speaker Pantaleon Alvarez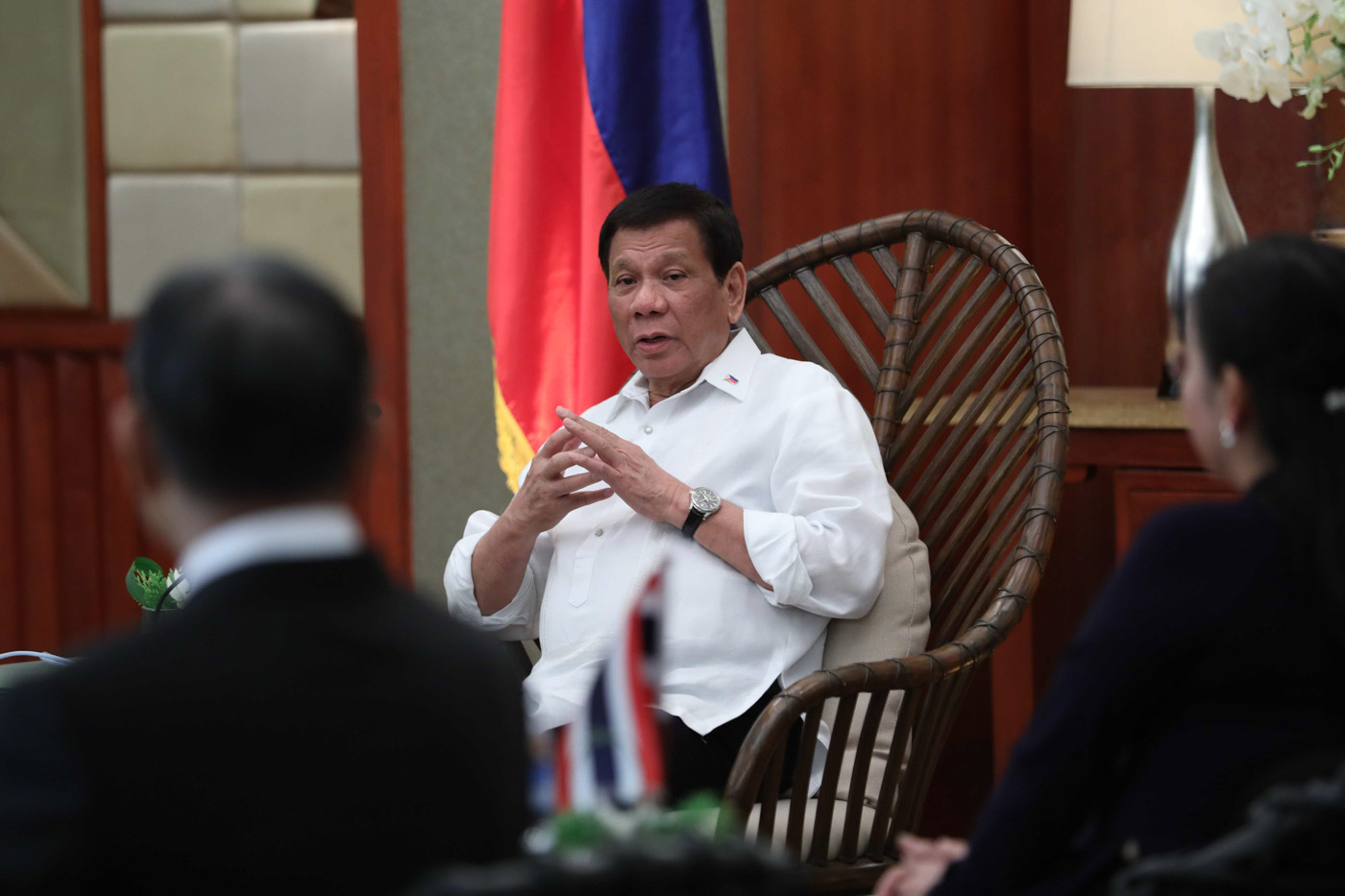 MANILA, Philippines – President Rodrigo Duterte said he doesn't want the power to choose officers-in-charge (OICs) if the barangay and Sanggunian Kabataan elections are again postponed.
Duterte said in an interview on state-run PTV on Tuesday, September 20, that he had relayed his sentiments to Speaker Pantaleon Alvarez earlier that day.
"Sinabi ko kanina sa House of Representatives through the Speaker, 'wag mong ibigay sa akin, mag-appoint-appoint. Ayaw ko. Ibigay ninyo sa iba," said Duterte.
(I told the House of Representatives earlier through the Speaker – don't give me the power to appoint. I don't want it. Dive it to someone else.)
This is different from what he conveyed in March.  At the time, then Interior Secretary Ismael Sueno said that Duterte wants to handpick OICs in the country's more than 42,000 barangays if the elections are postponed. (READ: Duterte wants to appoint barangay OICs is polls reset)
Last year, the House minority proposed that the appointment of barangay OICs be handled by the Office of the President (OP) in close coordination with the Department of the Interior and Local Government (DILG), local government units (LGUs), the Philippine Drug Enforcement Agency (PDEA), and other concerned agencies.
When the barangay and SK polls were postponed in the past, the incumbent officials were placed on holdover or carryover status, or kept their positions until the next elections were held.
On Tuesday, Duterte reiterated that barangay elections, slated to take place on October 23, should again be postponed because he believes "40%" of barangay captains are involved in illegal drugs.
"They will really win, because they have money. You know barangays, you either scare the people or buy them off," said Duterte, who had won the presidency on the promise of eradicating crime, including the illegal drug menace, in the first 6 months of his term.

He added: "If you don't believe me, okay with me, no problem, let's have elections. But if those into drugs are reelected, that's not my problem."
The House version of the bill postponing barangay and youth elections seeks to move the exercise to May 2018. The Senate version proposes moving the polls to October 2018. (READ: Are we postponing barangay and SK elections or not? P500M is at stake)
Both measures seek to replace the incumbents with appointed officials.
Opposition lawmakers have opposed the postponement of the barangay elections. The appointment of barangays OICs also raises legal questions. (READ: Why Duterte's plan to appoint barangay officials violates the Constitution)  – Rappler.com