An Aegis Juris fraternity member surfaces to confirm he is one of the 7 persons in the viral screenshots of a Facebook Messenger chat where the hazing of neophyte Horacio Castillo III was planned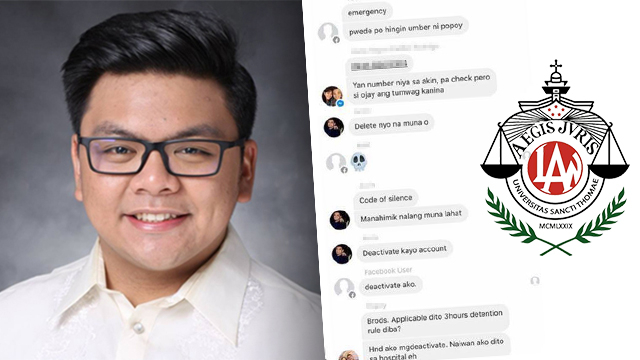 MANILA, Philippines – The screenshots of a Facebook Messenger thread posted last Wednesday, September 20, in the Facebook group "Hustisya Para kay Horacio" have gone viral.
Horacio is Horacio Tomas Castillo III, the law freshman who died from hazing injuries after he was initiated by the Aegis Juris, a fraternity recognized by and based at the University of Santo Tomas Faculty of Civil Law. 
Below is a transcript of the group chat, involving 7 men believed to be members of the fraternity. The conversation was supposed to have occured from Saturday morning, September 16, to Sunday morning, September 17.
On Friday, September 22, primary suspect John Paul Solano surrendered to the Manila Police and admitted that he was the "Popoy" towards the end of the captured chat. The men in the conversation talked about contacting Popoy to attend to an "emergency," with Popoy later sending them a message that he was left in the hospital, presumably with the neophyte. (Solano had surfaced as the one who supposedly found Castillo's body and brought him to the Chinese General Hospital.)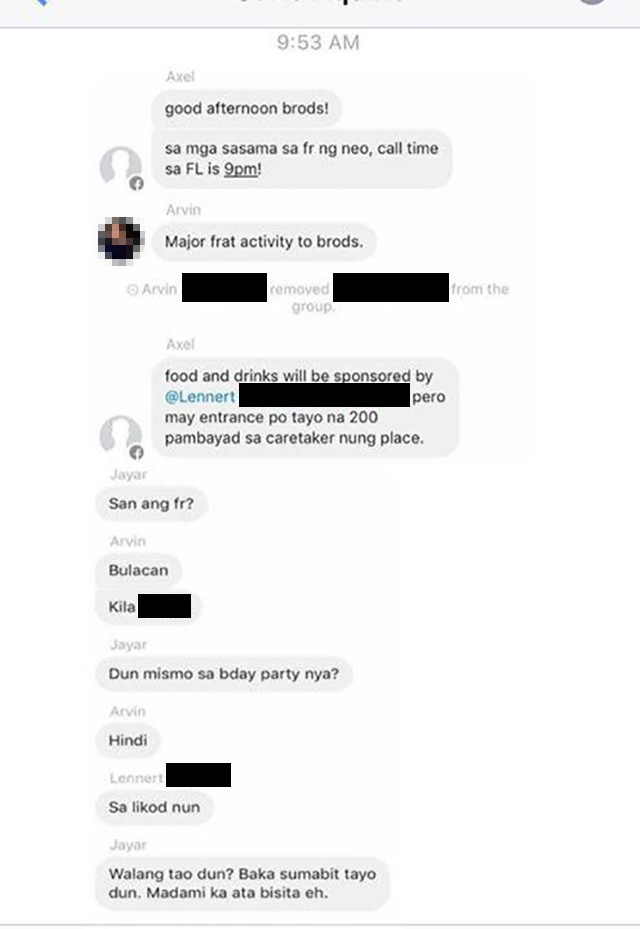 9:53 AM
Axel
good afternoon brods!
sa mga sasama sa fr ng neo, call time sa FL is 9pm!
Arvin
Major frat activity to brods.
Arvin –––– removed –––– from the group.
Axel 
food and drinks will be sponsored by @–––– pero may entrance po tayo na 200 pambayad sa caretaker nung place.
Jayar
San ang fr?
Arvin
Bulacan
Kila ––––
Jayar
Dun mismo sa bday party nya?
Arvin
Hindi
Lennert
Sa likod  nun
Jayar
Walang tao dun? Baka sumabit tayo dun. Madami ka ata bisita eh.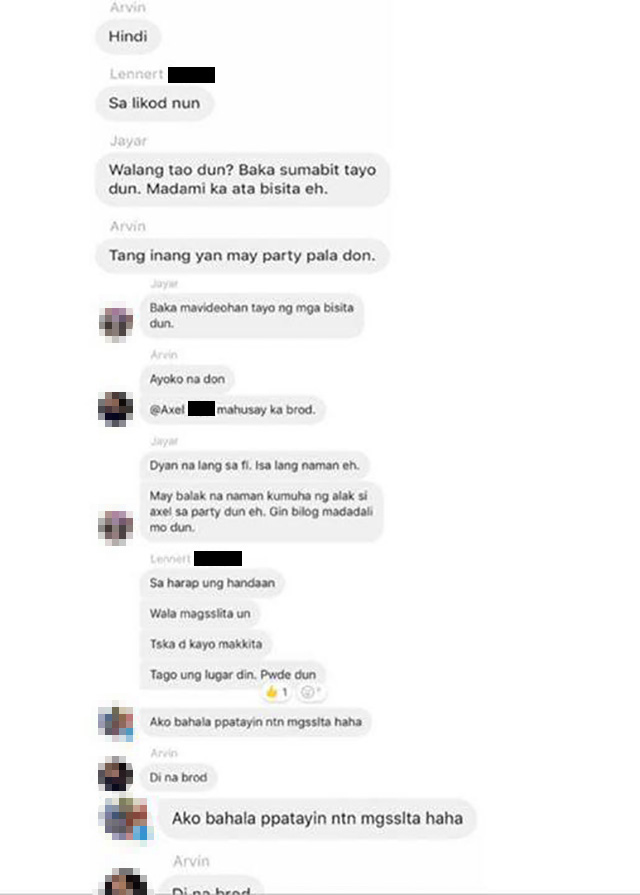 Arvin
Tang inang yan may part pala don.
Jayar
Baka mavideohan tayo ng mga bisita dun.
Arvin
Ayoko na don
@Axel –––– mahusay ka brod 
Jayar
Dyan na lang sa fl. Isa lang naman eh.
May balak na naman kumuha ng alak si axel sa party dun eh. Gin bilog madadali mo dun. 
Lennert ––––
Sa harap ung handaan
Wala magsslita un
Tska d kayo makikita
Tago ung lugar din. Pwde dun
Ako bahala ppatayin ntn mgsslta haha
Arvin
Di na brod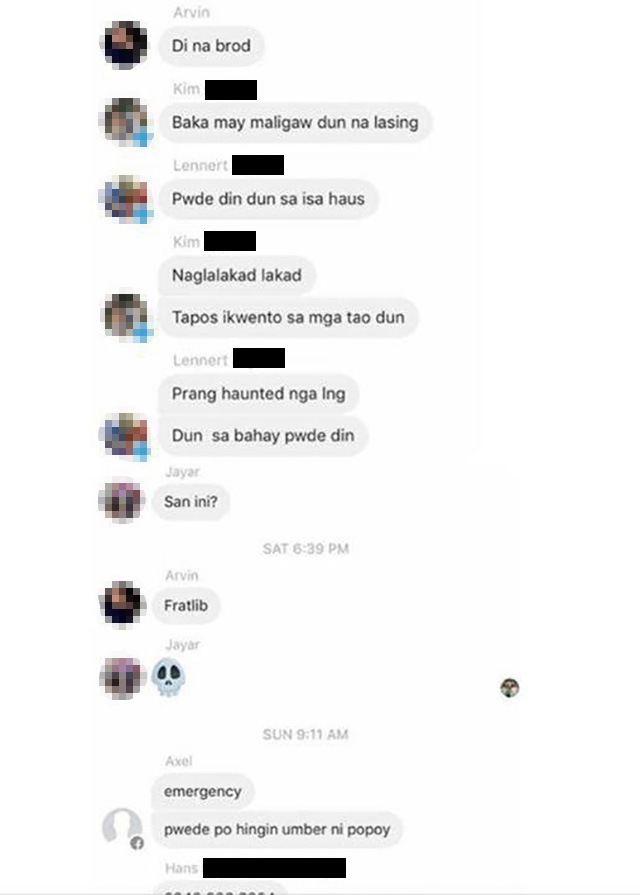 Kim ––––
Baka may maligaw dun na lasing
Lennert ––––
Pwde din dun sa isa haus 
Kim ––––
Naglalakad lakad
Tapos ikwento sa mga tao dun 
Lennert ––––
Prang haunted nga lng
Dun sa bahay pwde din
Jayar
San ini?
6:39 PM
Arvin
Fratlib
Jayar
[Skull emoji]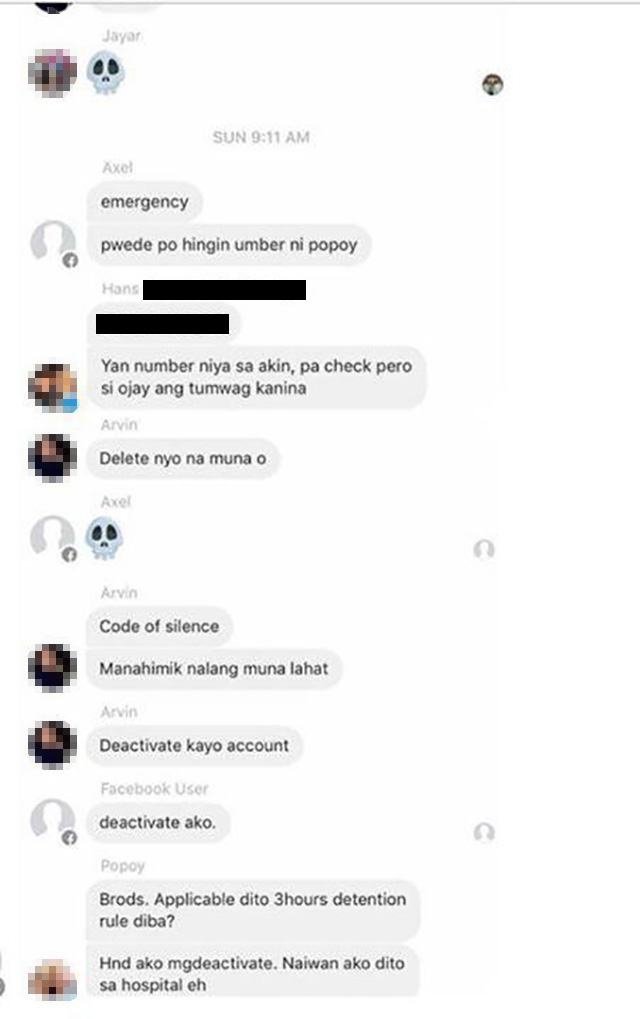 SUN 9:11 AM
Axel 
emergency
pwde po hingin umber ni popoy
Hans ––––
[Mobile number]
Yan number niya sa akin, pa check pero si ojay ang tumwag kanina 
Arvin
Delete nyo na muna o
Axel
[Skull emoji]  
Arvin
Code of silence
Manahimik nalang muna lahat
Deactivate kayo account 
Facebook user
deactivate ako.
Popoy
Brods. Applicable dito 3 hour detention rule diba?
Hnd ako magdeactivate. Naiwan ako dito sa ospital eh.
– Eloisa Lopez/Rappler.com