(UPDATED) John Paul Solano, the primary suspect in the case, surrenders to Senator Panfilo Lacson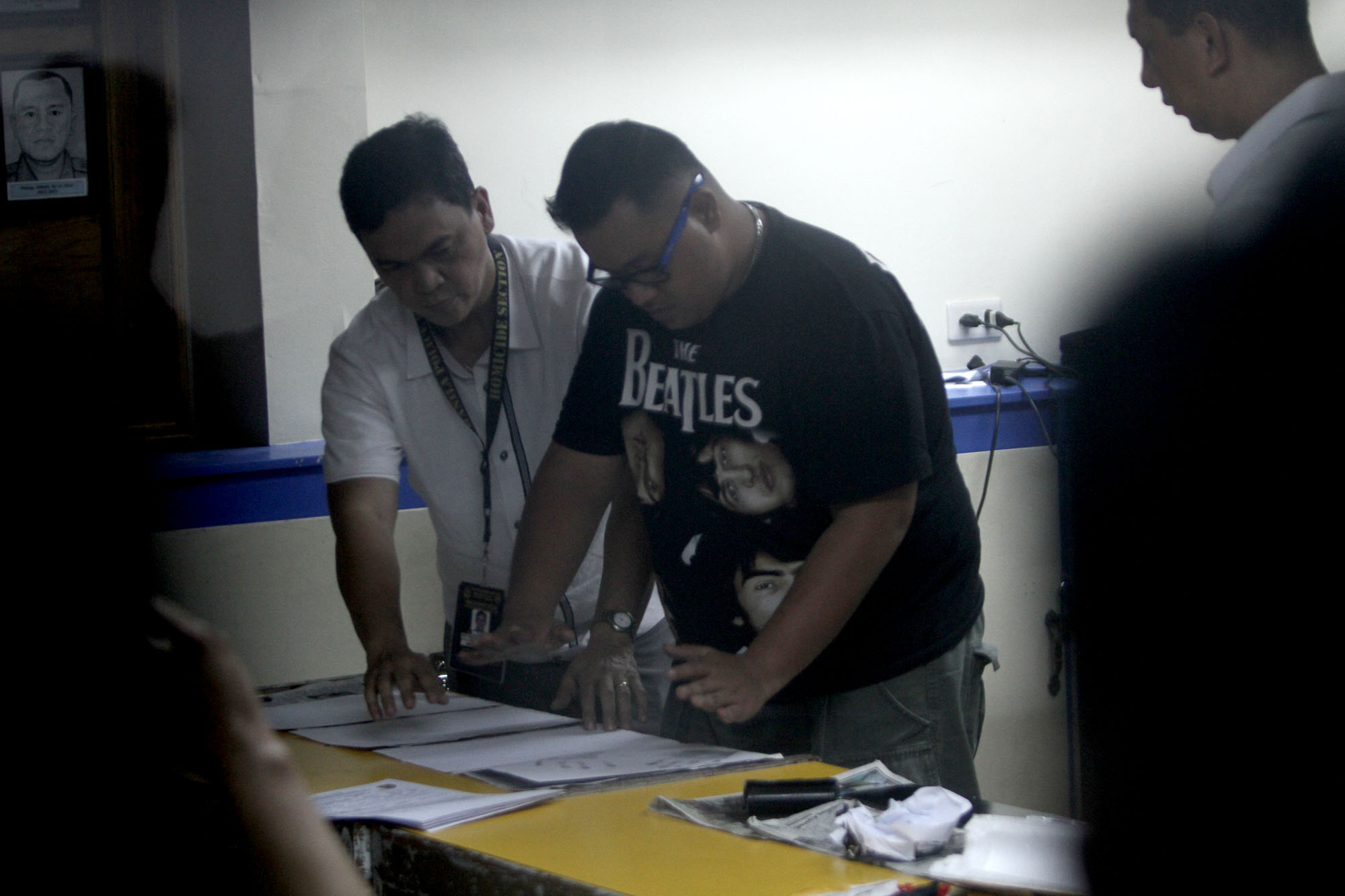 MANILA, Philippines – The primary suspect in the death of freshman law student Horacio Castillo III surrendered to Senator Panfilo Lacson on Friday, September 22.
A clean-shaven John Paul Solano was accompanied by his lawyer, as well as UST Civil Law dean Nilo Divina, a fellow member of the Aegis Juris fraternity, to the office of Lacson in Bonifacio Global City in Taguig Friday afternoon.
The Manila Police District (MPD) had named Solano as the primary suspect in the fatal hazing of Castillo at the Aegis Juris fraternity rites. Two other suspects – Antonio Trangia and his son, Ralph – are still at large. (READ: Castillo family: 'Atio was killed by criminals from Aegis Juris fraternity')
Solano earlier claimed he just found Castillo's body on a pavement in Balut, Tondo, and brought him to the hospital. Upon investigation, it was found out that Solano was part of the Aegis Juris, the fraternity suspected of holding the initiation rites where Castillo sustained fatal injuries. 
On Friday, Solano apologized for giving the false statement.
"First and foremost, I would like to apologize for giving a false statement to the family of Atio and also for the death of their son. I would shed light on this matter through my attorney. They are preparing a statement for me," he said in his brief media interview.
Asked why he decided to surrender, Solano said: "Actually, it's getting worst. We can say it's getting worst." He declined to answer when asked if he was getting death threats or if Aegis Juris members were trying to contact him.
"I want to clear my name because I know myself. I'm innocent," he added.
'Medical assistance'
Solano said his participation in the fraternity hazing was only to provide "medical assistance" when needed, and that he was not at the initiation rites.
"More or less my participation was to give medical assistance, that's all," he said.
When asked to elaborate, he said: "They were in chaos that time so I was not there. They need medical assistance. I am a medical health provider so more or less they would call me."
Solano, a registered medical technologist, said he tried to give CPR to Castillo and when he knew he couldn't help him, he brought him to the hospital. 
His lawyer said Solano "will face whatever charge is filed against him."
Solano, an Aegis Juris member, said he was a law student until last year but filed a leave of absence because of his work.
He also admitted that he was the "Popoy" referred to in the Facebook messenger chat among Aegis Juris members in connection with the initiation rites. 
Inquest
Chief Superintendent Joel Coronel, MPD chief, said Solano voluntarily surrendered and had provided information "that we believe will be material to the investigation of the case."
"It's good for him that he came on his own volition," Coronel said, adding that Solano will be temporarily under MPD custody.
"We hope that others will follow suit and face justice so that we can give justice to Atio Castillo," the MPD chief said. 
Divina urged others involved to come forward and to face the "consequences of their actions."
Solano was set to prepare his judicial affidavit at the MPD on Friday. 
MPD Spokesperson Superintendent Erwin Margarejo Margarejo said Solano would undergo the usual booking procedure.
He also said that Solano will be inquested for perjury and for violation of Republic Act 8049 or the Anti-Hazing Act.
Responding to questions, Margarejo said, "The court will evaluate the degree of participation of a suspect whether he is an acocmplice, accessory or a principal suspect. – With reports from Eloisa Lopez/Rappler.com