Senate President Juan Ponce Enrile files a P31-M damage suit against top advertising executive Yoly Ong for a supposedly libelous column in the Philippine Star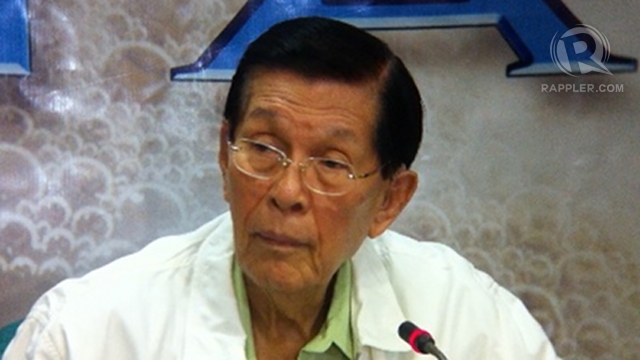 MANILA, Philippines – Senate President Juan Ponce Enrile has filed a P31-M damage suit against veteran advertising executive and Philippine Star columnist Yolanda Villanueva-Ong for a supposedly libelous article that he claimed "besmirched" his reputation and caused him "mental anguish, serious anxiety, wounded feelings, moral shock, and social humiliation."
Enrile was offended by Ong's October 16, 2012 column "Like father, like son," which he said had "malicious objective."

"The article characterizes JPE [Enrile] as liar, fraud, and manipulator. It accuses JPE of attempting to "revise history" with a devious purpose of enticing the electorate to support his only son, Juan Castañer Ponce Enrile, Jr (popularly known as Jack Enrile), an incumbent congressman in the province of Cagayan and a candidate in the upcoming senatorial elections," according to Enrile's complaint.

Ong's column exposed inconsistencies in claims Enrile made in his book Juan Ponce Enrile: A memoir. Ong cited various accounts of how Enrile admitted after the 1986 "People Power" revolution that the assassination attempt against him – which was one of the reasons used to justify martial law – was staged. He recants this in his book.
The column moves on to discuss the senatorial bid of his son and namesake Cagayan Rep Juan "Jack" Ponce Enrile Jr. She cited the "intrigues" involving Jack – the "urban legend" that he killed the late actor Alfie Anido and the Enriles' supposed involvement in smuggling in Cagayan.
"Defendant Yoly, instead of giving fair comments on JPE as a public official, deliberately focuses on attacking his character with false and defamatory accusations and intrigues affecting his family and personal life," the complaint added.
Enrile asked the court for P30 million in moral damages, P1 million in exemplary damages, and P500,000 in attorney's fees.
The civil case was filed before Branch 118 of the Pasay City Regional Trial Court.
Ong's old anti-Enrile ads
Ong is the managing director of one of the country's leading advertising agencies Campaigns and Grey. The agency produces political advertisements for high-profile politicians, among others.

Ong has her own political advocacies. In 2010, she volunteered her services to the campaign team of President Benigno Aquino III.

In 2001, she was recognized for producing negative advertisements against re-electionist senators who were perceived to be protecting President Joseph Estrada during his impeachment trial then. They voted against the opening of an envelope that supposedly contained crucial evidence against Estrada.

Enrile was among those senators. Ong used old footage of Enrile's involvement in the martial law regime and allegations  that he plotted coups against the late President Corazon Aquino. At the end of the ad, this slogan was added: "Ibabalik pa ba natin siya?"

Enrile lost in that elections. But he would return to the Senate in 2004.
Ong: 'I spoke the truth'
Ong stood by her column.
"Initially I was unnerved because this is the first time I was ever sued for anything. But after reflecting and processing, I know I spoke the truth and that made me a bit braver," she told Rappler.
Besides, she wasn't the only one writing about Enrile's inconsistencies, she added.
"All the lawyers I've consulted said there was no libel. Many wrote about Enrile's latest verion of the real or fake assassination attempt. But as far as I know I'm the only one he sued. As a friend said, I have 'arrived,'" Ong added.
The column

Enrile took offense in the following paragraphs in Ong's article. (Emphasis supplied in Enrile's complaint.)
Just when we were about to forgive-and-forget Juan Ponce Enrile's

checkered

past, he

himself reminded us of what a wily, shifty chameleon he truly and naturally is.
In Juan Ponce Enrile: A Memoir, and bio-documentary 'Johnny' that aired in ABS-CBN — he recants  his previous recantation of the assassination attempt on him, which Marcos used as one more reason to justify Martial Law xxx

Did he expect national amnesia to afflict Filipinos who know the truth?
In his attempt  to leave an acceptable legacy for posterity and bequeath a Senate seat for junior, the nonagenarian is sanitizing his recollections instead of asking for absolution. Stem cell therapy can deter dementia but it cannot regenerate an innocent man.

We are being wooed to perpetuate the 40-years-running Enrile saga. Every night we should pray: Dear God, Make all who want our vote, be the men we want them to be.
Another misdeed associated with father-and-son is the alleged rampant car smuggling in Port Irene.

In 1995, the Cagayan Export Zone Authority (CEZA) was established through Republic Act 7922, authored by Cagayan native JPE xxx Despite EO156 issued in 2008, which prohibited such importations,

smuggling continued

. Enrile countered the CEZA is not covered by the prohibition because the imnporters pay the correct duties and taxes. Ford reportedly pulled out its manufacturing business to protest the

nefarious activities in CEZA

.
The court issued the summon to Ong on December 13. She has 15 days to respond. – Rappler.com