Microsoft's regional director for corporate, external and legal affairs in Southeast Asia talks about bridging the income gap through digital inclusion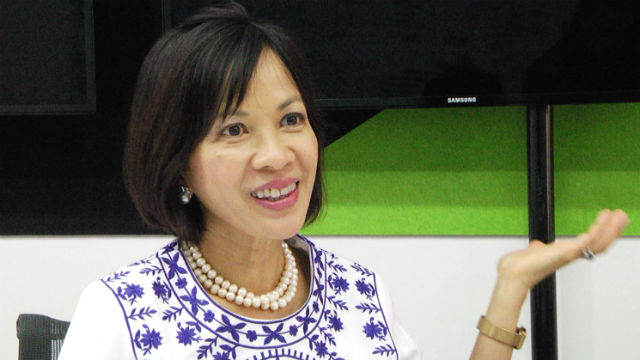 MANILA, Philippines – One in every three fishermen and farmers are poor in the Philippines. The numbers have rarely improved for the past decade, despite the steadily growing economy. Closing the gap between the rich and poor in the country remains a challenge. But it doesn't mean that it cannot be done.
"I think, for the Philippines, the challenge is how to continue growing in this country and how to continue growing in a more inclusive way. I would focus on very specific things like the access to quality education for more Filipinos and leverage the power of technology to do that," said Iloilo-born Dr. Astrid Tuminez. Tuminez is Microsoft Regional Director for Corporate, External and Legal Affairs in Southeast Asia. She has been helping instrumental in pushing governments all over Asia to create policies that would drive inclusive growth.
From inclusive growth to digital inclusion
Tuminez believes that the country is on the right track toward what is called "digital inclusion," a framework to determine the readiness of a community to provide access to opportunities in the digital era. Digital inclusion helps address issues such as opportunity, access, knowledge and skills gap. 
"One of the things that are going right is that you have a population that is well-educated. You also have a big youth bulge and having that youth bulge is important because that is going to be your human capital," Tuminez told Rappler.
She commended that the IT-BPO industry is continuing to be one of the largest contributors to the country's economic growth. On top of that, she also mentioned how the Philippine government is progressive in adopting a cloud-first policy.
"The government has taken a strong stance – which is even more progressive than other governments in the ASEAN – where the decision to go cloud-first signals to the world that the Philippine government is ready to innovate, that it wants to deliver and develop services faster and better to Filipino citizens," she said.
However, the Philippines still has to overcome a few hurdles toward digital inclusion. The country has been tagged as an outlier in having a terrible internet service – it's expensive and unreliable. ON average, the cost is about Php 1,300 per month for 10 mbps. Speedtest, an internet speed testing service ranked the Philippines as among the lowest out of 74 countries. Its report showed that the average internet speed of the Philippines is at 5.5 mbps for fixed and 8.7 mbps for mobile.
Path to digital inclusion
Tuminez thinks the Philippines could enter a public-private-partnership to give greater access and affordability to internet. She also suggested to level the playing field through education. "If you level the playing field in education that more people have access to quality education – not just education but more access to quality education – then you will create more opportunity for the skill sets of the next generation of Filipinos," she told Rappler.
Another technology that she recommended is cloud computing. She explained, "Cloud computing simply refers to the data centers – massive data centers that have been built my big companies like Microsoft or Amazon or Google, and they allow people with a device or connectivity to access massive computing power in their hands."
"The implication for inclusion is practically in all fields. Today, if you're a learner and you have a mobile phone and you have connectivity, everything is stored in the cloud, you can access it. It's the same technology that Microsoft is using in Manila or Unilever is the same with Singapore. There are now no barriers. Meaning, the same technology can be used by everybody, small, medium or big, poor or rich. You have access to these technologies," she added.
Women in tech
Tuminez reiterated that technology has the power to "expand the sphere of opportunity for more people, like those people with disability, or girls and women, or ethnic minorities."
She commented on how the technology sector has a huge gender problem. "In the United States, in the 80's, there were more women majoring in computer science than there are today – a giant gap. It seems like women, somehow, have fallen by the wayside," she said.
One example she cited was the Google memo controversy, where a Google employee circulated a document about the differences between men and women. But the problem can be addressed.
"Some people could say that well, men are just smarter in computer science. But what we know is that when are exposed early on, they actually advance quite well," said Tuminez.
She added that private companies and governments should take a "systematic approach to increase the participation of girls and women in technology."
She also shared some of Microsoft's efforts in improving the status of women in tech. "In Myanmar, we are teaching digital literacy and productivity on the internet. We are training trainers who are women."
She added, "Because when these girls see that kind of examples like that, they think to themselves, oh yeah, I can definitely do that too." – Rappler.com