'The war or the drive against drugs will not stop and it will last until the day I step out,' says a defiant President Rodrigo Duterte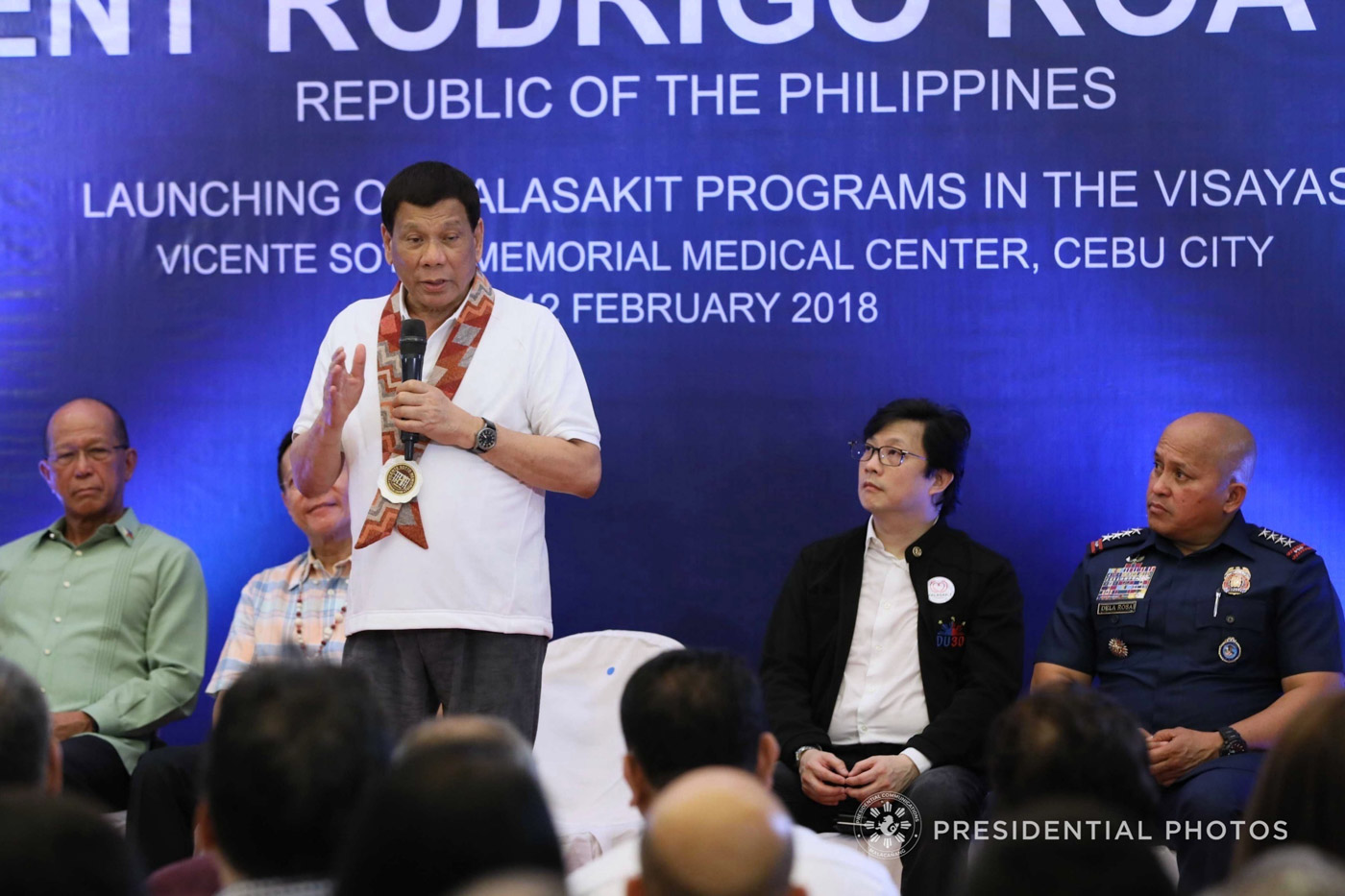 MANILA, Philippines – Philippine President Rodrigo Duterte sought to appear unfazed by the International Criminal Court (ICC) preliminary examination  into his drug war, saying it will not stop the controversial campaign. 
"The war or the drive against drugs will not stop and it will last until the day I step out. If I go to prison, I go to prison," said Duterte on Monday, February 12.
He was speaking at the Vicente Sotto Memorial Medical Center in Cebu City.
Duterte said the ICC could not declare him guilty of a crime since merely threatening criminals with death is not a crime.
"Is there a crime threatening people, especially criminals?" asked Duterte. (READ: Duterte to ICC: 'If you find me guilty, go ahead')
The Philippine President earlier threatened to withdraw from the ICC. Presidential Spokesperson Harry Roque said the ICC preliminary examination is a "waste of time" as the Philippines' justice system is fully functioning, thus the international court, as a "court of last resort," has no jurisdiction over the drug war. (READ: EXPLAINER: ICC's track record and what it means for Duterte and the PH)
For the Philippines to fall under the jurisdiction of the ICC, the Office of the Prosecutor will have to establish that local courts have not conducted any genuine investigation into, or any proceeding relating to, the deaths in the war on drugs – either because of lack of capability or outright refusal to do so.
Withdrawal from the ICC will not automatically result in absolution as Article 127 of the Rome Statute, which created the ICC and to which the Philippines is a party to, says that criminal investigations and proceedings will still continue as long as they started before the withdrawal became effective. Withdrawal is effective only after a year.
In his Monday speech, Duterte also complained about how Western nations are "imposing" values on the Philippines and again brought up how countries like Italy, France, and the United States sought to control oil in Middle Eastern countries, to the detriment of the people there. 
"The problem with those in Europe now is they want to impose their values…Italy, France, America, Britain, they built their empires, they rose to their industries much earlier because they were using Arab oil," said Duterte.
Helicopters
He again expressed outrage against the Canadian government for reviewing the purchase by the Philippine government of Bell helicopters.
The military was set to acquire 16 such choppers worth $235 million, but Canadian Prime Minister Justin Trudeau's government ordered a review of the contract over concerns about the Duterte administration's human rights record.
The military sought to save the deal, giving assurances that the helicopters would be used for disaster response. But Duterte, angered by what he perceived as intervention in internal affairs, canceled the deal. – Rappler.com