The deadline for the country's shift to EMV chip technology looms yet many Filipinos continue to use magnetic stripe cards. Here's why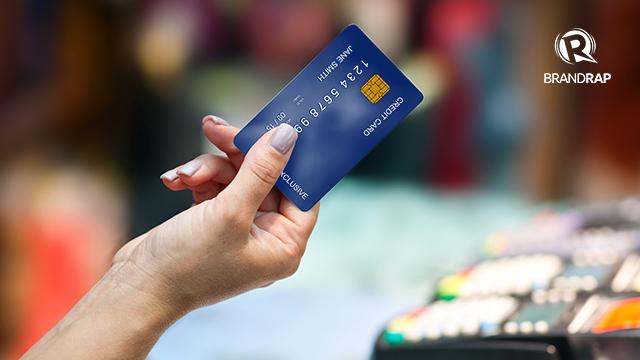 MANILA, Philippines – By the end of June 2018, EMV chip card technology will be replacing magnetic stripe technology in the Philippines. 
But a survey conducted by Rappler last January shows that while people are aware that they need to shift from magnetic stripe to EMV (Europay Mastercard Visa) chip cards, they are not actually going to their banks to do it.
We asked a total of 1,569 ATM account holders aged 18 and above, with a majority of this number coming from the 25-34 bracket, to take the survey and this is what we found out.
ATM users are aware that they need to shift to EMV
The country's shift to EMV technology was prompted by a mandate from the Bangko Sentral ng Pilipinas, which requires banks to fully shift to EMV by June 30.
This means that the magnetic stripe cards many Filipinos continue to use will soon be disabled.
(READ: BSP urges public to convert from magnetic stripe card to EMV chip card)
In the survey, we found out that around half the number of respondents (56%) are already aware of this BSP mandate, which they found out about mainly through television (27%), notifications from their respective banks (26%), and online news and social media (24%).
Interestingly, the percentage of those who are aware that magnetic stripe cards are being replaced by EMV chip cards – without explicit mention of its connection to the BSP mandate – sits even higher at 61%.
These numbers closely correspond to the percentage of respondents who said they know that EMV chip technology is more secure than magnetic stripe technology and those who don't at 62% and 38%, respectively.
This means that there's ample room for banks and the BSP to continue urging their customers to take action through the following channels: television, social media, and the banks' respective communication channels.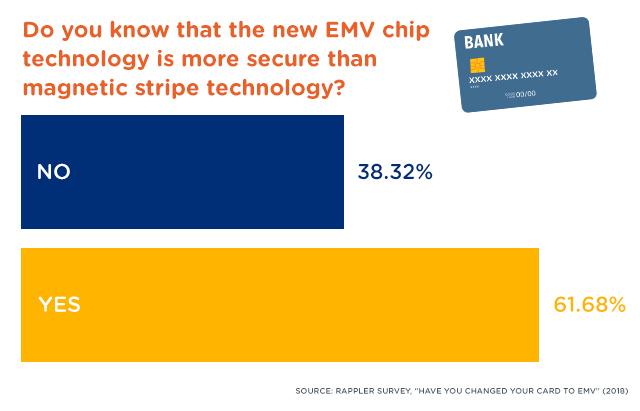 But why aren't they doing it?
Despite the relatively high awareness on the importance of EMV chip technology, the survey results also showed that only 43% of respondents have actually replaced their magnetic stripe cards with EMV chip cards.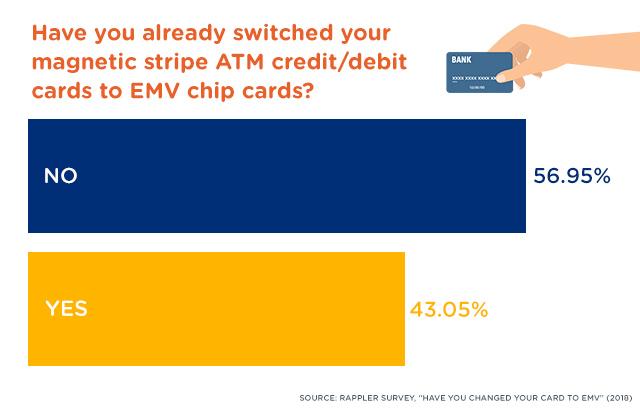 They said that they're not familiar with the process of switching to EMV cards or that they simply don't have the time to go to their banks, while some admitted they do not know about EMV technology yet, among other reasons.
But for those who have made the switch, an overwhelming majority found the process of switching easy (87%), while only a few (13%) didn't.
The process of switching to EMV cards, however, may differ from bank to bank. But customers are free to contact or go to their respective banks for more information.
Overall, switching to a more secure ATM card will only take a few minutes. So, customers just really need to get up and go to their banks to do so.
Why shift to EMV?
ATM fraud is prevalent in countries that predominantly continue to use magnetic stripe cards – the Philippines is one of those. In 2013 alone, local banks reported 1,272 cases of ATM fraud.
As of 2016, 48% of issued cards globally are already EMV chip cards as per data from the Worldwide EMV Deployment Statistics.
So, replacing magnetic stripe card technology to EMV chip card technology will not only make the country at par with the global standards but most importantly, it will help reduce ATM frauds.
(READ: Important things to know about the security of your ATM card)
Of course, to take full advantage of EMV's effectivity in reducing frauds, everybody must do their part. Banks are tasked to keep their clients' accounts secured and merchants all over the country are urged to switch to EMV-compliant terminals.
But ATM security doesn't rest solely on banks and merchants. If you are an ATM account holder, you are just as responsible to take action.
More than having awareness, it's vital for you, ATM account holders, to take concrete action to protect yourselves from ATM fraud by regularly changing your PIN and switching from magnetic stripe cards to EMV chip cards as soon as possible, to name a few. 
You may think these practices are a waste of time but these small steps can save you from possible fraud attacks. Avoid long lines and any other inconveniences, do it now while it's early. You don't need to wait for your bank to contact you.
ATM fraud can happen to anyone. To avoid falling victim to it, keep in mind that ATM security doesn't rest solely on established institutions but also on the everyday practices you need to do to keep your accounts safe from thieves. – with reports from Jules Matabuena and Mabeth Anonuevo/Rappler.com
All illustrations (graphs) by Alejandro Edoria