This is AI generated summarization, which may have errors. For context, always refer to the full article.
Executive Order 51, released in full on May 2, does not declare direct hiring as the norm in labor arrangements, which groups said would have made it a 'landmark' measure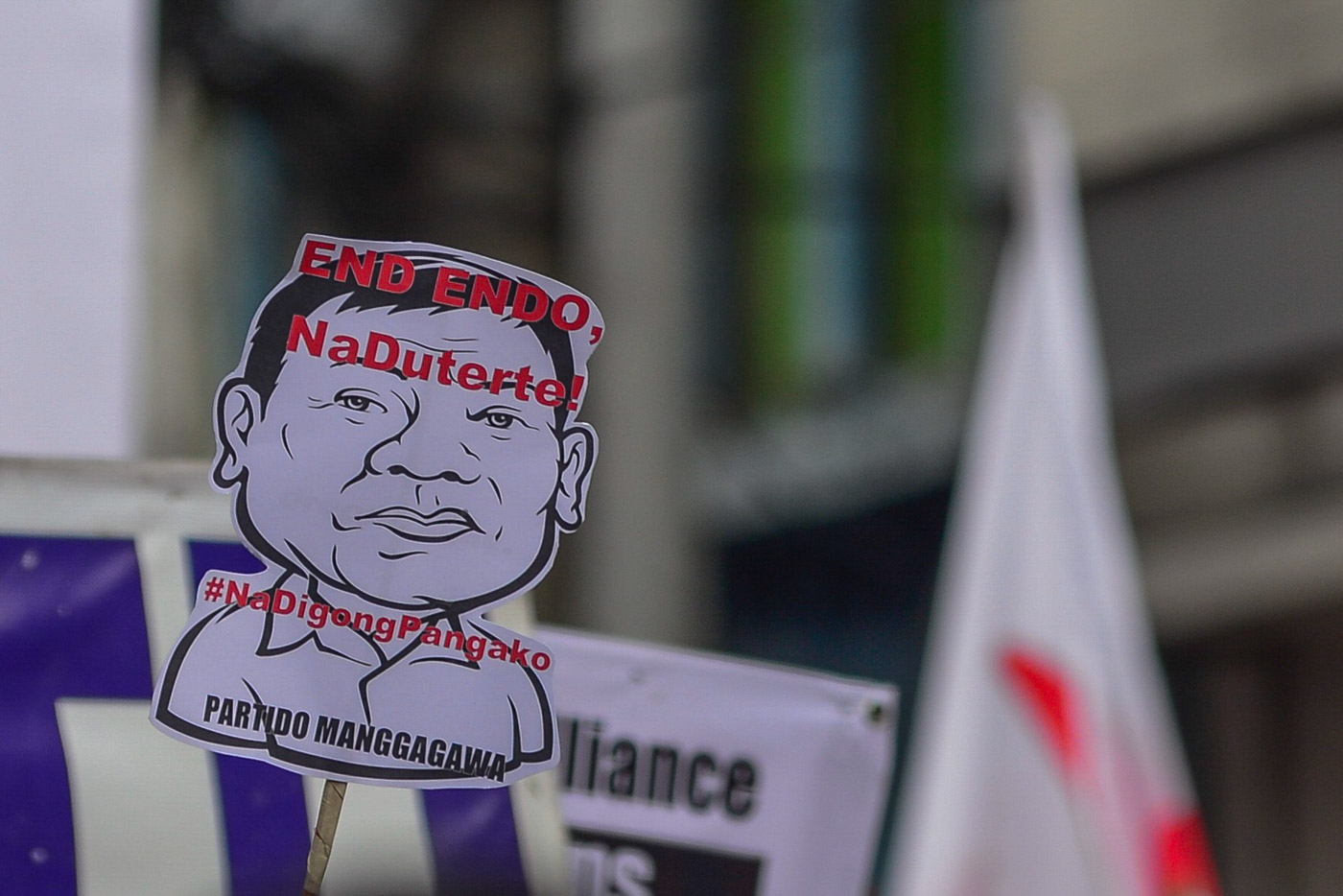 MANILA, Philippines – Malacañang released President Rodrigo Duterte's controversial executive order (EO) on contractualization a day after he signed it on Labor Day, May 1.
EO No. 51 was disseminated to media on Wednesday, May 2.
Malacañang hailed the EO as the fulfillment of Duterte's promise to end "endo," but many labor groups called the issuance "useless" as it is largely reiteration of the Labor Code which already prohibits certain forms of contractualization, such as the "end of contract" or endo and "5-5-5" system.
Read the EO here:
Section 2 of EO 51 imposes "a prohibition against illegal contracting and subcontracting." Labor groups and advocates of workers' rights pointed out that such labor arrangements are already banned by the Labor Code and several Department of Labor and Employment (DOLE) orders.
The EO does not include the recommended provision that labor groups said would have made it a "landmark" measure – a prohibition against all forms of contracting and a declaration that direct hiring should be the norm.
In the draft of the labor groups, Section 2 includes this line: "Consistent with the policy of this government, direct hiring of the employee by the principal employer shall be the general norm in employment relations."

Another crucial difference is the scrapping of a section on budget to ensure the EO is implemented.
The labor groups' version had a Section 6 which read, "Funding for the implementation of this Executive Order shall be sourced from the General Appropriations Act of the Department of Labor and Employment subject to applicable budgetary rules and regulations."
EO 51 also merely reiterated the Labor Code's provision empowering the labor secretary to inspect establishments for abusive labor practices.
As they have done every May 1, labor groups took to the streets on Tuesday to demand better conditions for workers. This year, they also aired their disappointment over EO 51, calling it "nothing new" and a "face-saving" measure to appease the workers.
They also said EO 51 was the version backed by employers' groups and the Department of Trade and Industry (DTI).
"Pressed by the snowballing anger of workers after he said he won't issue an EO, Mr Duterte signed what was essentially the DTI's draft version, not the workers' version," Sentro secretary-general Josua Mata had said.
An employers' group, however, also had issues with the EO.
"ECOP finds worrisome the exact definition of security of tenure, among others, and the possible loose or abused rules of engagement in the enforcement of certain prohibitions," said the Employers Confederation of the Philippines. – with reports from Aika Rey / Rappler.com