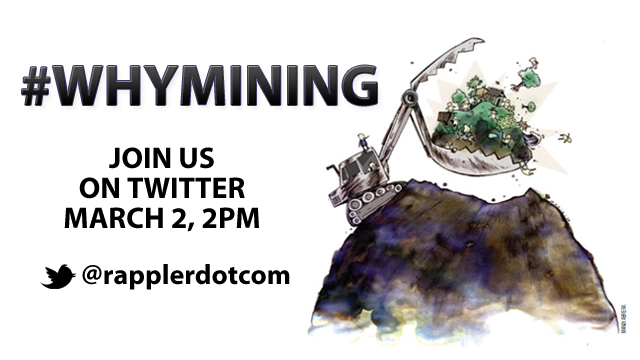 Is mining good or bad? Pro- and anti-mining advocates spoke at the "Conference on Mining's Impact on Philippine Economy and Ecology" at the Intercontinental Hotel Thursday, March 2. Regina Lopez, managing director of ABS-CBN Foundation, argued that mining is incompatible with an island ecosystem such as the Philippines, while Gerard Brimo, president and CEO of Nickel Asia, disputed claims that mining areas are poor. Both sides remain split down the middle with no common ground thus far. Philex chair Manuel V Pangilinan for his part said, "We have a choice between fear and faith, between hardship and hope. Our task is to find the common ground of reason."
Details available in Rappler.
For the existing mining contracts in the Philippines, view this #WhyMining map.
How does mining affect you? Are you pro or against mining? Engage, discuss & take a stand! Visit Rappler's #WhyMining microsite for the latest stories on issues affecting the mining sector. Join the conversation by emailing whymining@rappler.com your views on the issue.
For other views on mining, read:
| | |
| --- | --- |
| Yes to Mining | No to Mining |
| | |
| | |
More on #WhyMining: