Mikee Romero (1-Pacman), Emmeline Aglipay Villar (Diwa), and Albee Benitez (Negros Occidental 3rd District) are the richest members of the House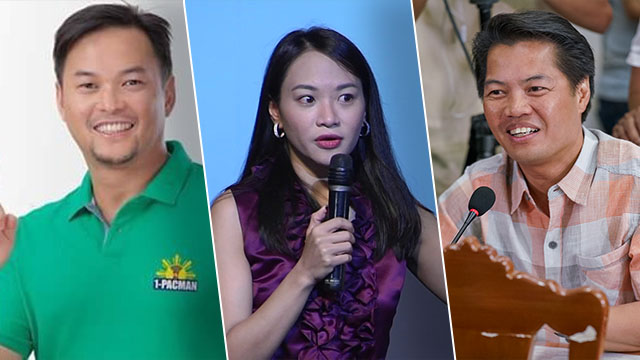 MANILA, Philippines – The number of billionaires in the House of Representatives rose to 3, based on lawmakers' 2017 Statements of Assets, Liabilities, and Net Worth (SALNs).
A summary of the 2017 SALNs of members of the House of Representatives was released on Sunday, July 15. It showed that the top 10 richest lawmakers in the House as of their 2016 SALNs remain the wealthiest ones, in the same order.
The richest is still 1-Pacman Representative Michael Odylon "Mikee" Romero, who declared a net worth of P7.291 billion.
Romero is the son of construction magnate Reghis Romero II. He chairs the board of directors of publicly listed GlobalPort 900 Incorporated and owns basketball team GlobalPort Batang Pier in the Philippine Basketball Association (PBA).
The second richest is outgoing Diwa Representative Emmeline Aglipay Villar, with a net worth of P1.407 billion.
Villar was recently appointed as Department of Justice (DOJ) undersecretary. She is the wife of Public Works Secretary Mark Villar, whose family owns real estate developer Vista Land & Lifescapes Incorporated.
The third richest, and the newest billionaire, is Negros Occidental 3rd District Representative Alfredo Abelardo "Albee" Benitez. He declared a net worth of P1.004 billion.
Benitez was a businessman before joining politics. He is the founder of publicly listed Leisure and Resorts World Corporation.
Here are the top 10 richest members of the House as of December 31, 2017:
Michael Odylon Romero, 1-Pacman – P7.291 billion
Emmeline Aglipay Villar, Diwa – P1.407 billion
Alfredo Abelardo Benitez, Negros Occidental 3rd District – P1.004 billion
Imelda Marcos, Ilocos Norte 2nd District – P920.8 million
Feliciano Belmonte Jr, Quezon City 4th District – P861.04 billion
Virgilio Lacson, Manila Teachers – P791.69 million
Bayani Fernando, Marikina City 1st District – P739 million
Vilma Santos Recto, Batangas 6th District – P538.89 million
Antonio Floirendo Jr, Davao del Norte 2nd District – P523.73 million
Yedda Marie Romualdez, Leyte 1st District – P478.24 million
Former president and now Pampanga 2nd District Representative Gloria Macapagal Arroyo is in the 11th spot, with a net worth of P464.77 million.
Meanwhile, House Speaker Pantaleon Alvarez declared a net worth of P91.69 million, while House Majority Leader Rodolfo Fariñas declared P169.98 million.
Poorest lawmakers
The member of the House with the lowest net worth is still Kabataan Representative Sarah Jane Elago, with P75,800.
All lawmakers in the bottom 10 in terms of wealth belong to the party-list system, except for Camarines Sur 3rd District Representative Gabriel Bordado Jr.
Teodoro Montoro, Asenso – P2.19 million
Benhur Lopez Jr, Yacap – P1.985 million
Carlos Isagani Zarate, Bayan Muna – P1.65 million
France Castro, ACT Teachers – P1.39 million
Emmi de Jesus, Gabriela – P1.30 million
Ariel Casilao, Anakpawis – P1.095 million
Sabiniano Canama, Coop-Natcco – P1.07 million
Gabriel Bordado Jr, Camarines Sur 3rd District – P563,445
Arlene Brosas, Gabriela – P514,660
Sarah Jane Elago, Kabataan – P75,800
Back in 2013, the Supreme Court ruled that organizations "do not need to represent 'any marginalized and underrepresented' sector" to join the party-list system. – Rappler.com