This is AI generated summarization, which may have errors. For context, always refer to the full article.
But Vice President Leni Robredo's lawyers also ask the Supreme Court which of their past statements are considered a violation of the sub judice rule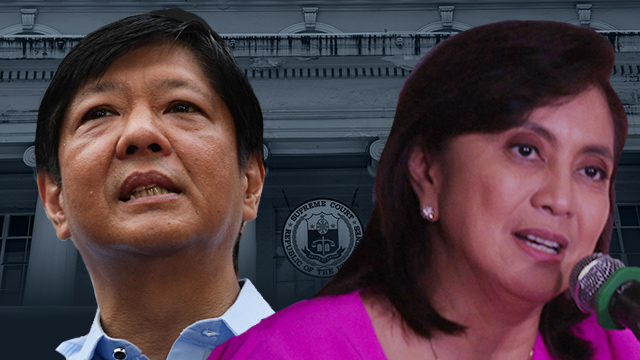 MANILA, Philippines – Both the camps of Vice President Leni Robredo and her rival ex-senator Ferdinand "Bongbong" Marcos Jr have paid their respective P50,000 penalty for breaking the sub judice rule in the ongoing vice presidential electoral protest.
Robredo's lead legal counsel Romulo Macalintal said in a statement they already paid for their fine on Thursday, August 9.  
Meanwhile, Marcos lead lawyer George Garcia told Rappler they were able to pay for the P50,000 penalty last month.
"Opo, [nabayaran na namin]. Last month po," said Garcia. (Yes, we paid for it already. We did it last month.)
On June 26, the Supreme Court (SC) en banc voted unanimously to fine both parties and their counsels P50,000 each for breaking the sub judice rule in the electoral protest Marcos filed against Robredo, who beat him by just 263,473 votes in the 2016 polls. 
The sub judice rule prohibits parties in a case and their lawyers from making comments and disclosures concerning ongoing judicial proceedings to avoid preempting the issue, influencing the court, or obstructing the administration of justice. 
Both camps were earlier issued with a show cause order why they should not be cited for contempt by the SC, which is acting as the Presidential Electoral Tribunal (PET).
The SC then also issued a strong warning to both parties to observe sub judice and refrain from disclosing "sensitive information" to media, but failed to disclose which specific statements from both camps have violated the rule. 
The parties continued to issue statements on internal matters in the ongoing recount of ballots in Camarines Sur and Iloilo, two of the 3 pilot provinces that Marcos picked where initial recount should be held.
Robredo seeks clarification from PET
On Thursday, Robredo's lawyers also filed a manifetation with urgent motion for clarification asking the PET to specify which statements they made violated the sub judice rule. 
"With due respect, the media releases or statements were all made in self-defense against some malicious and/or unfounded public remarks made by protestant Marcos," said Macalintal and his co-counsel Bernadette Sardillo.
"Hence, our respectful submittal that our statements made in self-defense could not be treated as a violation of the sub judice rule," they added.
A day after the SC ordered them to pay the fine, Macalintal said the Robredo camp was merely defending themselves against Marcos' lies.
Read a full copy of the Robredo camp's manifestation below:
– Rappler.com