The family of the late statesmen Jose Diokno slams former senator Juan Ponce Enrile for peddling lies about Marcos' Martial Law, calling his actions a 'pathetic attempt at rewriting our history'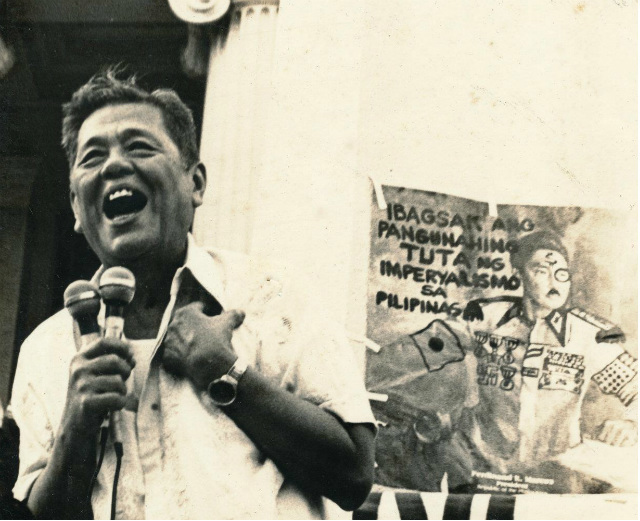 MANILA, Philippines – The family of the late statesman Jose Diokno on Thursday, September 21, slammed the "distortion of history" of former senators Ferdinand "Bongbong" Marcos Jr and Juan Ponce Enrile.
In the first part of "JPE: A Witness to History" posted on Marcos' social media accounts on Thursday, September 20, Enrile claimed, among others, that during Martial Law, no one was arrested for political or religious beliefs and that the detainees at the time were merely "inconvenienced for a while" then later released.
The Diokno family strongly disputed the claims, calling them a "pathetic attempt at rewriting our history."
The family noted the thousands of claimants – human rights victims of the Marcos regime – "whose claims have and are being officially processed, belie Enrile's assertion."
"To the martial law regime, which Enrile served as the Secretary of National Defense, imprisonment without charges was a mere inconvenience. To Dad and Mom and all of us children, beyond the personal pain and difficulty, imprisonment without charges was – and is – injustice," the family said.
"Many detainees were not only imprisoned but tortured and some, forcibly disappeared. Are we now to take torture, forced disappearance, and loss of life as forms of 'inconvenience'? The denial of freedom 'for a while,' whether for a day or for decades, is simply not acceptable, and stating it as a face – 'They were inconvenienced for a while' – distorts the truth," they added.
The family also contested Enrile's claim that Diokno "didn't want to be released" from detention, even though he only needed to "just sign" a document so he would walk free. (READ: Diokno defined courage for a Martial Law generation)
Diokno,  the father of human rights advocacy in the Philippines, was among the first to be arrested when the late dictator Ferdinand Marcos declared Martial Law  on September 21, 1972. He was detained for two years, without being charged, and was released in 1974. (READ: Remembering Alpha and Delta)
"There is a difference between the two. Enrile's interpretation of Dad's objections as not wanting to be released is an outright misrepresentation of the facts," the Diokno family said. 
The family said Diokno "objected the terms of the pledge, not his release." In fact, he even filed a counter manifestation before the Supreme Court to "correct the manifestation" that he expressed loyalty to the Marcos regime.   (READ: No cause more worthy: Ka Pepe's fight for human rights)
There were parts of the pledge that "he could not subscribe to." 
The family said Diokno told Enrile that some of the phrases in the document he was supposed to sign "were against his conscience and he could not agree to them, so that he would sign the pledge only if he were allowed to strike out the quoted phrases to which he objected." 
One such phrase was for Diokno not to violate Marcos' decrees, general orders, and other letter of instructions which aimed to stifle freedom of speech, among others. 
Considered as one of the darkest period in Philippine history, about 70,000 people were imprisoned while 34,000 were tortured, and 3,240 were killed during Martial Law from 1972 to 1981, according to Amnesty International. (READ: Worse than death: Torture methods during martial law) 
About 75,749 applied for reparations under the Human Rights Victims Reparation and Recognition Act of 2013 which gave monetary compensation to victims of Martial Law.
Read the full statement of the Diokno family below:
– Rappler.com
Related stories: