An 'outraged' Philippine President orders that a private shipping company dump the trash within Canada's territorial waters if Canada refuses to accept the garbage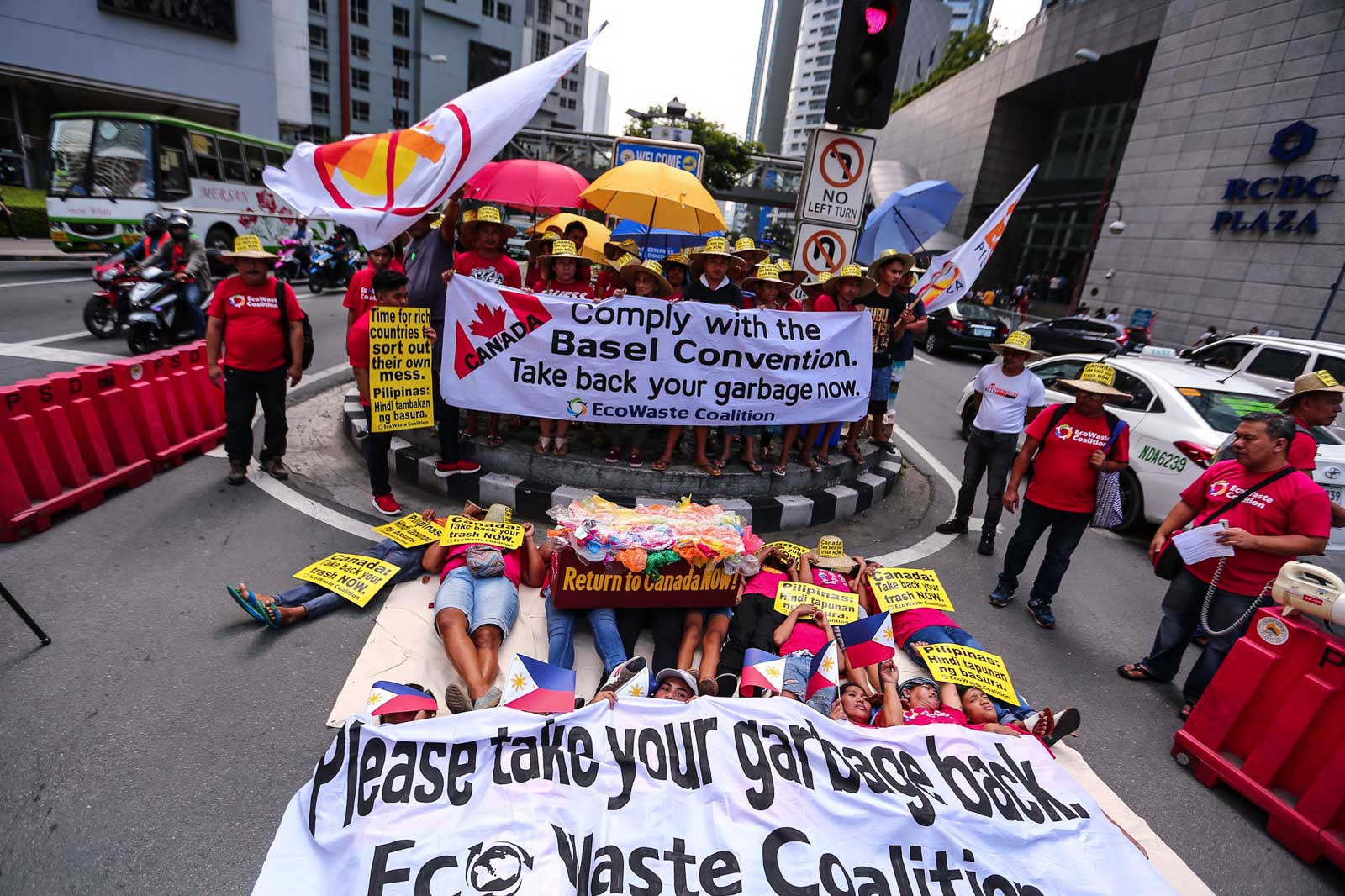 MANILA, Philippines – President Rodrigo Duterte can wait no longer for Canada to take back their smuggled garbage.
Malacañang announced on Wednesday, May 22, that the Chief Executive has ordered government officials to look for a private company to ship the trash back to Canada.
"As a result of this offending delay, the President has instructed the appropriate office to look for a private shipping company which will bring back Canada's trash to the latter's jurisdiction. The government of the Philippines will shoulder all expenses," Presidential Spokesman Salvador Panelo said.

If Canada refuses to accept the garbage, the private shipping company is instructed to leave the garbage "within the territorial waters or 12 nautical miles out to sea from the baseline of any of their country's shores," Panelo said.

He spoke at a Palace press briefing that had been hastily called for an "urgent" announcement.
Duterte, Panelo said, was "outraged" by Canada's failure to meet his May 15 deadline for the return of the container vans of trash. Canada had earlier assured the Philippines that it would take back the garbage and would shoulder the expenses. But it did not mention publicly any specific date for the start of the process.
The Chief Executive did not appreciate the "neither here nor there pronouncements" of Canada, prompting this new order.
"Obviously Canada is not taking this issue nor our country seriously. The Filipino people are gravely insulted about Canada treating this country as a dumpsite," Panelo said.
However, the Department of Environment and Natural Resources (DENR) had given assurances just two days ago that Canada's reshipment of the garbage was "on target" and would take place soon.
"This is just a matter of coordination. But basically, if you talk about the Philippines' side, everything is under control, we are on target, [so] expect a swift shipping out of these containers," said DENR Undersecretary Benny Antiporda last Monday, May 20.
The Canadian government had booked Bolloré Logistics as their broker as of Sunday evening, May 19.
The 69 container vans of garbage, brought into the Philippines illegally in 2013 and 2014, were shipped by an Ontario-based private export company called Chronics Plastics Inc. (READ: TIMELINE: Canada garbage shipped to the Philippines)
'No impact' on Filipinos in Canada
Panelo, on Wednesday, brushed aside concerns that the Canada-Philippines row would harm the hundreds of thousands of Filipinos living in Canada.
The Philippines has already recalled its ambassador to Canada following the Western nation's failure to meet the May 15 deadline.
"Wala namang problema doon (There won't be a problem there) because I don't think they will be affected," Panelo said.
Asked if the Duterte government will soon cut diplomatic ties with Canada, he said, "I think that is going to that direction if you read his (President Duterte's) pronouncements."
The President had first threatened to ship back Canada's garbage last April 23. The declaration came with a threat of "war." – Rappler.com