USS Guardian damaged 2,345.7 square meters of the Unesco World Heritage protected site
MANILA, Philippines – The Philippines will ask the US Navy to pay fines of about P58-M over the damage it caused the Tubbataha reef, Rappler learned on Friday, April 5.
The USS Guardian damaged about 2,345.67 square meters of the reef when it ran aground the Unesco World Heritage site on January 17, according to Tubbataha Reefs Park Superintendent Angelique Songco in a text message to Rappler on Friday, April 5.
This would mean a fine of about P58-M, she added. Songco is part of a 5-person team that was tasked to assess the damage on the reef. 
The result of the assessment is less than the initial estimate of about 4,000 square meters by an American team. 
Republic Act 10067, or the Tubbataha Reefs Natural Park Act of 2009, specifies a fine of about US$300 or at least P12,000 per square meter of damaged reef, plus another $300 or so per square meter for rehabilitation efforts.
In a press statement released late Friday by WWF-Philippines, Songco said: "$1.4 million (Editor's note: about P58-M) is but a slap on the wrist, as the salvage operation has been estimated to cost close to $45 million. However, we respect the Rule of Law and these are the fines stipulated. The Tubbataha Management Office will not ask for anything more."
The Tubbataha management also earlier said it will serve the US Navy a formal notice of violations committed under RA 10067 once the damage is assessed. 
WWF-Philippines Vice-chair and CEO Jose Ma. Lorenzo Tan said it is time to move forward.
"The swift resolution of this matter will allow TMO to build a significant endowment fund to sustain its operations through the years. The basic issue here is not tourism. It is food security. This fresh infusion of funds will allow TMO to concentrate on putting the money to good use – from building a better Ranger Station to upgrading their capacity to manage the country's most productive coral reef. Let us settle what must be settled, learn what must be learned, and move forward."
The United States has apologized for the incident, with US Ambassador to the Philippines Harry Thomas himself admitting that the reef "will take years to repair."
Ahead of the release of the assessment findings, the US Navy fired 4 officers of the USS Guardian after investigations revealed that they failed to "adhere to standard US Navy navigation procedures" when the incident occured. 
Salvage teams removed the last piece of USS Guardian on March 30 after being stuck in the reef for more than 2 months. The salvage operation cost the US Navy almost $25-M (about P1.2-B)
The assessment team was composed of the following:
TMO Park Superintendent Angelique Songco
Dr. Maricor Soriano from the National Institute of Physics

WWF-Philippines Tubbataha Reefs Project Manager Marivel Dygico

Dr. Wilfredo Licuanan, Dr. Cesar Villanoy, Miledel Quibilan, Patrick Cabaitan, Narida Eznairah and Norievill España from UP MSI
November Romena and Elsa Furio from BFAR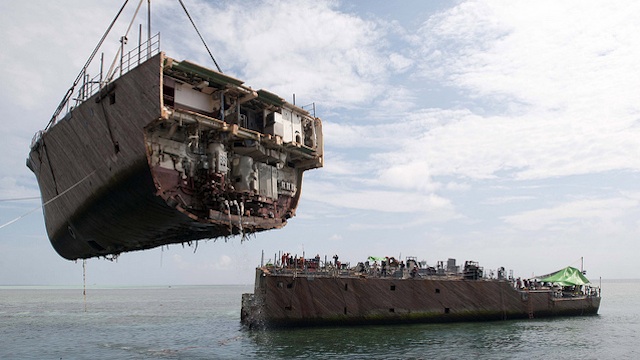 – Rappler.com