This is AI generated summarization, which may have errors. For context, always refer to the full article.
Interior Secretary Mar Roxas says government is looking into various factors to pinpoint liability
MANILA, Philippines – Ten days after the deadly blast in Two Serendra, Interior Secretary Mar Roxas, who has led an inter-agency investigation on the explosion, said it is still too early to tell who is liable for the blast.
"As of now, we have no indications of who's at fault," he said in an interview with Karen Davila on ANC's (ABS-CBN News Channel) Headstart on Monday, June 10.
He said Ayala Land Inc (ALI), which developed Serendra and has a stake in Bonifacio Gas Corp (BGC), which provides a centralized gas distribution system within the Bonifacio Global City, cannot be held liable for the explosion—for now.
The investigating team has concluded that the May 31 blast was caused by a Liquefied Petroleum Gas (LPG) leak.
"We're not saying who's at fault yet. Was the design faulty, was the construction faulty, was the maintenance faulty, the user himself not using it properly?," he added. "We have to look at the facts to see exactly what happened here."
Among the things they will look into to pinpoint liability, Roxas said, was if the maintenance was thorough and upheld, whether or not the safety devices worked and when they were last checked, and whether the renovations done in Unit 501B — the site of the blast — affected the pipes.
Probers will also look into whether the gas was odorless, if the government's engineers or if the Bureau of Fire Protection approved faulty plans, or whether the supplier of sensors provided Serendra with defective devices.
He also raised the possibility government could be more active in regulating condominium maintenance. "The government is really part of the regulation process in the issuance of occupancy permits and operating permits — engineers of City Hall look at [plans] to make sure they are correct," he said. "[But] in maintenance, the government is less involved in that. Maybe it's an area where government can be more involved."
On Friday, May 31, a massive explosion at Two Serendra killed 3 and injured 4, as well as damaged 10 other units in the building. A week-long investigation pointed to a gas leak as the source, but the team has yet to determine what caused the leak.
Foreign experts
Roxas disclosed the government will be bringing in independent international experts to help the Department of Energy with their investigation. Energy Secretary Carlos Petilla said they will not conduct a separate probe, but will help determine what caused the leak and if the Serendra gas pipeline complied with security standards.
Residents interviewed by Rappler have questioned Serendra's gas leak security, building maintenance and BGC's gas.
According to residents, gas leak detectors, which automatically shut off gas when they detect a leak, are plugged into individual units and are under each resident's control. One resident however told Rappler he was unaware if his unit had a gas detector.
Raymund Fortun, the counsel of 501B unit owner Marianne Cayton-Castillo, said Serendra failed to clear the unit for leasing before allowing a family friend of the Castillos, Angelito San Juan, to occupy it. He also said Serendra failed to conduct spot checks in the apartment while it was being renovated.
San Juan, who was at the unit during the blast, is being treated for burn injuries at the ICU of St Luke's Taguig.
A source close to the investigating team also told Rappler the gas supplied by BGC was odorless, a claim Roxas would not confirm but admitted would be a violation of rules. He said suppliers are expected to add mercaptan, the odorant added to natural gas, which makes gas leaks easy to detect through smell.
Warning to BGC
As the probe continues and to ensure public safety, Roxas said BGC has turned off its gas supply in Serendra.
He also said the government has warned BGC that if it fails to meet global safety standards, it may be shut down. "By saying [to BGC], 'You better have it checked,' we want good housekeeping seals. We want experts to review all the buildings or we will shut it down. We cannot have question marks continuing," he said.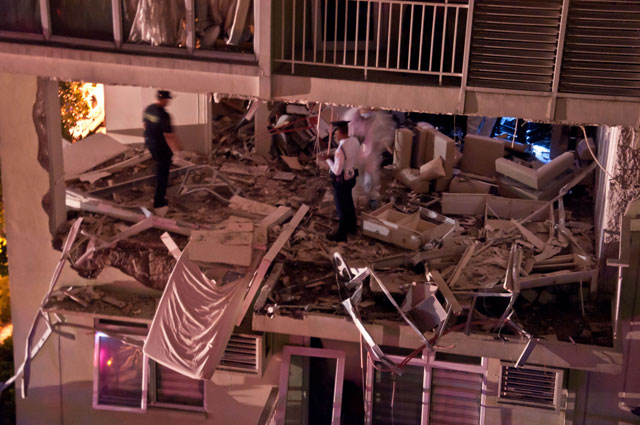 Roxas emphasized that the primary issue is not the centralized gas system itself. He said other major cities in the world rely on a centralized gas system. "I think what's important is maintenance, safety features, and the consistency of checking and maintaining," he explained.
This is the second time in 6 years that a deadly explosion hit an ALI property.
In 2007, a blast in Glorietta 2 shopping center, also owned by ALI, killed 11 and injured hundreds. The police and a special fact-finding panel by the Department of Justice concluded the explosion was caused by methane buildup, but international experts commissioned by Ayala pointed to a bomb as the cause.
In 2012, a manhole also reportedly exploded in Serendra due to a gas problem in BGC's centralized system, which it fixed. – Rappler.com