The negotiating panels will be in Kuala Lumpur July 8-11. Annexes to the deal yet to be completed tackle wealth-sharing, power-sharing, and normalization.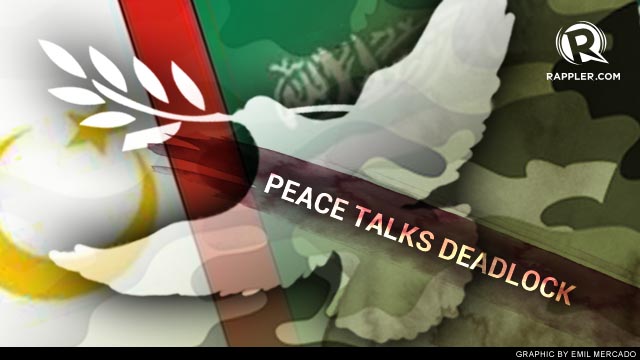 MANILA, Philippines – Pressure is building up for the government and the Moro Islamic Liberation Front (MILF) to complete the comprehensive peace agreement for the new Bangsamoro political entity as soon as possible. 
Ahead of the resumption of the peace talks on July 8, about 100 Mindanao civil society leaders called on the government and the MILF to break the apparent deadlock between both parties on critical issues concerning the final peace pact. 
Pat Sarenas, chair of the Mindanao Coalition of Development NGO Networks (MinCODE), echoed the the MILF's desire to complete the transition toward the new Bangsamoro political entity by 2016.
"We are here now because we want to do something. We want PNoy, his entire administration and the MILF to feel the urgency of our calls for the conclusion of the talks and the creation of the Bangsamoro," Sarenas said at the end of a two-day summit in Davao City on Thursday, July 4.
Mary Ann Amado, secretary general of the Mindanao Peoples' Caucus (MPC), said members of the civil society must act like mothers in labor to give the "final push" for the birth of the new Bangsamoro. 
The government and the MILF had hoped to sign a final peace pact by May, but talks reached a stalemate over how to divide wealth between the envisioned Bangsamoro entity and the national government. 
Of the 4 annexes required to complement the Framework Agreement on the Bangsamoro, only the annex on transition arrangements and modalities has been signed. Yet to be completed are the annexes on wealth-sharing, power-sharing, and normalization. 
The MILF has repeatedly warned that the clock is ticking on the peace process with only 3 years left in President Aquino's term. 
In a joint statement, conference participants said: "We also call on President Aquino, who has declared bringing peace in Mindanao to be one of his legacies, to use the ongoing peace negotiation as an occasion to examine flexibilities in the bureaucratic process of the national government, so that the critical mechanisms that will be embodied in an upcoming political settlement can also be accommodated."
Members of the respective peace panels of the MILF and the government will hold talks from July 8 to 11 in Kuala Lumpur. – Angela Casauay/Rappler.com