President Aquino: 'Saan po kaya kumukuha ng kapal ng mukha ang mga kawani sa ahensyang ito?'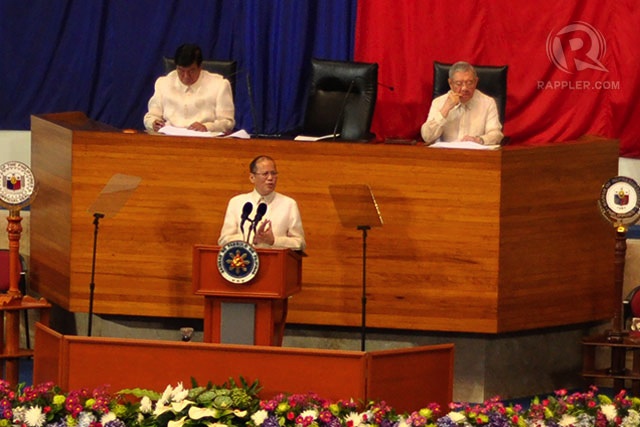 MANILA, Philippines — It's become his tradition. This time he minced no words in shaming the Bureau of Customs (BOC) whose "personnel are trying to outdo each other's incompetence."
In his 4th State of the Nation Address (SONA) on Monday, July 22, President Benigno Aquino III again singled out government officials for alleged incompetence and corruption. He pounced on his own men at the Bureau of Immigration (BI), National Irrigation Administration (NIA), and BOC.
READ: Aquino: This is your SONA
"Let us be honest: Even today, there are still those in government who seemingly refuse to change. It is disheartening to discover the depth and breadth to which they have branched out in the bureaucracy," he said.
The President did not name names but he has recently fired NIA head Antonio Nangel, while BI chief Ricardo David, a retired Armed Forces chief of staff, resigned a week ago.
READ: Immigration chief quits and Aquino fires NIA head for poor performance
The chief of BOC is former Muntinlupa Rep Rozzano Rufino Biazon. He offered his resignation immediately after Aquino's SONA. 
READ: Commissioner Biazon offers to resign
Biazon is a member of the ruling Liberal Party that is headed by the President. Biazon ran for the Senate in 2010 but lost. 
Rappler did not see Biazon at the Batasang Pambansa, venue of the SONA. His father, Muntinlupa Rep Rodolfo Biazon was also absent.
'Don't remain in office'
Aquino had the strongest words for Biazon's bureau, which he said permitted the smuggling of drugs and arms. For decades now, the customs bureau has been perennially a graft-prone agency.
"Here we have the Bureau of Customs, whose personnel are trying to outdo each other's incompetence. Instead of collecting the proper taxes and preventing contraband from entering the country, they are heedlessly permitting the smuggling of goods, and even drugs, arms, and other items of a similar nature into our territory," Aquino said in his speech.
He asked: "Saan po kaya kumukuha ng kapal ng mukha ang mga kawani sa ahensiyang ito?" ("Where do these people get the gall?).
Aquino added: "One can almost hear them say, 'I don't care if the weapons go to criminal elements; I don't care how many lives are ruined by drugs; I don't care if our fields remain barren forever; What matters is that I am rich; it's every man for himself.'"
"If you cannot do your job, you do not deserve to remain in office," he said.
It is not clear if the President meant it for Biazon or other officials in the Bureau of Customs. Biazon just recently launched a campaign to pursue "well-connected smugglers."
Asked about this after the SONA, Presidential Spokesperson Edwin Lacierda said: "There was no mention of a customs chief. It's more of the need for reform within an institution."
Lacierda refused to speculate on whether or not the President was dropping hints that he was unhappy with Biazon. "I cannot speak on that because the speech did not touch on Commissioner Biazon. I'll be speculating if I mention Commissioner Biazon. What I can categorically tell you is that reform measures will be undertaken."
Communications Secretary Herminio Coloma Jr said: "It's about the endemic system of corruption in the Customs, not a particular person."
The President cited figures from Department of Finance showing that more than P200 billion in revenue "slips through our borders without going into public coffers."
These practices "have no place in government," according to Aquino.
The bureau also missed its collection targets in 2012. It collected P287 billion, which was below the target of P347 billion for 2012.
READ: Customs collects P287-B in 2012; misses target
NIA chief's excuses
The NIA "tested our patience," Aquino recalled, because it resorted to "shoddy repairs" instead of laying out new plans for new irrigation systems.
Aquino said the former NIA boss was even making excuses when confronted about a report that only 60% of NIA's target was accomplished in 2012.
"His excuse: 40 percent of the target areas were located in Mindanao and devastated by typhoon Pablo. When were we hit by typhoon Pablo? In the first week of December. Which means that he meant to complete the remaining 40 percent of his tasks in the span of just three weeks," he said.
"This is the kind of leadership we no longer need in the bureaucracy," Aquino added.
BI's blunders
Aquino scored the BI for the escape of high-profile suspected criminals:
former Palawan Gov Joel Reyes and his brother Mario, who are the principal suspects in the murder of environmental activist and broadcaster Gerry Ortega

Korean Park Sungjun who is wanted in South Korea
Aquino said the Korean government had asked for the assistance of the Philippines. "How can we face them now, when our own government employees are the ones who enabled his escape?," the President said.
Aquino warned corrupt government employees. "I shall pursue all of you and hold you accountable. No hard feelings," he said.
Aquino also called on Congress to evaluate the Civil Service Code to ensure honesty in government.
Aquino also vowed to continue to pursue officials from the previous administration.
Syjuco's cases
He named former Augusto Syjuco Jr, former director-general of the Technical Education and Skills Development Authority (TESDA).
"We are already holding the former leadership of TESDA accountable for his part in the outrageous overpricing of purchases by the agency. For example: one incubator jar is priced at 149 pesos. But Mr. Syjuco priced the same jar at 15,375 pesos. The normal price of a dough cutter, 120 pesos. The price according to Mr. Syjuco: 48,507 pesos. Let's be clear: this is a dough cutter, not a Hamilton Class Cutter. Perhaps when he finally has his day in court to face the cases filed by the Ombudsman, Mr. Syjuco will finally learn to count," the President said.
Syjuco was elected Iloilo representative after his term at TESDA in 2010. He ran for re-election in the May 2013 polls but lost.
At the Philippine Amusement and Gaming Corp (Pagcor), Aquino said the government will run after former Pagcor officials who embezzled P26.7 million just to produce a movie.
The government will also run after former leaders of the Philippine National Police regarding the P131.6 million wasted on 75 defective rubber boats and the P104.99 million spent on the anomalous purchase of second-hand helicopters from 2009 to 2010, Aquino said.
"It would actually be better if they are able to properly answer questions regarding this, so we may discover if there are others who must be held accountable," the President said. — Rappler.com