Bureau of Customs chief Rozano Rufino Biazon offers to quit after President Aquino hits his bureau in his State of the Nation Address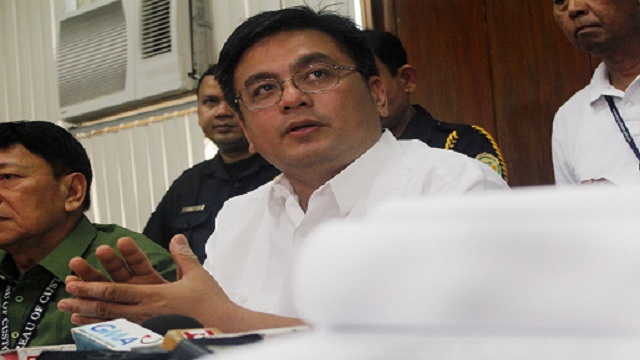 MANILA, Philippines — Bureau of Customs Chief (BOC) Rozzano Rufino Biazon offered his resignation immediately after President Benigno Aquino III shamed his bureau in his 4th State of the Nation Address on Monday, July 22.
READ: Aquino shames customs bureau
In his tweet, Biazon said he "immediately offered" his "resignation" following the President's speech. But in his second tweet, Biazon said the President told him, "My confidence in you remains the same." 
In light of the president's statement regarding BOC, I immediately offered my resignation within minutes after the end of the speech.

— Ruffy Biazon (@ruffybiazon) July 22, 2013
President's reply: "RUFFY we both know the difficulties in the agency you are trying to reform. My confidence in you remains the same."

— Ruffy Biazon (@ruffybiazon) July 22, 2013
In his SONA, Aquino hit incompetent and corrupt officials in government, singling out those in the Bureau of Immigration, the National Irrigation Administration, and the BOC.
Aquino had the strongest words for Biazon's bureau, which he said permitted the smuggling of drugs and arms. For decades now, the customs bureau has been perennially a graft-prone agency.
"Here we have the Bureau of Customs, whose personnel are trying to outdo each other's incompetence. Instead of collecting the proper taxes and preventing contraband from entering the country, they are heedlessly permitting the smuggling of goods, and even drugs, arms, and other items of a similar nature into our territory," Aquino said in his speech.
He asked: "Saan po kaya kumukuha ng kapal ng mukha ang mga kawani sa ahensiyang ito?" ("Where do these people get the gall?).
Aquino added: "One can almost hear them say, 'I don't care if the weapons go to criminal elements; I don't care how many lives are ruined by drugs; I don't care if our fields remain barren forever; What matters is that I am rich; it's every man for himself.'"
"If you cannot do your job, you do not deserve to remain in office," he said.
It is not clear if the President meant it for Biazon or other officials in the Bureau of Customs. Biazon just recently launched a campaign to pursue "well-connected smugglers."
But Biazon was conspicuously absent during the event. His father, Muntinlupa Rep Rodolfo Biazon, also did not attend the SONA.
Asked about this after the SONA, Presidential Spokesperson Edwin Lacierda said: "There was no mention of a customs chief. It's more of the need for reform within an institution."
Lacierda refused to speculate on whether or not the President was dropping hints that he was unhappy with Biazon. "I cannot speak on that because the speech did not touch on Commissioner Biazon. I'll be speculating if I mention Commissioner Biazon. What I can categorically tell you is that reform measures will be undertaken." — Rappler.com