Aside from stricter policies, the law also mandates schools to conduct a rehabilitation program for victims of bullying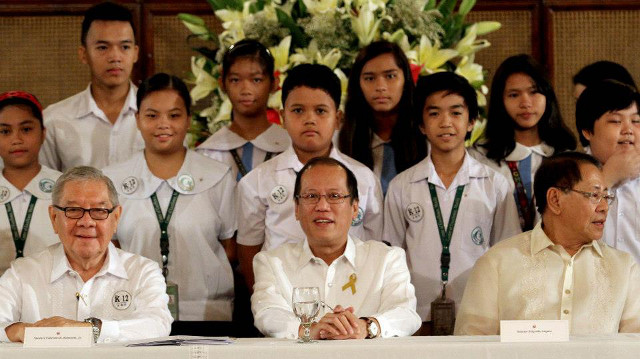 MANILA, Philippines – Bullies, beware. 
President Benigno Aquino III has signed Republic Act 10627, or the Anti-Bullying Act of 2013, which requires all elementary and secondary schools to adopt policies that will prevent and address bullying in the classroom. 
The Act was signed last September 12. It defined bullying as a the use of written, verbal or electronic expression, or a physical act or gesture to cause physical or emotional harm by one student to another student.
Bullying can also mean the creation of a hostile school environment, infringement of student rights, and "material and susbtantial" disruption of the school's education process.
'Huge step'
Before the legislation was passed, the Department of Education (DepEd), since 2012, has adopted Order no. 40 or the Child Protection Policy to ensure special protection of children from abuse and bullying. 
Senator Juan Edgardo "Sonny" Angara, one of the bill's principal authors,  earlier said the DepEd order is a "temporary interim measure" that should be institutionalized through law. 
In a statement on Wednesday, September 18, Angara said the passage of the law is "a huge step" in protecting students from "the earliest forms of violence".
"The school is our children's second home. I call on school authorities to be proactive and responsive to the law in order to ensure the safety of the students. That is their primary responsibility and promise to parents," he added. 
The Senate and House of Representatives approved the bill last June 5. 
DepEd also said in a statement on Wednesday that the "landmark piece of regulation…enhances the DepEd's existing Child Protection Policy and allows us to further develop our schools into learner-centered institutions."
Policies
The law now mandates schools not only to adopt policies addressing the existence of bullying inside the campus, but also to conduct a rehabilitation program for victims of bullying.
It also urges schools to set up clear procedures and strategies that will protect students who report on acts of bullying to prevent retaliation. 
Students may report anonymously, but the school may not take disciplinary action solely on the basis of an anonymous report. 
Names of students who committed the act of bullying will also be strictly confidential except to persons involved in the case (school administrators, teachers, parents).
Appropriate sanctions will be made by the Secretary of Education on school administrators who will fail to comply with the act's implementing rules and regulations.
This applies to both public and private schools, wherein private schools' permit to operate may be suspended. – Rappler.com