Only 4 school buildings are damaged by the 3-week standoff in Zamboanga City, Education Secretary Br Armin Luistro says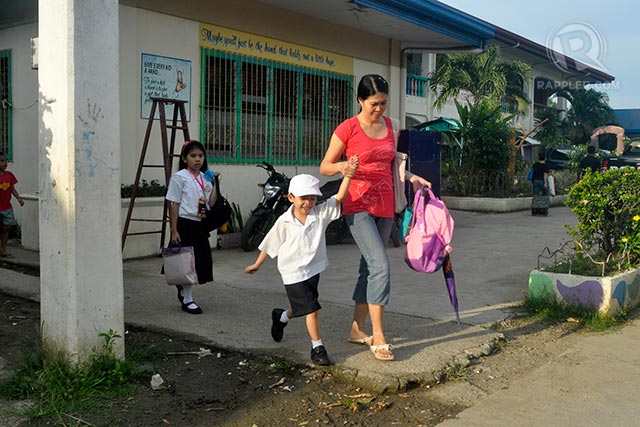 MANILA, Philippines – School operations in war-torn and recently-flooded Zamboanga City are slowly returning to normal as 180 schools reopened on Wednesday, October 16.
The Department of Education (DepEd) Zamboanga City division expected 201 schools to resume classes that day, but classes remained suspended in 6 schools, while 15 were unaccounted for.
Of the 180 schools that reopened, 155 are elementary schools and 25 are high schools. But 4 schools had zero attendance on the first day back since classes were suspended due to flooding:
Arena Blanco East
Arena Blanco West
Arena Blanco National High School
Talon-Talon Elementary School
Still, the number of students who came to school has increased since the last school day, October 7. From 21,175 elementary pupils, the attendance last Wednesday rose to 51,853 – an increase of 145%.
In high school, 20,118 – or an increase of 120% – attended classes from the previous count of 9,164 students.
Also teachers
The number of teachers who reported back to work also improved. From 1,944 elementary school teachers and 733 high school teachers present last October 7, the numbers rose to 2,923 and 1,233, respectively.
But 25 of the 180 schools are still being used as evacuation centers, so the department adapted strategies like shifting schedules to ensure the resumption of classes even in these schools.
In island schools, some resident teachers held classes for their pupils, while some mainland teachers reported with or without security escorts. However, there were still cases of teachers provided with security but who still did not report for work due to apprehension over the situation.
Education Secretary Bro Armin Luistro said on Thursday, October 17, that the 3-week fighting between government forces and members of the Moro National Liberation Front (MNLF) had no significant damage on school buildings. (READ: Zambo crisis: The fog of war)
"Sa kabuuan ng Zamboanga City, 4 na eskwelahan lang [ang na-damage], at isa sa apat ay talagang totally burned down. Yung 3 pwede pang itayo. Yung pang-apat, depende kung ire-relocate yung mga pamilya doon, baka sa ibang lugar na rin namin itayo yung school," Luistro added.
(In Zamboanga City, only 4 schools were damaged, with one school totally burned down. The other 3 can still be rebuilt. If the families of students attending the 4th school will be relocated, we may have to build it in another location.) – Rappler.com