After evading the Senate for 7 years, Janet Lim Napoles will now face an investigation on live television
MANILA, Philippines – Janet Lim Napoles' Senate testimony on Thursday, November 7, is a long time coming. 
The woman allegedly at the center of the multi-billion-peso pork barrel scam will finally face the chamber after 3 subpoenas spanning 6 years and at least 3 major corruption scandals linked to her name.
Senators initially summoned her in 2006 and in 2008 over the fertilizer fund scam, but she was a no-show. Now, as she faces plunder complaints over the alleged misuse of pork barrel and Malampaya funds, there is no more evading the Senate.
Accused of mastering a scheme that deprived farmers and typhoon victims of aid for years, Napoles will now face an investigation on live television.  
"People need to know the truth here," said Senate blue ribbon committee chairman Teofisto "TG" Guingona III. "That's why we're calling Napoles because she is the center stone. They're saying she might invoke her right against self-incrimination, but the principle is we have done everything including calling Mrs Napoles here."
In contrast, Napoles has said her presence will not contribute anything to the Senate probe.
Yet senators insist this is her chance to confront her accusers, her aides-turned-whistleblowers who will also be present. Observers are also eager to see if she will name names, and point fingers at the senators in the room.
It is unclear if Napoles will clam up, again turn incoherent, or tell all. Whatever she does, her past statements already provide a preview of her defense against the burning allegations against her.
1. 'Another woman is the scam mastermind'
Napoles, 49, is called the brains behind the pork barrel scam, allegedly conniving with lawmakers, their staff, and government agencies to channel pork barrel funds or the Priority Development Assistance Fund (PDAF) to her fake non-governmental organizations.
Principal whistleblower Benhur Luy told the Senate that the spoils are split among the parties, with the legislator getting 50%, the implementing agency 10%, and Napoles pocketing 40% of the project cost. He said most are ghost projects.
Yet Napoles turns the tables on her ex-assistant and second cousin, accusing him of drug addiction and sexual indiscretions. In an interview with the Philippine Daily Inquirer in August, she categorically denied any involvement in the scam and said it was Luy's racket.
"Mayroon po siyang boss," she said. (He has a boss.)
Repeatedly pressed who it was, Napoles said, "Basta babae po siya." (She is a woman.)
Napoles said Luy supposedly has a handwritten letter detailing who his clients were. Three months ago, she expressed openness to participating in a congressional probe.
"Ilalabas namin iyan 'pag nagka-inquiry na. Senate inquiry or sa House inquiry, doon ilalabas." (We will release that when there's an inquiry. Senate inquiry or House inquiry, that's when we'll release it.)
When senators asked Luy about this in September, his answer was straightforward. "Wala ho. Siya ang mastermind kasi siya po ang boss ko." (There is no [other mastermind]. She is the mastermind because she is my boss.)
2. 'I put up only one NGO'
Whistleblowers said Napoles put up 20 bogus NGOs, 8 used for the PDAF while the rest for the Malampaya funds and other government contracts. The witnesses said Napoles named them presidents of NGOs, along with her relatives, friends, and even household help. They would also help her fake beneficiaries' signatures until midnight.
Napoles though said she only has one NGO: the Magdalena Luy-Lim Foundation named after her late mother. Later renamed Divine Mercy Foundation, the NGO held feeding programs in Quiapo, built a church, and helped Catholics in China, she said.
Besides implicating Luy, she also pointed to the whistleblower's lawyer, Levito Baligod. She said Baligod attempted to extort P38 million from her in exchange for dropping the serious illegal detention case Luy filed.
"'Pag kinausap niya po ako, ang dami niyang sinasabing hinanakit sa pulitiko. Isa lang po ang sinabi ko, 'Anong pakialam ko? Eh 'di sila habulin mo, bakit ako?' Sabi niya, 'Wala, gagamitin kita. 'Pag hindi ka nagbigay, sisirain kita,'" Napoles said.  
(When he talked to me, he had so many grudges against politicians. I just said, "What do I care? Then run after them, why me?" He said, "I will use you. If you don't give money, I will destroy you.")
Baligod though said it was Napoles who tried to bribe him with P40 million to settle the case.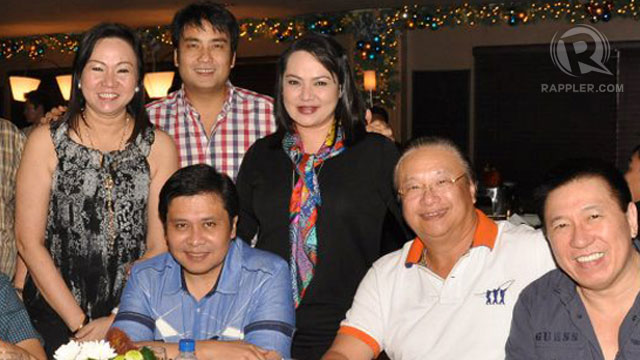 3. 'Coal mining, trading are my businesses'
A woman of humble origins, Napoles now leads an upscale life with her family and has properties all over the country and abroad. She supposedly has a weakness for expensive shoes, clothes, and bags, like her daughter Jeane.
The younger Napoles drew outrage for blogging about her designer products and a video of her extravagant birthday party that spread online. Parents and daughter now face tax evasion cases, with the Bureau of Internal Revenue questioning the source of their income.
Luy said Napoles was so "liquid" she could give her PDAF lawmaker clients advanced kickbacks sourced from the Malampaya fund. The whistleblowers said they stacked bags of cash on her bed and bathtub because the money would not fit in her vault.
For Napoles, the source of her wealth is legitimate: a coal business in Indonesia, trading Korean products, and a previous mining venture in Surigao.
"S'werte-s'werte kasi. Manalig ka sa Diyos. Alam mo ganito iyan. Halimbawa, may condominium opening diyan. Kung may pang-down ka, mag-down ka. 'Pag naging uso na siya, mahal na," she said.
(It's all about luck. Trust the Lord. This is how it works. For example, there is a condominium opening. If you have money for down payment, buy it. If it becomes trendy, the value will rise.)
4. 'We were not trained to be thieves'
Luy rejected Napoles' claim, saying she made a fortune out of being a contractor. He and other former Napoles employees said she was able to evade prosecution and to penetrate high levels of government because of her network of contacts in Congress, departments, the judiciary, Commission on Audit, and the Ombudsman.
Photographed with senators implicated in the scam, Napoles admitted to knowing Sen Bong Revilla because their sons are friends. Rappler reported that their children were not just friends but also business partners.
Napoles has yet to fully explain her links to officials reportedly connected to her including Senate President Franklin Drilon and other players from both the administration and the opposition.
The woman portrayed as the shrewd and cunning pork barrel queen said the truth is far from public perception.
"Chinese kami eh. Na-train kami maghanapbuhay. Hindi kami na-train ng nanay kong magnakaw." (We are Chinese. We were trained to earn a living. My mother did not train us to steal.) – Rappler.com