The President promises to tap into the same fund that he has also committed for the Zamboanga and Central Visayas rehabilitation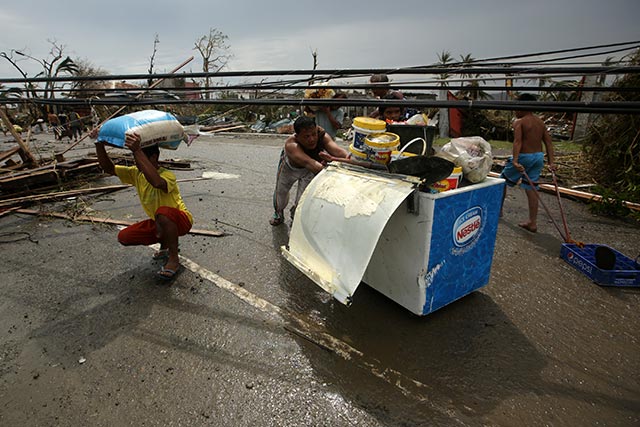 MANILA, Philippines – The government will tap the President's Social Fund (PSF) and savings to fund massive relief and rehabilitation efforts in provinces battered by super typhoon Yolanda (international name: Haiyan). 
"I'd like to assure everybody. A number of calamities hit us – man-made and natural. There's something like P16 billion in savings identified that can assist this," President Benigno Aquino III told reporters on Saturday, November 9.
Communications Secretary Ramon Carandang said the savings will come from various departments, but "we don't know how much we will spend because we don't have all the data in yet."
The government has set up a command center in Tacloban City, located in Eastern Visayas. A second command post is planned in Roxas City to cover Western Visayas. 
Typhoon Yolanda came at the heels of the Zamboanga City crisis in September, the Bohol earthquake in October, and other typhoons that battered the country. 
The President has committed P3.89 billion to rebuild Zamboanga City. There's also a P7 billion request for the Central Visayas provinces destroyed by the 7.2-magnitude earthquake.
The calamity and contingency funds are running dry, he has always said. Combined, they amount to only P1 billion.
Aside from the P20-billion savings, the President said the President's Social Fund (PSF) and Quick Response Fund of various agencies may be used.
Aquino said there's remaining P6 billion in the PSF, a fund that critics classify as a pork barrel and urged to be included in the budget law to remove its discretionary nature. (READ: Miriam wants 3 major funds out of Palace discretion)
"For the reconstruction phase, most of that would occur next year, wherein the new budget hopefully will have been approved and there will be new funding for the rehabilitation," Aquino said.
The President said reports coming in show that roads are impassable because of felled trees and electric posts. He said there are no reports of damaged bridges and roads so far. (READ: Land route from Manila to Tacloban now passable – Mar) – Rappler.com
Help the victims of Typhoon Yolanda (international codename: Haiyan). Visit Rappler's list of ongoing relief operations in your area. Tell us about your relief and recovery initiatives, email move.ph@rappler.com or tweet us @moveph. 
Visit rappler.com/typhoon-yolanda for the latest updates on Typhoon Yolanda.