Secretary to the Cabinet Jose Rene Almendras seeks to downplay estimates by localities that there are more than 10,000 dead in Leyte alone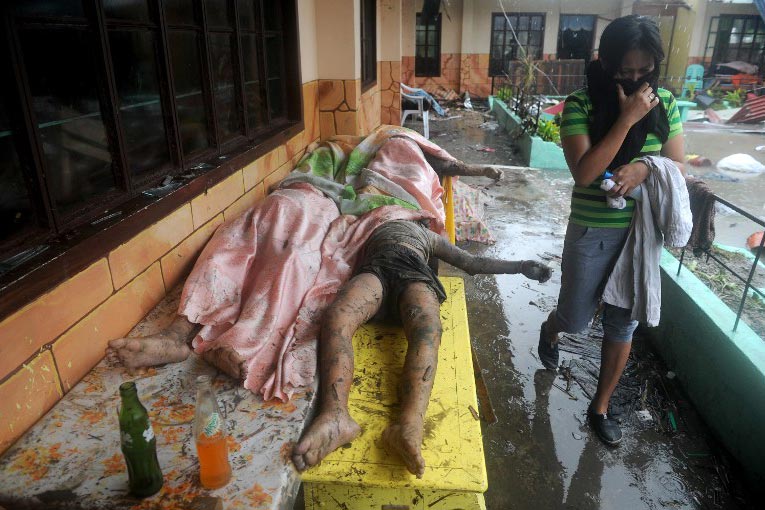 MANILA, Philippines – The National Disaster Risk Reduction and Management Council (NDRRMC) confirmed at least 1,774 deaths due to monster typhoon Yolanda as of Monday afternoon, November 11.
This is a big leap from the 151 casualties confirmed by the council as of 6 pm Sunday, even as regional police chief Superintendent Elmer Soria said there could be more than 10,000 people dead in the province of Leyte alone.
But Secretary to the Cabinet Jose Rene Almendras, who presided over the Monday NDRRMC meeting, sought to downplay the situation saying the estimats made by local authorities was "premature."
"I do not know where it came from. It definitely did not come from government," he told reporters on Monday. (The government has a constantly updated tally of Yolanda casualties here.)
"At this point in time, malayo pa po tayo dun (we're far from that figure)," he said referring to the regional police's estimate for Leyte.
The NDRRMC is finalizing its Monday afternoon report as of this posting. 
The bulk – or 1,660 – of the deaths confirmed were reports from Region VIII or Eastern Visayas, according to NDRRMC spokesperson Major Reynaldo Balido.
Almendras admitted it will take a long time to rehabilitate the devastated provinces.
"We are very far from normal. We are not even in the rehabilation mode. We are still in search and rescue and relief mode," Almendras said.
"When you say normalized, it's when we bring back people's lives to normal. I'm very practical. I'm sorry we are not there," Almendras added.
Almendras recalled the tough work of Task Force Pablo, the group that was on top of the rehabilitation efforts in areas in Mindanao devastated by Typhoon Pablo in 2012.
"It's hard to commit. I was the chairman of Task Force Pablo. Pablo happened December of last year. We finished [the work] October last month," he said.
"To bring back [these provinces] to [their] original state, it will definitely take long. But we will try to bring their lives back to as normal as possible. That is the target," he said. – Rappler.com