The military is organizing a combined joint task force to coordinate efforts of military units from other countries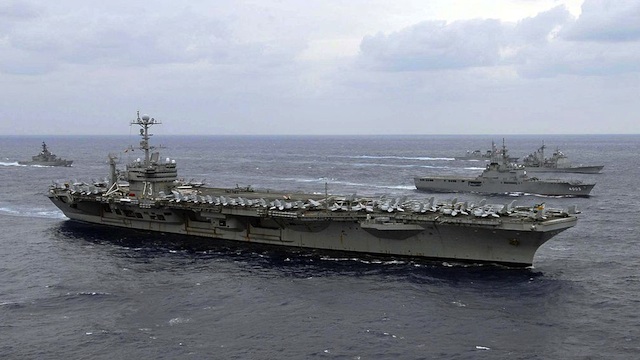 MANILA, Philippines (Updated) — "Talk to the Americans."
It's the instruction Filipino officials gave the Israelis when they were trying to coordinate their relief efforts for Super Typhoon Yolanda (Haiyan) victims, according to correspondent Terry Moran of ABC News in a blog detailing how the Philippine government is mishandling disaster response.
Defense Secretary Voltaire Gazmin said the account is "not accurate." He said some countries do go straight to the American troops here but they are in turn referred to the Department of Foreign Affairs (DFA). Gazmin said he spoke to the Israeli defense attaché himself. "He was asking me what type of relief goods, type of assistance they could provide. We did agree on so many things,' Gazmin said on ANC's Headstart on Thursday, November 14.
The Israeli army deployed 148 specialists for medical and search-and-rescue operations in Tacloban City. It's just one of several military units from around the world that have been sent to help the Philippine government deal with the humanitarian crisis caused by Yolanda.
Militaries are always counted on to step in during calamities. They have the organization, assets, mobility, and training to lead rescue and relief efforts in the toughest disaster areas.
The US, a longtime Philippine ally, has been quick to send a survey team to assess what the calamity areas needed. It immediately deployed at least 4 C130 cargo planes to help transport relief goods. This wasl followed by its Osprey tilt-rotor aircrafts, which makes operations more efficient because it flies as fast as an airplane and it can land vertically like a helicopter. 
On Thursday, November 14, aircraft carrier USS George Washington also arrived. It is a US warship with 5,000 sailors and several ships and at least 20 helicopters aboard. (READ: US Navy ships arrive in Eastern Visayas)
It also pledged to send US amphibious assault vehicles that could be used where roads are blocked by debris. These are uselful in areas where only one side of the road is cleared — thus slowing traffic — while the debris are being collected on the other side.
With the extent of assets the US brought in, the joke is the Americans now have a base here. The deployment comes at a time when the Philippines and the US are negotiating a military-to-military agreement that would allow American troops increased rotational presence here and more access to Philippine military bases. 
Before Yolanda hit, the talks reached an impasse because the US wants to limit the access of Filipino troops to the facilities they will be building in the country. The Philippines wants equal access to those facilities. (READ: PH, US bases access talks reach impasse)
Beyond America
Beyond America, soldiers of other countries have come to assist the Philippines.
A Canadian military advance team arrived in Iloilo on Thursday. Canadian Forces Disaster Assistance Response Team led by Major Andrew Starkey brought in medicines and water purification equipment, which is critical in areas without potable water.
British destroyer HMS Daring has joined the aid effort along with several aircraft. Prime Minister David Cameron said HMS Daring will be replaced by helicopter carrier HMS Illustrious to expand their assistance.
To organize efforts of the different militaries, the Armed Forces of the Philippines will be activating a combined joint task force, which will coordinate all military efforts for Yolanda-hit areas.
"This is a way for a combined headquarters to control all assets and have a unity in effort in the Humanitarian Assistance and Disaster Response (HADR) that we are doing," explained AFP spokesperson Lieutenant Colonel Ramon Zagala.
Criticized for delay
The Philippine government has been heavily criticized for the delayed distribution of relief goods to hungry typhoon survivors. There's plenty of aid but it's not reaching those who need it most. (READ: Yolanda: Aid, donations from international community)
"This is a big and massive logistics problem," National Disaster Risk Reduction and Management Council (NDRRMC) executive director Eduardo Del Rosario admitted on Thursday, as the government struggled to fix its distribution system. (READ: What about Eastern Samar?) 
Gazmin earlier promised they will reach all 40 towns of Leyte on Thursday, but it turned out to be an empty promise. Del Rosario asked for more time. "We need more coordination and more patience from everybody because this is a very big situation," Del Rosario said. 
The response to the massive devastation was complicated by the lack of communication lines and unusable roads. Thanks to military radios at the military's 8th infantry division headquarters in Catbalogan City in Samar, Manila was able to instruct troops to send satellite phones to Tacloban and establish connection at the command center. Catbalogan was not as devastated as other areas.
The problem in the case of Yolanda is the soldiers were victims themselves. Brig Gen Jet Belarmino, commanding general of the AFP's 8th infantry division in charge of military troops in Eastern Visayas, was a survivor himself. He and other soldiers at the military satellite offices near Tacloban airport floated at sea for hours at the height of Yolanda's fury. At least 2 soldiers died there. (READ: Soldier floats at sea for 6 hours, 'saved' by a boy)
It was only a day after the typhoon, Saturday, November 9, that the military's C130 cargo planes started flying sorties to Tacloban City to bring in relief goods and personnel needed to fix communication lines and restore order in the city. The military's engineers tasked to clear roads also later arrived in Tacloban.
But it's not enough. The Philippine Air Force only has 3 operational C130 cargo planes.
As of Friday, however, at least 20 C130 planes and other aircraft from the militaries of the US, Australia, Taiwan, Indonesia, Singapore, and South Korea have been moving relief goods from the logistics hub in Cebu.
"We have enough transport. Our struggle at this point is the ramp space in Tacloban, Guiuan and Ormoc. The joint planners at the general headquarters are sorting that out with the US and other multinational forces working with us," said PAF spokesperson Colonel Miguel Okol.
As the world rushed in to help, Yolanda exposed a government that is not ready to respond to a disaster of such magnitude and a military that is ill-equipped to match its resolve. Rappler.com