This will bring the total number of military cargo planes to 5, although the ideal number is 9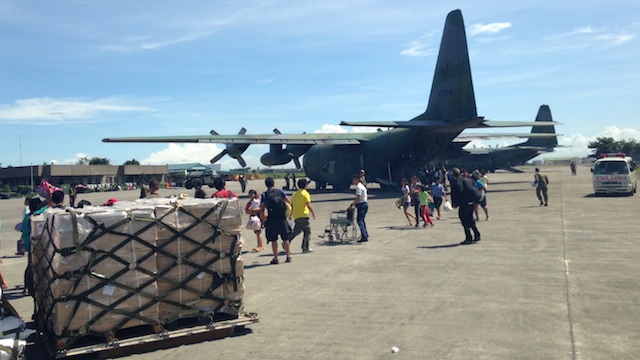 MANILA, Philippines — It took Super Typhoon Yolanda (Haiyan) to drive home the obvious: the government needs more cargo planes.
The military said on Monday, November 25, that it is in the process of acquiring 2 more C130 cargo planes to bring its total number of cargo planes to 5. The Air Force said the ideal number is 9 but it's a start. 
AFP chief of staff General Emmanuel Bautista said they will try to get more. "We are in the process of acquiring 2 more C130s, 2 logistics support vessels, and strategic sealift vessel. It's in the works," Bautista told reporters on Monday. (READ: Haiyan exposes military's vulnerabilities)
One C130 costs about P2.2 billion, according to Senate President Pro Tempore Ralph Recto, who is also proposing the earmarking of P1.5 billion to fix 3 of the military's mothballed C130 planes.
Citing estimates from the Philippine Air Force, Recto said fixing a C130 costs P500 million. 
But Recto said he is also in favor of new purchases. "If we have the money for it, and if that is what the PAF would recommend after technical review," Recto said. 
Senator Nancy Binay and Representative Rodolfo Biazon earlier wanted to divert the P18.9 billion funding for fighter jets to instead buy assets for disaster response. (READ: Billions for jets but no money for sat phones?)
The purchase of the fighter jets is already a done deal, however.
Badly needed
The C130s were the first to be deployed for relief operations in the areas devastated by Yolanda, particularly Leyte and Eastern Samar. A C130 cargo plane can transport about 200 people. The military also deployed its Huey and Sokol choppers, but these can only transport up to 11 people.
The C130s were also deployed at the height of the bloody Zamboanga crisis in September, to send more troops and firearms to the battle zone.
"The C130s are very important. You've seen their role during calamities. It's not just for military operations. Other than war, we used it for operations like rescue and relief effort," Bautista said.
Responding to Yolanda's aftermath, foreign militaries sent various types of cargo planes to help in transporting relief goods to the devastated areas. 
At least 16 countries deployed 61 foreign aicraft to the  Philippines to help in Humanitarian Assistance and Disaster Response (HADR) operations.
The US deployed the most, at least 20 aircraft including 10 C130s and 5 of the V-22 Ospreys, which soldiers describe as half-helicopter, half-plane.
Australia, Canada, Qatar also flew in C17 cargo planes that are much bigger than the C130s.
"We were very fortunate that our allies contributed their military assets to help us in the rescue and relief operation. It would have been harder without their help. You know the limitations of our capabilities but that is what friends are for. We are very appreciative of that," Bautista said.
The AFP has set up a Multi- National Coordinating Center (MNCC) to coordinate the efforts of the different militaries. But they are expected to pull out their assets as soon as the situation is no longer considered "emergency". — Rappler.com