The transfer has been approved by the Supreme Court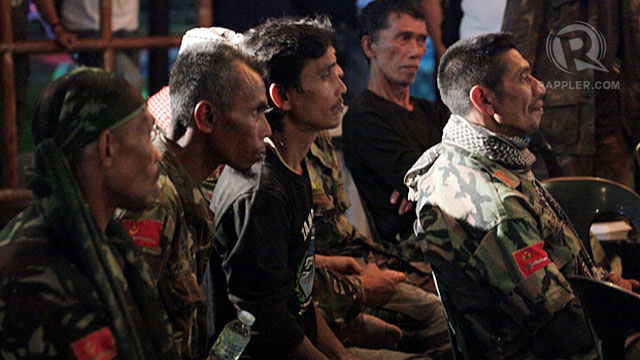 MANILA, Philippines – Over 200 Muslim rebels arrested for their participation in the Zamboanga City siege in September were moved on Friday, December 27, from Zamboanga City to their new detention facility in Camp Bagong Diwa in Taguig City.
They face lifetime imprisonment for charges of rebellion and crimes against humanity. They will be tried by the Taguig regional trial court.
According to Region IX state prosecutor Peter Medalle, the rebels are expected to be arraigned in January 2014.
Zamboanga Ciy raised the maximum Code Red alert on Friday following the transfer of the Moro National Liberation Front (MNLF) detainees from the San Ramon Prison and Penal Farm located in the southern part of the city, according to city information officer Sheila Covarrubias.
Upon the request of Zamboanga City Mayor Isabelle "Beng" Climaco, the Supreme Court approved last October the transfer of the MNLF fighters to Metro Manila.
"It's safer if they are in Manila. Camp Bagong Diwa is a detention facility for high-value prisoners," Medalle told Rappler. It is where some members of the Abu Sayyaf Group are also detained. 
Zamboanga City residents feared possible rescue missions for the detainees, a common operation that the MNLF launches to save their members from imprisonment. Most of the detained MNLF fighters are from nearby Basilan and Sulu. 
"There could be attempts to rescue them from their present detention. Authorities decided it is wiser to try them in Manila," said Medalle.
The MNLF attacked the city on Sept 9, 2013 and aimed to raise their flag of independence at the City Hall. In previous media interviews, Commander Habier Malik protested the government's talks with rival group Moro Islamic Liberation Front (MILF).
The standoff set back prospects for peace in Mindanao. 
The military said it's convinced Malik is dead, but there is no proof of a dead body. An arrest warrant was also issued against MNLF founder Nur Misuari but he remains at large. (READ: Habier Malik: Trapped in the city he seized)
The standoff killed 183 MNLF fighters, 18 soldiers, 5 cops, and  12 civilians. Over 10,000 houses were damaged inside the combat zone. Three months since the siege, many of the families remain in evacuation centers. – with reports from Richard Falcatan