At least 3 universities aim to implement the shift this school year, but CHED doubts this will push through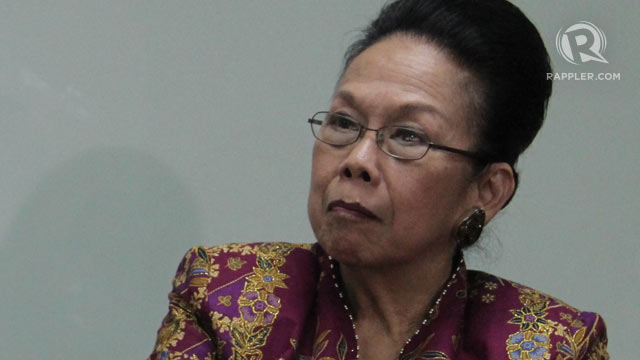 MANILA, Philippines – The Commission on Higher Education (CHED) is "a little concerned" as more and more higher education institutions (HEIs) express their intention to synchronize their academic calendars with the rest of the world.
At first, CHED Chairperson Dr Patricia Licuanan found it all right when the University of the Philippines (UP) system and the Ateneo de Manila University informed her of their plan to shift. (READ: Ateneo de Manila to start school year in August)
But now that 3 more universities – De La Salle University (DLSU), University of Sto Tomas (UST), and Adamson University – are mulling the change, CHED is worried about a bandwagon effect. Without proper consultation and a solid study to back them up, schools that follow suit may find themselves with a problem instead.
To prevent this, Licuanan ordered the creation of a technical working group composed of people from the Commission and stakeholders from the education sector.
The group, set to convene this January, will conduct a study that will provide CHED enough data for a clearer position on the issue by March 2014. 
UP, Ateneo and Adamson are aiming for an August school opening, while UST and DLSU are looking at a September-June academic calendar.
'Bitter pill to swallow'
Ateneo President Fr Jose Ramon Villarin told Rappler in a phone interview that talks on making the shift actually started earlier than 2013, but that it was only last year that they "ripened because 2015 is just around the corner."
In 2015, an ASEAN Economic Community will be established, marking the start of free trade among the organization's 10 member-states and allowing the free flow of goods and services – education services included.
It also comes a year earlier than the full implementation of the K to 12 program's senior high school curriculum, which will also affect HEIs by 2016. But Villarin said both are "bitter pills to swallow." (READ: PH basic education: 'Cramming' toward ASEAN 2015)
"Opening the education system [is both] good and bad in a way, but the benefits outweigh the costs," he said.
He added the academic calendar in basic education – which is "largely local" – should not change because the minimum 5-month gap (high school graduation in March, and the proposed beginning of college classes in August) "can be put to good use."
Effect on educational system
CHED, however, said if all HEIs – including public institutions – decided to shift their calendars, it would have a major effect on the education system.
For UP Vice President for Public Affairs Prospero "Popoy" de Vera, it may mean two major education sectors – the Department of Education (DepEd) and CHED – competing for funds.
"Nagsabay ang implementation ng [regional] integration at K to 12…[Meron pang] rehabilitation for Yolanda," he told Rappler in a phone interview. (The implementation of the regional integration and K to 12 will coincide…There's even the rehabilitation for Yolanda.)
He added that ASEAN 2015 will also require an upgrade in school facilities. 
CHED urged schools to consider other possible ways to become integrated, like adapting a trimestral or a quarterly system. 
With only the Diliman campus still conducting consultations, de Vera said the rest of the UP campuses and their chancellors are ready to implement the change this coming school year 2014-2015 "even if Diliman doesn't go." Adamson University said likewise, as reported by GMA.
These universities enjoy an "autonomous" status because they are regarded as centers of excellence. As such, they have more freedom and flexibility than other institutions to introduce changes in their systems. All they need to do is notify CHED.
De Vera said the UP Board of Regents may decide on the plan to shift anytime soon, even if discussions are still ongoing in the Diliman campus.
But Licuanan doubts schools can push through with the shift that early. 
3 issues
Aiming for a 2015 implementation will give universities more time to think about other issues like weather, the scheduling of both the Professional Regulation Commission's (PRC) board exams plus the bar exam,* and the inclusion of other HEIs (besides 3 universities UP, Ateneo, and DLSU) in the ASEAN University Network (AUN).
Weather is not so much an issue for Ateneo since almost half of its students go to summer classes, Villarin said. 
As for the exam schedules, de Vera said UP is already in the process of discussing with the PRC, hoping that if the 4 major universities (UP, Ateneo, DLSU, and UST) shift their academic calendars, the regulatory body may adjust its exam schedules.
But the last one is crucial. "[The AUN membership] is useless if not maximized," de Vera said in a mix of English and Filipino. This will empower Philippine state universities and colleges (SUCs) – supposedly the top universities in the country, as in the case of those in neighboring ASEAN member-states. (READ: The road to ASEAN 2015: Why are PH colleges lagging behind?)
AUN is identified under the 2007 Charter as "one of the sectoral bodies responsible for the implementation of higher education commitments in the blueprint for the ASEAN Socio-Cultural Community." (READ: 8 ways PH higher education can prepare for ASEAN 2015)
"We are helping CHED. Priority [na] magkaroon ng [international] linkages [ang] SUCs. Ang kilala lang, UP," de Vera added. (We are helping CHED. It is a prioirity that SUCs have international linkages. Only UP is known.)
Despite these concerns, feedback has been generally positive among faculty, staff, and students of UP and Ateneo.
"I hope we can show them that [the shift] works. I'd rather fail in trying than not try at all," Villarin said.  – Rappler.com
Editor's Note: In a previous version of this story, we inadvertently put the bar exams under the jurisdiction of the PRC. It is the Supreme Court that administers the bar. This has been corrected in this version.