The education chief gives 4 reasons Philippine primary and secondary schools are fine with a June-March academic year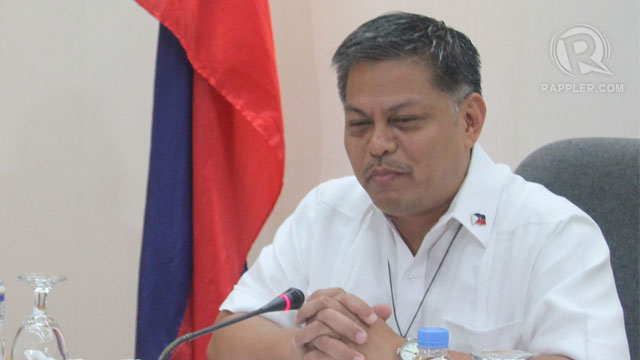 MANILA, Philippines – Some universities say it is long overdue in higher education, but for the Department of Education, there is "no compelling reason" to shift the academic calendar in basic education from June-March to September-June.
In a statement Tuesday, January 7, Secretary Armin Luistro enumerated 4 reasons why the shift is not so much a concern for basic education as it is in the collegiate level. Communications Secretary Herminio Coloma Jr also mentioned these in a press briefing last Sunday, January 5:
1. No common school opening among ASEAN countries
"The first question is, is the ASEAN already in sync?" Luistro said in a conference last December 2013.
In 2015, an ASEAN Economic Community will be established, marking the start of free trade among the organization's 10 member-states and allowing the free flow of goods and services – education services included.
This has been a turning point for major universities in the country to "seriously consider" shifting their academic calendars to match neighboring countries. (READ: 5 leaps in 2013 that make PH education promising). 
But when DepEd reviewed the opening of classes among ASEAN's member-states, they learned there is no common school opening for basic education, unlike in tertiary education:
January: Brunei Darussalam
May: Thailand
June: Myanmar and Philippines
July: Indonesia
August: Vietnam
September: Laos PDR
October: Cambodia
2. Student mobility is "very limited"
"Student mobility is very limited among grade school and high school students in ASEAN," Luistro said.
But despite this, the department is still preparing the K to 12 curriculum to be ready both ways: for students to move to another ASEAN country and be absorbed easily, and vice versa. (READ: PH basic education: 'Cramming' toward ASEAN 2015)
President Benigno Aquino III also said before that the K to 12 program was enacted so graduates can exit globally.
"We are well on our way to closing resource gaps in terms of classrooms, even as we have already eliminated backlogs for textbooks and armchairs in our public education system. This, on top of a recent law expanding our basic education cycle from ten to 12 years, which we foresee will increase the competitiveness of our graduates in the global arena," he said at the APEC CEO Summit last October 2013.
3. The shift does not solve typhoon or flooding problems
"It does not necessarily solve typhoon or flooding problems as weather patterns are changing," Luistro said. Earlier, he also explained that during typhoon season, the weather conditions are often confined to a few regions.
"Extraordinary na nga itong Yolanda because nag-4 regions 'yan, pero usually 'yung typhoon 'pag dumadaan West to East. So most of the typhoons only pass through one or two provinces…. Talagang 20 or more typhoons a year,  but not all the 20 typhoons pass through the same areas."
(Yolanda is already extraordinary because it passed through 4 regions when typhoons usually move from West to East, so most typhoons only pass through one or two provinces…. There really is 20 or more typhoons a year, but not all the 20 typhoons pass through the same areas.)
But for the affected areas, there is always the alternative delivery modes. Luistro said these allow classes to continue during the aftermath of disasters when classrooms, if not destroyed, are often used as evacuation centers. 
"School heads and field officials also employ several strategies, such as holding of make-up classes to ensure continuity of learning."
4. There could be a "negative impact" on learning during the year's hottest months
For him, moving the academic calendar to begin September is not advantageous if the only reason is to avoid typhoons. 
"[A reason] that I think should be in the play is really how viable are the summer months in public schools in terms of learning? Because one problem is typhoon, but what [about] the problem of heat?" 
If the shift pushes through, classes will be from September to June, and will cover the two hottest summer months of the year: April and May. Public schools have no adequate ventilating and airconditioning system, the statement said.
In addition, the traditional celebrations during summer months – Holy Week in March/April, Flores de Mayo in May, and the town fiestas – might affect attendance if a September opening pushes through.
But despite the reasons above, Luistro said the department is not closed to the idea of shifting the academic calendar. (READ: PH basic education: 'Cramming' toward ASEAN 2015)
Ateneo de Manila University president Fr Jose Ramon Villarin earlier told Rappler that the academic calendar in basic education – which is "largely local" – should not change because the gap between high school graduation and the proposed beginning of college classes "can be put to good use." – Rappler.com