Another copy of the check for Basa Guidote didn't have the phrase "ITF Cristina Corona," says prosecution
MANILA, Philippines – Was the P34-M LandBank check that the Manila City Hall issued to buy the Basa Guidote lot in 2001 tampered with?
At the resumption of the Corona trial on Monday, May 7, private prosecutor Renato Samonte continued his cross-examination of a defense witness and presented two copies of a check that the city hall issued to buy the Basa-Guidote Enterprises Inc (BGEI) lot in Sampaloc Manila, which served as a relocation site for displaced market vendors.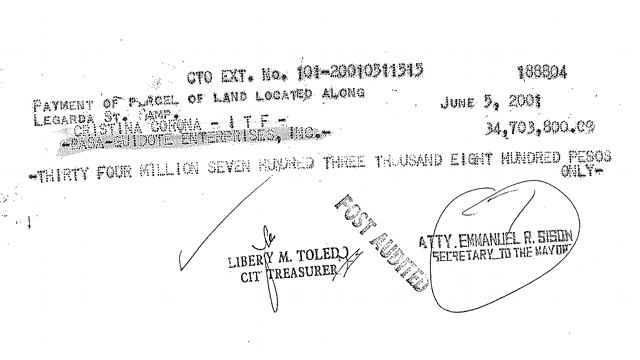 In the first copy, the check was issued to "Cristina Corona ITF Basa Guidote Enterprises Inc."  ITF stands for "in trust for." This means the trustee of the fund is Cristina Corona.
The second copy that the prosecution presented to the impeachment court was issued to "Basa Guidote Enterprises Inc." Compared to the first copy, the second copy does not contain the phrase "Cristina Corona ITF."
It shows that the check was not originally intended for Mrs Corona but for the BGEI, Samonte told presiding officer Juan Ponce Enrile, who asked for the relevance of the evidence he was seeking to present. 
BGEI is the the disputed family corporation of Chief Justice Renato Corona's wife.
In previous hearings before the break, senators raised questions why the Manila City Hall issued the check to Mrs Corona when the property was owned by the BGEI.
In presenting the two checks upon cross-examination of former Manila Mayor Lito Atienza, Samonte explained: "The point, your honor, is it would even more show the infirmities attendant to the transaction."
'Trying our luck'
The prosecution wanted to mark the two copies as evidence. But Cuevas opposed it on grounds that the authenticity of the check has not been examined. He wanted to cancel the markings and stricken off the record.
Samonte maintained that it's a certified copy. The prosecution claimed both copies were certified by the Commission on Audit (COA). Samonte said the copy was marked by the COA as "certified true copy" and signed by a certain Eva Sta. Maria.
But Sen Miriam Defensor-Santiago lashed out at Samonte for "harassing" witness Atienza. She said it is the COA that should be asked about the two copies of the check.
In the end, the prosecution was stopped from raising a new issue in the trial. Samonte admitted they were just "trying [their] luck."
The P34-M check is important for the defense of the Chief Justice. This is the money that the defense is using to justify Corona's multi-million peso deposits in Philippine Savings Bank, the same money he prematurely withdrew the day he was impeached.
It's the same source of the P11-M loan he declared in his 2003 Statement of Assets, Liabilities, and Net Worth, which supposedly allowed them to buy a property in the posh La Vista subdivision in Quezon City.
The prosecution however suspects that the transaction between Manila City Hall and Mrs Corona is irregular. – Rappler.com